Canberra FC was brought back to Earth in spectacular fashion ahead of the Capital Football National Premier League grand final, going down 5-0 to Sydney FC at Deakin Stadium on Wednesday night.
The A-League glamour club had little trouble in disposing of an extended Canberra FC squad, which had one eye on Saturday's decider with Belconnen United.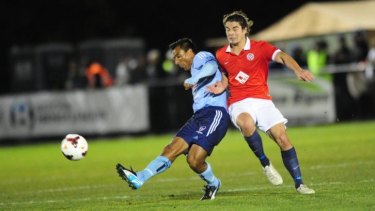 Sydney FC had now won eight of their nine pre-season games against a mix of English Premier League, A-League and NPL opposition, their only defeat being a 4-0 loss to Newcastle United in Dunedin.
After finishing the Capital Football NPL season with four straight losses, Canberra FC had gained plenty of momentum with back-to-back semi-final wins against Canberra Olympic and league champions Cooma Tigers.
The hefty defeat to Sydney FC was the wake-up call Canberra FC captain Matt Grbesa hoped would result in the club lifting the premiership trophy.
"[Sydney FC] are getting quite close to their season so you can see the difference in the quality of the players, how much sharper they are than what we're used to," Grbesa said.
"It was a good experience for the young guys and us older guys as well.
"Hopefully we can put it behind us and learn a bit from the game and take it into the weekend."
Canberra FC rested defender Aidan Brunskill and winger Josip Jadric, several others didn't play more than 45 minutes and seven Canberra Olympic players were called into the squad.
Sydney FC defender Pedj Bojic said he was more pleased with the performance than the result.
"It's always tricky playing against the state league teams, they want to impress and do the best they can," Bojic said.
"The younger guys stuck to the task set out by the coach and did what they needed to do.
"Every game in pre-season is very important, you want to win every game you play and we're doing that at the moment."
The Sky Blues got on the board after just five minutes, when Ali Abbas scored from the penalty spot after Corey Gameiro was tripped by a Canberra FC defender in the box.
Two minutes later, Alex Brosque beat his marker to set up Bernie Ibini to double the lead.
Gameiro received a gift from Canberra FC goalkeeper Jacob Cole to tuck it into the net to put Sydney FC up 3-0 at the break.
Brosque made it 4-0 in the 74th minute, reacting the quickest to a rebound off replacement Canberra FC goalkeeper Angelo Konstantinou from a powerful shot.
Canberra product George Timotheou came on for Sydney FC for the final 15 minutes of the game, before Nick Carle rounded off proceedings with a goal in the 85th minute.
Pre-season friendly: Sydney FC 5 (Ali Abbas 5', Berni Ibini 7', Corey Gameiro 45', Alex Brosque 74', Nick Carle 85') bt Canberra FC 0 at Deakin Stadium on Wednesday night.
Lee Gaskin is a sports reporter at The Canberra Times.