Drought meant it took eight months for Lake Burley Griffin to be full enough for authorities to open it to rowing and, when they did, people lined up all day for a spin in the ACT Rowing Association's only boat.
Fifty years later, and the lake has grown into the home of Australian rowing, boasting Rowing Australia's centre of excellence on its shores, along with 12 rowing clubs.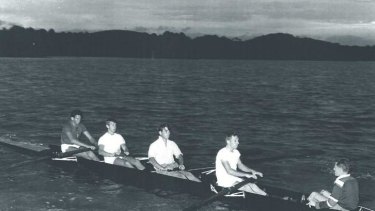 The very first row was by a crew of students from the Australian National University and Forestry School on April 18, 1964.
To mark the half century, the ANU Boat Club (ANUBC) sent out 50 rowers to commemorate the occasion on Thursday morning – although some were so excited they rowed off into the distance and forgot to wait around for the photo.
While there was only one boat in Canberra on that first crisp morning, the ANUBC alone has grown to have 24 boats of its own – including the women's eight boat made famous by ''Lay Down'' Sally Robbins at the 2004 Olympic Games in Athens, when she gave up during the final.
ANUBC has produced 23 Australian representatives over the past 50 years.
They were the first club to affiliate with the ACT Rowing Association and are the university's most successful sporting club.
A 50th jubilee dinner will be held on October 18 to tie in with the Disher Cup regatta, between ANU, the Australian Defence Force Academy and the Royal Military College.
''It's something we're very proud of, that we've not just survived but thrived over our first half century,'' ANUBC president Nick Hunter said.
David Polkinghorne covers the Canberra Raiders, local rugby league, Canberra Cavalry, racing and cycling, along with every other sport, for The Canberra Times.