Just two weeks ago, Canberra javelin thrower Kelsey-Lee Roberts was distraught after red tape snatched a likely Commonwealth Games berth from her grasp.
But the 22-year-old looks to have stamped her ticket to Glasgow after throwing a monstrous personal best of 63.92 metres at the ACT Athletics Championships on Saturday.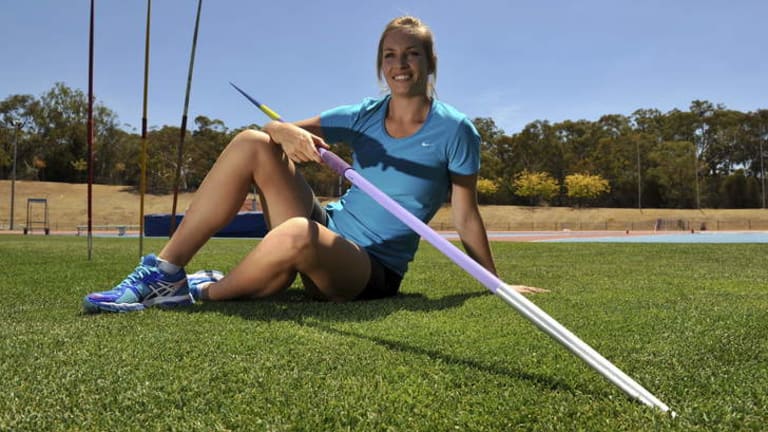 Needing 60m or more to post an A-qualifier distance, Roberts' throw in still conditions has given her belief she can be a medal contender in July.
Roberts threw 60.12m a fortnight ago, but officials struck it from the records due to a rule that requires her to compete against at least three other competitors using the same weighted javelin.
There were no such problems on Saturday, and Roberts said she might have to reassess her goal of simply making the Games team, and aim for the podium.
She has added more than 5m to her personal best in two weeks, which is not bad for an athlete who nearly quit the sport after tearing a ligament in her elbow in 2012.
''We were looking for about 61 tonight and to get well over the A-qualifier mark, but 63-plus is just amazing,'' Roberts said.
''[At Glasgow] it would put me definitely top five, a medal is going to be the biggest aim.
''I've got the A which is great, but if I win nationals I'm automatically in. We've got two other girls throwing over 60, so it then comes down to [Athletics Australia] selections.''
Fellow Australian Kim Mickle won silver at last year's world championships with a throw of 66.6m, while Kathryn Mitchell also finished in the top five.
It's that world-class competition on her doorstep that Roberts believes will have her at her peak if she gets the Commonwealth Games nod.
''If I can be competitive against them, then I know all three of us can go away and be competitive not only as individuals, but as a country,'' she said.
''It's great to have so much depth in the sport at the moment. We're competing in Adelaide next weekend, it will be great to have a hit-out with them, and hopefully get another 63 out.''
Meanwhile, North-Canberra Gungahlin Athletics Club long jumper Jessica Penney has set her sights on securing an A-qualifier in two weeks after jumping a personal best of 6.54m on Saturday.
One of a number of jumpers to secure a B-qualifier, Penney is looking to become the first Australian to leap the A-qualifier level at the Perth Track Classic.
''I think the A-qualifier is definitely in my grasp,'' she said. ''Every time I go out there I want to get that, but a PB's a PB so I'm happy with that.
''I want to get that 6.65m in Perth, because it's given more weight if I do it at one of the grand prix's.''
Olympic 400m hurdler Lauren Wells (nee Boden) ran a B-qualifier time of 57.06 seconds en route to an easy win on Friday night, while Michelle Jenneke easily won the 100m hurdles in 13.55s.
Jon Tuxworth is a sports reporter at The Canberra Times.