Since Athletics Australia's decision not to take any sprinters to the Beijing Olympics, Queanbeyan Gift hopeful Daniel Batman has been largely displaced from the world sprinting radar.
But while the sound of his lively feet pounding the international track may have grown quiet, his life away from athletics has been anything but. Batman spent last year ploughing through a lengthy divorce from former Aussie track queen Nova Peris, to whom he had been married for almost a decade and is the mother of his first two children, Destiny and Jack.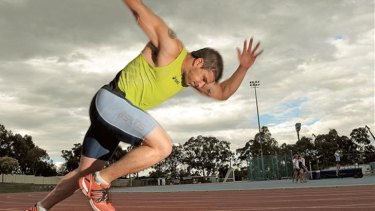 He's since found a new partner, Natalie Sainsbury, who eight weeks ago gave birth to their first child Liberty, and the 30-year-old hoped a steadier footing in his personal life would coincide with a return to his blistering best.
''It was a long divorce process which was a very difficult time,'' Batman said.
''I still got a lot of training done, a lot of base work. I always try to make an effort to exercise an hour a day whether or not I'm building up for competition or not.
''It was probably an outlet through that divorce process, to be able to exercise hard, and it was just a bit of a stress release I guess being able to train hard during that period. It gave me a pretty good base for this season.''
It is that base Batman is confident he can use to launch a strong summer, with plans to peak in March for the Olympic qualifiers.
His plan is simple enough. Prove to himself and his fellow competitors over the next few months that he can recapture his scintillating speed, which at his best saw him cover the 100m in just 10.19sec.
The A qualifying time for the 100m, 10.18, might be just out of reach but Batman felt the 20.55 required to make the 200m was entirely possible.
''That's very realistic for me to achieve because I've run it so many times previously,'' Batman said.
''Since Beijing, and having not competed there, I haven't bothered competing at that elite level, I've just been building to now, leading into an Olympic year.
''I've done a lot of background work, a lot of strength and conditioning work, to be able to put me in a position now where I can focus on my racing.''
As for this afternoon's Gift in Queanbeyan, Batman was unsure how he would perform from his marker of 4m.
He's still working back to top speed despite having trained with Matt Beckenham's perennially successful squad since the start of the year, but if Batman finds his groove he could easily emerge as the wildcard.
''I ran a 60m last week, which wasn't too quick, but I know the areas I have to improve,'' Batman said.
''I haven't run a lot of gifts in my career but they're pretty enjoyable things and it's a fantastic opportunity for me to have a good hitout.
''At the moment I'm probably a few metres off. A 4m start will put me in the mix.''
TODAY

Queanbeyan Gift at the Queanbeyan Park. Women's final at 3.45pm; men's final at 4pm.