Australia's fastest woman is back with a vengeance following a blistering return to the track last week and now wants to strut her stuff at Canberra's biggest meet of the year.
Melissa Breen ran her first 100 metres since the Commonwealth Games last April and it proved her fastest dash in more than 18 months with a time of 11.58 seconds.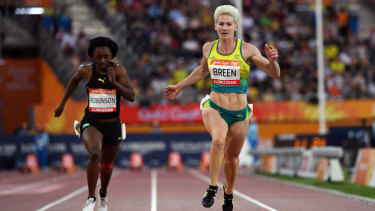 Breen, 28, admits she wasn't sure she'd return to the sport - let alone so strong - after battling nerve, hamstring and foot injuries over the past nine months.
The two-time Olympian will start favourite in the 100m at the Canberra Track Classic at the AIS on Monday, alongside some of Australia's best track and fields athletes.
It marks Breen's first major meet since the 4x100 metre relay at the Commonwealth Games, where she stumbled in the final when there was no power in her left thigh.
"At times I wasn't confident I'd get back, athletes aren't superheroes and invincible, you go through moments where you struggle and don't see the light that gets you out of the injury cloud," Breen said.
"It's just a matter of doing rehab and doing the time, nine months is a long time between races so there are times where you really wonder if your body is willing to do it.
"I've only been back training in a full capacity for about a month. There's been a lot of modified training in the past nine months, it's been a very trying time and quite challenging.
"A lot of people just see the time you run on the track and assess it as that but a lot of effort and time and patience and people behind the scenes goes into it.
"The body is getting older and it's not as easy as it was five years ago, but I'm grateful to be back thanks to the great group around me."
Breen wants to end her decorated career as a three-time Olympian at the 2020 Tokyo Games but the Canberran knows there are no guarantees in sport.
"It would be wonderful to represent Australia at another Olympics, I'll be 30 in 2020 and to retire a three-time Olympian is something I'd be incredibly proud to do," Breen said.
"If it doesn't happen it won't be from a lack of trying, sometimes the mind is willing but the body isn't. We'll see what happens but I'll give myself the best chance to get there.
"My goal this year is to just to get some consistent training done and just stay healthy. I want to build that base that I haven't had very consistently for the past few years due to the body."
Canberra has been sweltering through a week-long heatwave and Breen hopes it continues through to Monday.
"Hopefully the weather continues to be nice and hot because that's great for running fast. The hotter it is the better I feel because it's easier to get warm and the track feels faster," Breen said.
"It's a big meet on with lots of top athletes from around Australia. There's going to be some pretty awesome performances with heaps of Olympians and Comm Games medallists.
"Kurtis Marschall in the pole vault won gold on the Gold Coast. Pole vault is one of those exceptional events that you only get the feel of when you're there, so come down.
"I'm looking forward to representing Australia and Canberra starting this weekend in what is hopefully a really successful 18 months leading up to Tokyo."
Eamonn Tiernan is a sports reporter with The Canberra Times