Zoe Buckman is going where no Australian woman has gone before.
She is also going somewhere she did not think she would go. Buckman has become the first Australian woman to make the 1500 metres final at a world championship.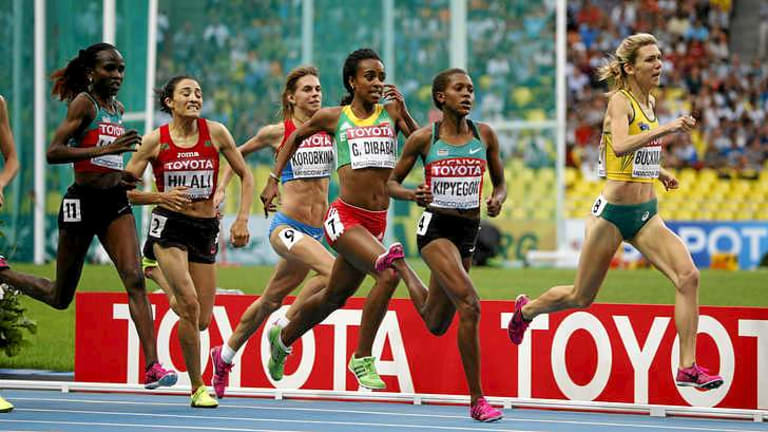 Not content with that, she set a personal-best time of four minutes, 4.82 seconds, won her semi and was the fastest woman to qualify for the final.
She certainly did not expect that. Now a medal beckons.
''Honestly, coming in I didn't think I was capable of medals - my aim was just to get to the final and with what I have done the last few races I can see that I am capable of that.
''I have a fighting chance ... I have the kick down,'' she said.
''I will let everyone else worry about [expectations].
''My expectations are the only thing that matter and they are quite high and I am hungry to medal.''
Buckman ran an assured race. She pushed hard to claim a front run and was determined to hold it. She sat one off the lead and widish of the rail to give herself room.
She knew world indoor champion Genzebe Dibaba was on her shoulder and she wanted to keep her wide.
Buckman runs an aggressive style that belies her quiet nature.
She admits racing brings out another side of her: white-line fever on a blue track.
She looked likely to be blocked but a gap opened and she had the kick to power through it. Kenyan Faith Kipyegon appeared to have the race but Buckman continued to hunt her.
She took the lead for the first time with her last step - but that is the only step that matters.
It was only a semi, so placings are slightly less relevant, but there was a confidence to push to the last gasp that encouraged even her.
''Once I got through, I told myself to just keep running hard right to the line, not just hang out for fourth place,'' she said.
''You can't just expect it is going to come easy.''
Buckman, 24, made the semi-final at the London Olympics and said that gave her belief that she belonged.
She talks of more wile and smarts on the track, and there is a more self-assured look to the way she runs now than 12 months ago.
''I think I am quite different on the track than I am off the track. I am just a bit more aggressive and assertive and out there, and in my own personal time I do my own thing and people would say I am a bit quiet.
''I am proving to myself that I can cope with the nerves and I am capable of staying in control in these races ... I am quite surprised with the win, a personal best.''
From Canberra, Buckman left Australia for college in the US before returning to be trained by Nic Bideau in Melbourne.
''I have just been gradually working my way up - a lot of people take these big leaps all of a sudden in athletics but I am someone who has been slowly coming over the top,'' she said.
Buckman says after running a personal best, whatever happens next is a win-win.
''I am going to be happy during the race and whenever you are happy you always perform ... I am definitely going after that Australian record.''
Meanwhile, Australian discus thrower Julian Wruck has finished 11th in his final.
''Discus is an old man's sport, I think I am the second-youngest to make the final,'' he said.
'' I have been improving at about two metres a year - hopefully I can hold that up for a few years.''
Russia thrilled to the phenomenal Yelena Isinbayeva. The dual Olympic gold medallist won her third world championship gold in the pole vault.
American LaShawn Merritt - a man once banned for drug use after offering the unusual explanation that he had used a penis enlargement cream - won the 400 metres in 43.74 seconds.

Michael Gleeson is a senior AFL football writer and Fairfax Media's athletics writer. He also covers tennis, cricket and other sports. He won the AFL Players Association Grant Hattam Trophy for excellence in journalism for the second time in 2014 and was a finalist in the 2014 Quill Awards for best sports feature writer. He was also a finalist in the 2014 Australian Sports Commission awards for his work on 'Boots for Kids'. He is a winner of the AFL Media Association award for best news reporter and a two-time winner of Cricket Victoria's cricket writer of the year award. Michael has covered multiple Olympics, Commonwealth Games and world championships and 15 seasons of AFL, He has also written seven books - five sports books and two true crime books.
Morning & Afternoon Newsletter
Delivered Mon–Fri.