Tennis ACT has a plan to make Australia a dominant force in claycourt tennis. The organisation hopes a stage two redevelopment will put Canberra back on the professional circuit as it plans for tier one clay surfaces to be installed. Canberra star Nick Kyrgios and Canberra Velocity teammate Alex Bolt have both won Challenger level tournaments on clay in recent weeks. Kyrgios also made his grand slam debut on clay at the French Open. The Lyneham tennis precinct boasts 12 clay courts as well as synthetic grass and hardcourts. But the clay courts are made up of a mixture of surfaces, which prevents ITF and professional events being played on them. Australian tennis players hadn't won on clay surfaces in the past five years, until Kyrgios and Bolt were successful this year. Both Kyrgios and Bolt trained on the Canberra clay surface. "The [clay] surface that was put down is European clay; the issue is around the sustainability of that surface. It breaks down too quickly and we've had to introduce a hybrid of material to try to have it more sustainable and easier to maintain," said Tennis ACT boss Ross Triffit. "We are planning on upgrading them as part of the redevelopment. It'd be great to upgrade them to tier one status so we can get international events back on them." Construction has started at Lyneham but stage two of the development is dependent on funding. Canberra's hardcourt plexipave would be used as the main tournament surface, with clay providing variety. "It depends on what type of events we want to have. There's still a shortage of clay courts around Australia, so if we were to have all 12 upgraded it would be quite a point of difference for our venue." Kyrgios is ranked No. 159 in the world and has won two tournaments since making a comeback from injury.
Fensom's dream rides into sunset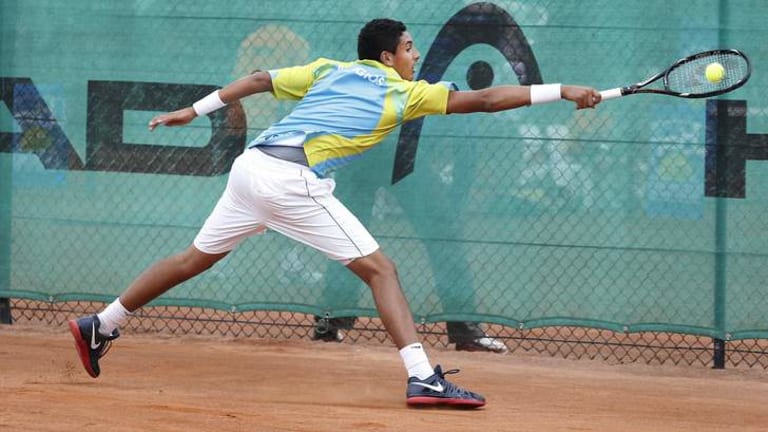 Canberra Raiders' Shaun Fensom felt like he was giving away his only child, but it was all for a good cause. For the past year the lock has been riding and raffling off a $40,000 bike donated by Fyshwick business Robbo's Harley-Davidson, which is decked out in the Green Machine's colours and signed by the 2013 squad. It was won by Shellharbour's Glen Oastler, and ''Fenno'' was forced to hand over the keys. In the end he was all too happy to, as it raised valuable funds for the Terry Campese Foundation, which supports local charities. "He was a bit upset on the way out here the big fella, he may have to buy one now,'' Raiders skipper Campese said.
Xzibit A: Tomane's new do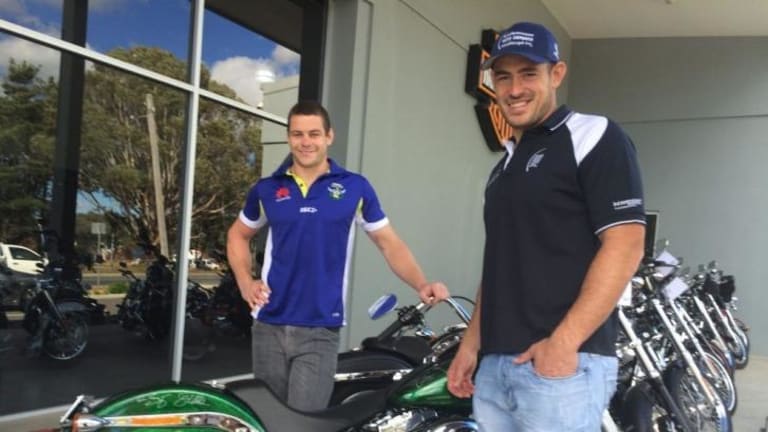 Brumbies winger Joseph Tomane started the season as one half of ''the fro bros'', but the NRL convert is changing things up to chase a Wallabies jersey. Instead of rivalling teammate Henry Speight's afro, Tomane has decided dreadlocks is the new trend. Many think he now looks like American rapper Xzibit. You be the judge.
Wells still going strong at 80
He wears yellow shorts and is the oldest player in the ACT Veterans side, but even turning 80 can't stop Ian Wells from pulling on his rugby boots. Wells turned 80 on Friday and celebrated with a surprise party on Saturday night. But far from being tired out, Wells will run out for the Veterans when they play against the Navy Nuship. Known for his uncanny ability to score tries every time the Veterans play at Canberra Stadium, Wells is the most popular member in the team's 20-year history. He gets the man-of-the-match award every time the Veterans play a curtain-raiser game for the Brumbies, is the highest try-scorer and a stalwart of Easts, and a former military pilot. He celebrated on Saturday night when his family surprised him with a party of old friends from around Australia and there's no doubt he'll score a try against the Navy Nuship. The game will raise money for PaTCH - Paediatrics at the Canberra Hospital - and the George Gregan Foundation.
Rebels with a clause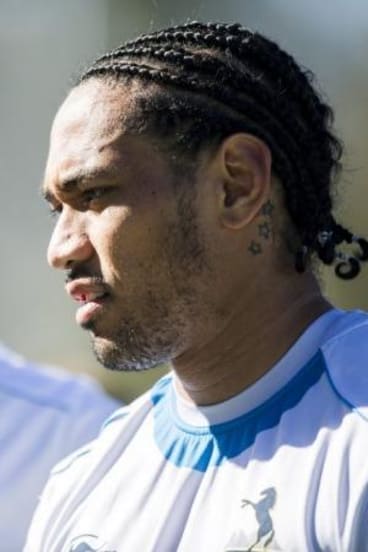 The Melbourne Rebels are gunning hard for ACT Brumbies players. After missing out on Christian Lealiifano and Matt Toomua, we're hearing the Rebels have opened the cheque book and started throwing cash at another Brumbies star. Lealiiafano, Scott Fardy, Scott Sio and Jesse Mogg are all close to finalising deals with the Brumbies and could sign within days. The cashed-up Rebels have room in their salary cap and are actively trying to lure players away from Canberra. Joseph Tomane, Henry Speight, Fotu Auelua and Clyde Rathbone are off contract at the Brumbies. The Rebels have tabled a massive offer to one of the players. The Rebels started their inaugural season with a host of former Brumbies in Stirling Mortlock, Julian Huxley and Mark Gerrard. Expect the Brumbies to announce some new players in the coming weeks.
Brumbies' schedule change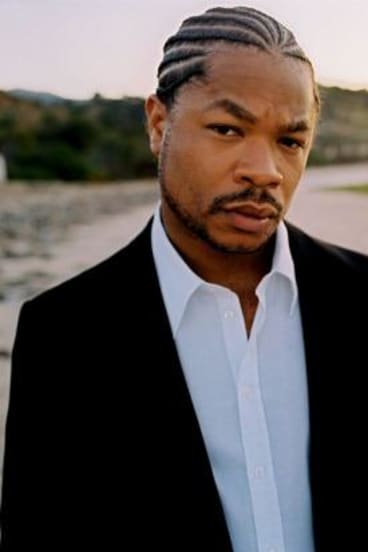 Super Rugby has made a last-minute schedule change for the Brumbies' two-game tour of South Africa. Their game against the Pretoria Bulls has been pushed forward by 24 hours and will now be played in the early hours of May 24, Australian time. The move was made to accommodate the inauguration of South Africa's president elect. The match promises to be a huge contest as the Bulls seek redemption for losing to the Brumbies in a semi-final last year. It was the first finals match the Bulls had lost at their home fortress, Loftus Versfeld. The schedule change might seem strange. But the Brumbies-Bulls final would have been forced to move had Nelson Mandela died in the lead-up to the match last year.
Wheels in motion for new comp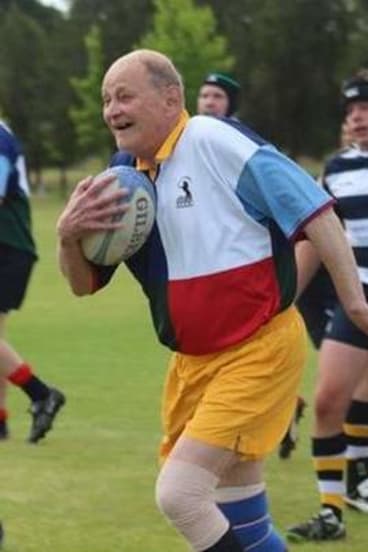 The quest for a regular Wheelchair Rugby League competition in Canberra continues to take shape with an information and skill session to be held this Saturday. Australia coach Steve Hewson and NSW Wheelchair Rugby League will lead the events at Southern Cross Basketball Stadium, which is the next step to forging a competition in the capital. "In January, we took a demo game to Canberra and it was very well received by the public," chairman of Wheelchair Rugby League Australia, Laurie Lawira, said. "People who see our sport for the first time are genuinely surprised - and impressed - at how similar to rugby league the game is. We receive great support from the NRL and NRL clubs, which reinforces how true we are to rugby league." The event will be held from 6-8pm.
Carney chases answers
Look who was back in Canberra. Yep, that's right, former Raiders star Todd Carney. Was he searching for a new contract? Breaking bread with the Raiders after his troubled past in Canberra? Nope, the 2010 Dally M medal winner was searching for an answer for his niggling hamstring injury. Carney made a visit on Monday to the Australian Institute of Sport to catch up with Craig Purdam, the institute's head of physical therapies. Carney has played through the injury this season, but missed several games last year, including the finals match against Manly.
Capitals left distraught
Make no mistake, the Canberra Capitals were distraught when up-and-coming young centre Alex Bunton quit the club after signing a one-year deal with Adelaide Lightning this week. Bunton is an ACT junior and when she was 14, wrote a letter to Capitals coach Carrie Graf saying she wanted to play for the Capitals. Basketball ACT has put a lot of money into developing the 20-year-old, who has played the past two seasons with the Capitals. "I've had a great time playing in the ACT, but I felt it was time to try new things and the Adelaide program is going to be a great fit for me," Bunton said in a Lightning press release. Lauren Jackson, who will return to the Capitals next season, was distraught when told Bunton would not be her teammate. "It's disappointing she's gone, I really feel like she should be here in Canberra,'' Jackson said. "We needed her, hopefully Abby [Bishop] will come back. I'll have to have a good chat to her.''

Chris Dutton is a sports reporter at The Canberra Times.
Morning & Afternoon Newsletter
Delivered Mon–Fri.