Australian codes warned on WADA breakaway
The AFL and NRL have been warned they would effectively be disowned by government if they sought to break away from World Anti-Doping Agency requirements and run their own tailor-made programs.
Federal Sports Minister Peter Dutton has outlined the government's position at a time when the nation's richest and most popular professional football codes are embroiled in damaging drug scandals that could lead to dozens of players and others, such as coaches, facing sanctions.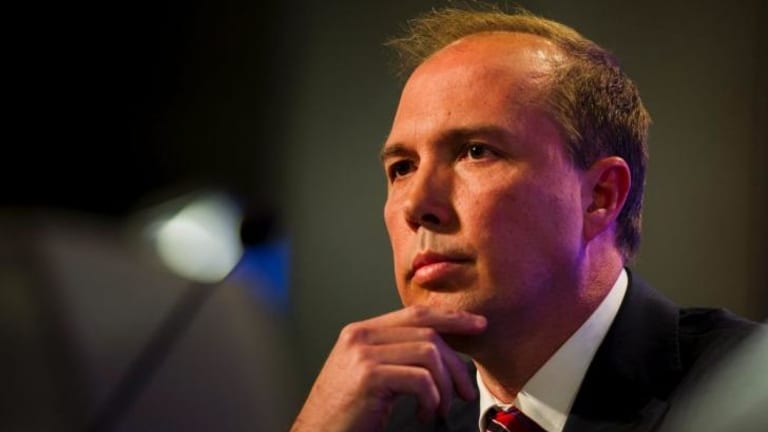 After an unprecedented 16-month investigation, the AFL and NRL cases remain in the hands of the Australian Sports Anti-Doping Authority, but WADA stands to have the ultimate say on how the players are dealt with.
Dutton said on Thursday the ''integrity of sport requires" all Australian sporting codes remain WADA compliant. It would be a "double standard" if Australian sports broke away from WADA.
"We cannot, on the one hand, demand that our athletes are able to compete on a fair playing field in international competition, with the same rules and sanctions applying to all, and on the other hand support sporting organisations within Australia independently deciding if to test and what to test for, when to investigate, and whether or not to penalise doping athletes,'' he said.
"This can only be seen as a double standard and it is not how sport should be played. It is my view that professional sports and athletes benefit from demonstrating commitment to, and complying with, the World Anti-Doping Code. The integrity of sport requires it.''
Former prime minister John Howard demanded in 2005 that all Australian sports become WADA compliant and amend their anti-doping policies and protocols accordingly. The AFL ultimately signed on after government support was threatened.
Fairfax Media asked the AFL this week whether it was committed to being a WADA compliant sport, and whether if there were any circumstances in which the league would review its position of being a signatory to the WADA code.
The league said: "The AFL is a signatory to the WADA code and continues to strongly support the need to protect all sport against doping and other cheating."
While Fairfax Media is not suggesting - and has no knowledge - of the AFL or NRL reviewing their positions regarding being WADA compliant, the AFL declined to comment on the argument outlined this week by Australian Athletes' Alliance boss, Brendan Schwab, that it should effectively break ties with WADA.
"If any penalties are to be imposed on players because of the ASADA investigations at Essendon and Cronulla, it will only be because of the rigidity of the WADA code,'' Schwab wrote in a column for Fairfax Media.
Schwab argued the ''mandatory, inflexible, ineffective, unjust and expensive" WADA system should be replaced by administrators running Australian professional sports, such as the AFL and NRL, to provide "tailor-made and athlete-driven, anti-doping policies that will actually work".
''Hopefully the Australian government will have the courage and commonsense to allow them to do so,'' he concluded.
Dutton has made it clear he would not even entertain the prospect.
"The Howard Government introduced requirements that doping must be addressed by sports in Australia, and the Abbott Government will continue this policy," the Minister for sport said.

"All Australian sports have anti-doping policies in place which recognise the importance of upholding the World Anti-Doping Code, and we continue to work in close partnership with sports in administering the Code.

"The World Anti-Doping Code, administered by sports and governments around the world, ensures that athletes are treated the same and abide by the same rules everywhere, regardless of nationality and sport."
Samantha Lane joined The Age in 2005 and has specialised in the coverage of Australian Rules football, cycling, Olympic sports and drugs in sport. A Quill award winner and part of the Fairfax team that won a Walkley award in 2014 for its coverage of the AFL's doping scandal, Sam has rich multimedia experience. She is part of the Seven network's Saturday night AFL television coverage and was previously a panellist on network Ten's Before the Game. Sam was The Age's Olympics reporter for the 2012 London Olympics, and covered the 2010 Delhi Commonwealth Games, 2008 Beijing Olympics and 2006 Melbourne Commonwealth Games for Fairfax. Her work has won awards from the Australian Sports Commission, the Victorian Institute of Sport, the AFL Players Association and the AFL Coaches Association.
Morning & Afternoon Newsletter
Delivered Mon–Fri.