Barba loses cool in home town
BEN BARBA didn't come close to putting a foot wrong in his finest season in his short career - he won every award on offer and carried himself with class and dignity. It's a pity that he has slipped up in his home town of Mackay. During a night out, the Bulldogs fullback and his brother Aaron exchanged words with a former Queensland Origin player who merely wanted to say hello to the pair. Following that verbal confrontation things got physical and a scuffle ensued between the three men. The Barba boys then had a second verbal blue with another group moments later. Every time Barba was interviewed this season he made a point of saying the people he surrounded himself with at the Dogs were the reason for his success. It seems that he is telling the truth there and he needs to consider exactly with whom he lets his hair down. Barba, who scored 22 tries in 27 matches this year, was criticised for his display in the grand final when he did not have the impact that so many predicted - he was frustrated with himself and his teammates and let it show on the field as Canterbury went down to the Melbourne Storm. He will be one of the four most scrutinised players in the NRL next year, along with Sydney Roosters recruit Sonny Bill Williams, likely Parramatta outside back Israel Folau and Wests Tigers five-eighth Benji Marshall, so he needs to put this kind of behaviour behind him. It's not his thing. Bulldogs officials have addressed the matter with Barba and made him aware that he has a greater responsibility that is only going to increase as his profile rises.
Sheeds won't give up
GWS coach Kevin Sheedy says the search for another league convert should continue despite the early exit of Israel Folau from the Giants - and he admitted he had his eyes on Todd Carney when he was in limbo. "I don't think that we should stop looking at league players at all. I mean it's two players in all the time the games have existed side by side - it's hardly a raid is it?'' Sheedy said. ''I think ideally we would like to get players into our junior system but if there is a player that we identify with talent or a player who could make an impact we should have a go. Then there are the players who may be at a loose end. When Carney was in limbo I was very close to trying to sign him up. He's from Goulburn - they play the game down there. If Todd is interested one day … hello there, Todd.'' Controversial AFL figure Sam Newman says the Folau experiment should not be the last time his game poaches a league star. "If you can bring a player like Billy Slater to AFL, why wouldn't you have a crack?" he said. "In my eyes, Billy is the best player in any football code in the world. He can make an old cynical bloke like me watch the Melbourne Storm play. The way I see it he is so far ahead of any league player … there are a lot of great rugby players, soccer players, NFL players, AFL players, but not one of them puts a gap on the field like Billy does - he is the best by far in any code. I think Izzy did a job from a marketing perspective but the moment that he bags the game of AFL the whole thing will be considered a fiasco."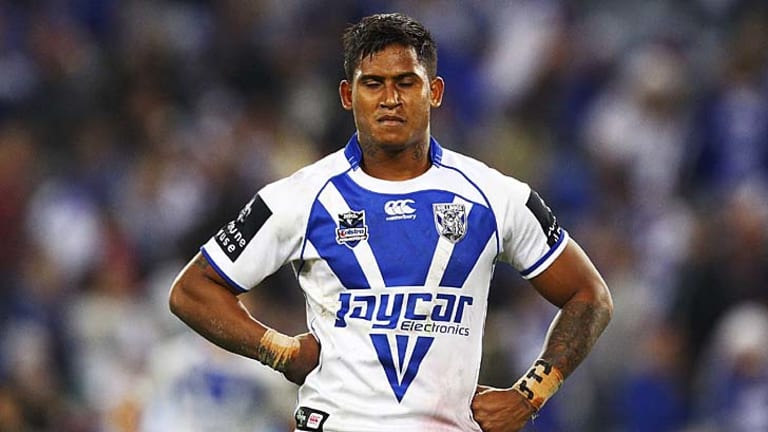 Eels or bust
ISRAEL FOLAU has been telling those close to him the only place he wants to play next year is at the Eels - and what's more he is prepared to take a significant pay hit to do so. Third-party deals will play a big part in his next deal - something NRL salary cap auditor Ian Schubert will keep a close eye on. He will have sponsors jumping out of the ground to throw money his way. If he is on the Eels cap for a couple of hundred thousand dollars next year the NRL should just cop it. There is no way Folau will turn the Eels into a premiership-winning side but he is just the sort of player to get fans through the turnstiles. Ricky Stuart had his eyes on Folau from the moment he took up the role as Eels coach - the gradual shedding of players has been a tactic to bring the AFL star within their grasp. The reality is they thought he may come up next year but a trip to the US with Eels players certainly played a part in his sudden decision. He has many mates at the club, including Jarryd Hayne, Tim Mannah and Joseph Paulo. As this column revealed some weeks ago, it is his dream to play league alongside his brother John, who plays in Parramatta's lower grades. Folau mentioned to me a few weeks ago he loved watching league and didn't watch the AFL unless necessary.
Izzy keeps promise
ISRAEL FOLAU made no promises to AFL boss Andrew Demetriou when he signed with the Giants about the length of time he would be with the club and the sport but Demetriou wanted one thing from his star recruit - a promise that if he wanted to leave the game he would be the first person he called. Folau was true to his word and made sure the AFL boss was well and truly in the loop. And the Eels say Demetriou has been nothing but fantastic to Folau from the moment he told him of his intentions - ramming home to league they need a leader like the AFL boss unless ARL Commission chair John Grant decides to do it himself.
AFL shows the way
HERE'S another lesson for the NRL from the AFL - the day after Israel Folau quit, the Gold Coast Suns sent out video comments from Karmichael Hunt from Arizona about Folau's decision. They showed good news sense and they grilled Hunt, including asking if he felt the Folau decision was a cop-out and also if the Folau decision made it easier for him to cut ties. It was very well done. NRL clubs take note.
Rivals take a break
IT'S one of the genuine feuds in rugby league - Robbie Farah versus Michael Ennis - so you can imagine the look on their faces when they bumped into each other at Sydney Airport a few days ago with their better halves. The Wests Tigers hooker and his Canterbury counterpart exchanged pleasantries and then started talking about their holiday plans. They laughed when they learnt they were not only all going to Bali, but staying at the same resort.
Agent rules a farce
PLENTY has been made of the fact Khoder Nasser is not an accredited NRL agent, so Sonny Bill Williams's Roosters deal is in jeopardy. But is there a double standard at play? Israel Folau's agent, Isaac Moses, is banned from doing contracts because of his role in the Melbourne Storm salary cap scandal. Moses was by Folau's side - as he should be - when he walked out of his GWS Giants media conference at Skoda Stadium on Thursday afternoon. And on numerous occasions Folau referred to his agent doing the deal with the next club or code. Then there is the Scott Prince deal with the Broncos - his agent Steve Robinson is now a director of the Panthers so he technically couldn't negotiate the contract but Robinson, the business adviser, could oversee the deal? So Nasser, the boxing promoter and non-accredited agent, should be allowed to provide counsel to SBW. He does not have a contract to be his manager. Nasser will not conform and become a registered agent - he is strongly against the notion. The whole situation is ridiculous - the All Blacks centre should be welcomed back and his contract should be approved. He paid $750,000 to the Bulldogs - and another $200,000 to lawyers - a hefty price in anyone's book to leave a club where he was not happy. Nasser is in South Africa shoring up another date for Williams to fight Francois Botha. SBW and Nasser want it to happen before the footy season. They have already consulted doctors who have told them SBW can start preparing for boxing before he can start training for league or rugby because of the impact it will have on his injured pectoral. SBW's long-term future is in boxing and Nasser wants him to develop gradually in this area for when it comes time for him to quit football.
Benji jibes rile Zoe
BENJI MARSHALL critics are lining up to kick him for his 2012 form. The Wests Tigers five-eighth knows the best way to show he still has what it takes is to produce the goods on the field next year after last season ended in disappointment. What annoys the New Zealand skipper is all the criticism affects his family - most notably his fiancee, Zoe Balbi. She takes it to heart while Marshall laughs it off - even though he remembers what is said.
Morning & Afternoon Newsletter
Delivered Mon–Fri.