The Australian Institute of Sport is all but certain to withdraw from next year's WNBL season as Basketball Australia looks to address the flagging depth in its female junior ranks.
AIS coach Phil Brown, also an assistant with national side the Opals, said Australia is in danger of losing its standing as a world heavyweight if changes aren't made to the system.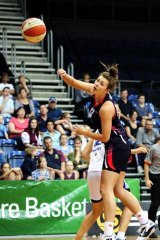 The AIS and Basketball Australia are confident the Australian Sports Commission will support their proposal, which means the AIS would withdraw from the WNBL in favour of more overseas tours.
An AIS squad featuring the world's best player Lauren Jackson won the WNBL title in 1998-99, but the side has been a competition easybeat in recent seasons.
The team has won a meagre eight of 88 matches the past four seasons, and Brown said withdrawing the team was in everyone's interests.
''That hasn't helped getting belted by 40 or 50 every game, it becomes difficult to get the girls back up and have belief in themselves,'' Brown said.
''Not only is it not good for the AIS teams, but it's not good for the league.
''You've got senior professional players playing against kids, and I don't think those results looks good for the WNBL.''
The Opals have won three consecutive Olympic silver medals, and are tipped for another podium finish at this year's London Games.
But Brown said the nation's best youngsters need greater exposure to international standard basketball to ensure the Opals' long term success.
''One of the challenges we've got is we don't expose our blue-chip junior players to international competition, and that's clearly a problem for us,'' Brown said.
Brown said there is an urgent need to address the structure of the country's female junior systems.
''I think we have some real challenges in the underpinning programs, the junior club systems and elite junior training programs,'' he said.
''They're not like they used to be and as we speak they're being revamped, but it's going to take five to 10 years to turn that around.
''The product coming out of the junior program is not strong, they're good kids but really deficient in a lot of areas.''
The withdrawal of the AIS means the remaining nine WNBL teams will all play each other three times in an extended 24-game season.
■ CANBERRA Capitals skipper Jess Bibby hasn't ruled out becoming the first person to play 400 WNBL games after re-signing with the club for next season.
The 32-year-old has racked up 301 games, and would need at least four more seasons to achieve the milestone.
''I'm not playing to reach a certain amount of games, but if I do play long enough … to play 400, that's be a pretty special achievement,'' she said.
''I need to be better than what I was last year, but I don't see the end coming any time soon.''
Bibby's retention comes after starting point guard Nicole Hunt re-signed with the Capitals last week.