Basketball ACT suspends Capitals' Ardossi for tripping
Basketball ACT has taken the extraordinary step of suspending Canberra Capitals forward Brigitte Ardossi for the rest of the WNBL season.
Ardossi was given an unsportsmanlike foul for deliberately tripping Townsville's Rachel Flanagan in last week's 76-68 win against the Fire at the AIS Arena.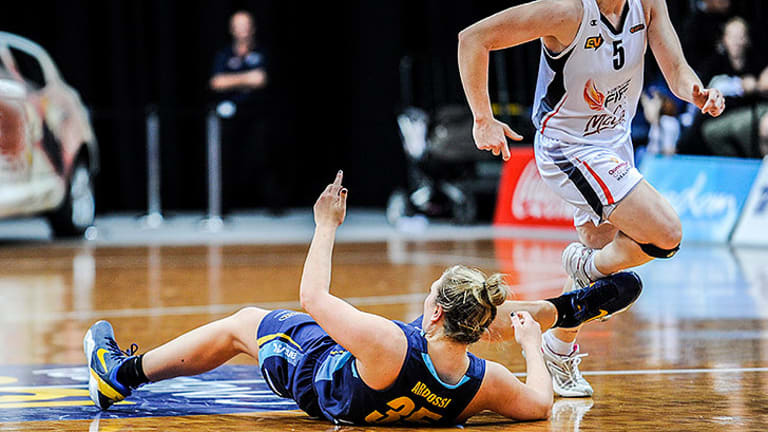 A statement on the Capitals' website outlined Basketball ACT's stance and that coaching staff and the playing group were involved in handing down the suspension.
''The Capitals management and coaching staff have reviewed in detail the contact and the circumstances leading up to and around the incident and have taken the action of suspending Brigitte from further play with the Canberra Capitals until the end of the season,'' the statement read.
''Basketball ACT has not taken this action lightly and after lengthy discussion and consultation with the coaching staff, leadership group and the player concerned, believe that internal disciplinary action is necessary and appropriate by the club.
''The Canberra Capitals do not condone this type of behaviour and have a long standing position of player conduct and true sportsmanship behaviour as being the pillars in which the club is built on.
''The Capitals have always been a club that installs a strong culture of quality of people, competitiveness and professionalism and the action and re-action by Ardossi goes against all of those ethoses.
''Brigitte Ardossi has expressed remorse and regret for her actions and has taken the approach of writing to Rachael Flanagan to apologise.''
The WNBL released a statement on Monday afternoon saying Ardossi will face the tribunal this week.
She has until 5pm Tuesday to respond to the charge.
Lee Gaskin is a sports reporter at The Canberra Times.