Canberra coaches tell scouts NBA draft 'mystery man' Dante Exum is worth the risk
He's been dubbed the NBA Draft's 'mystery man', but Dante Exum's Canberra coaches have been interrogated by American team scouts for any ''skeletons in the closet'' as the 18-year-old prepares to make the jump from high school graduate to multimillion-dollar sporting star.
Exum is tipped to be a top-four pick in Friday's draft, starting at 9am, instantly making him one of Australia's highest-paid athletes on a wage of more than $4 million for his rookie season.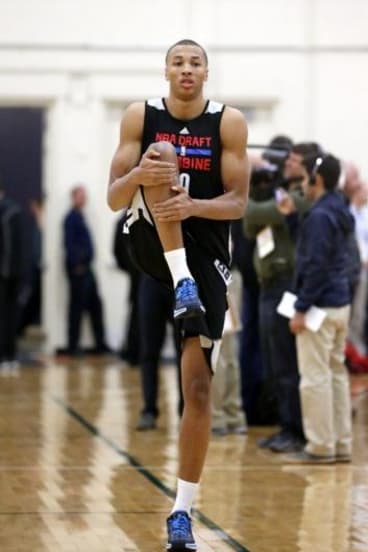 And Canberra has been at the centre of the search to find the personality behind the player, with NBA scouts calling and even visiting his school, Lake Ginninderra College, to find out details of the basketball prodigy.
Relationships and family, behaviour, interaction and popularity with teammates, and ability to socialise with senior players were all analysed with a fine-tooth comb as clubs seek to establish whether the Melbourne product is worth the risk.
Lake Ginninderra coach Jason Denley has talked with Exum's likely NBA suitors - Orlando, Philadelphia, Milwaukee and Cleveland.
"I've been contacted by all four teams. So has [Boomers coach] Andrej Lemanis and the other Australians who have worked with him, including his club coaches in Victoria,'' Denley said.
"They've sent scouts to Canberra and Melbourne and we've met him in person here; just very thorough background checks getting as much information as they can.
"There was hour-long interviews talking about everything - his behaviour off the court, interaction with players, friends and family, his schooling, is he popular?''
Denley said the main concern teams have is whether a player straight out of high school will be able to co-exist with players who rate amongst the highest-paid in world sport.
"What they're trying to find is if they bring this kid in with grown men in the most expensive and professional league on the planet, is he going to socialise and survive with those guys?
"It's very thorough and they need to be, as they're considering spending multiple millions of dollars on these athletes.
"They're looking for anything they can find which could be a skeleton in the closet, but all us coaches were able to say he's a model athlete who's very respectful to his teammates and coaching staff.
"We said his level of professionalism is beyond his years."
Experts have tipped Exum's likely home to be either Philadelphia or Orlando, who have picks three and four respectively.
Exum has been training in Los Angeles since February and Lakers star Kobe Bryant, who shares the same management, has taken him under his wing.
"What he basically said to me was, 'There's going to be a lot of off-court distractions and how you handle those and focus on basketball is how long you'll stay in the league'," Exum said of Bryant, his childhood idol.
"He said to have fun at some point because I'm still young, but just know what your goals are and why you are here."
The Cleveland Cavaliers have the No. 1 selection and just 24 hours before the draft invited Exum to jump on a plane and fly to Cleveland for a workout. But Exum, who is in New York where the draft will take place, declined. "There just wasn't enough time," said Exum, who preferred to spend draft eve in New York with family.
The Cavs had reportedly settled on Cameroon-born, 213-centimetre centre Joel Embiid, so originally decided not to invite Exum for a workout, but when news broke last week that Embiid had fractured his foot, Exum became more interesting.
The Milwaukee Bucks have the second pick and are expected to take one of two US college star forwards, Andrew Wiggins from the University of Kansas or Duke's Jabari Parker - widely tipped to be the first two selected. with AAP
NBA Draft: Coverage from 9am (AEST) on ESPN

Jon Tuxworth is a sports reporter at The Canberra Times.
Morning & Afternoon Newsletter
Delivered Mon–Fri.