Capitals confident without Jackson
Greater depth in key positions, and more old-fashioned ''mongrel'' - they are the key reasons that have the Canberra Capitals convinced they can win without Lauren Jackson early in the season.
Star centre Jackson is due to arrive in Australia today after completing her WNBA commitments, and will miss tonight's season opener in Sydney.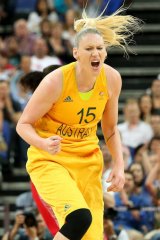 It is unclear when the 31-year-old will suit up for the Capitals, as she nurses a number of injuries.
But Jessica Bibby took the glass half full approach, declaring her absence will give Canberra a chance to quash any suggestion they were a one-woman team.
''Whether we have Loz or not is out of our control at the moment,'' Bibby said.
''Regardless, I think we've got the people who can get the job done, and Loz will be a nice luxury to chuck back in when she is fully fit.''
Despite centre Marianna Tolo's departure to France, Canberra has far greater depth at the post with Samantha Norwood, Alexandra Bunton and Valerie Ogoke joining the roster.
Decimated by injuries last season, the seven-time champions are desperate to atone for finishing an uncharacteristic eighth.
''We've got some size there already that I think is going to challenge the best 'bigs' in the league,'' Bibby said.
Canberra also boasts more options at guard; there is AIS graduates Tessa Lavey and Casey Samuels, and Alice Coddington is tipped to have a greater impact in her second year.
Bibby said more hands on deck would allow the Capitals to return to the level of competitiveness that has proven successful in the past.
''There's not that pressure on people to play 40 minutes, so we can play that up-tempo style and keep pressuring people for the full 40 minutes,'' Bibby said.
''We've got a few [tenacious] players this year, I don't think we'll be relying on only Muss [Michelle Cosier] to get that done.
''Mikaela Dombkins and Casey Samuels - they're those type of players and I think that's going to make a huge difference.
''We want to be a team that's known for being desperate with possession, but we don't want to have to rely on one person to get it done.''
The Capitals were forced to play key small forward Carly Wilson in the post and backup point guard at times last season.
Coach Carrie Graf said Wilson will play most of her minutes in her preferred position this time, allowing the 30-year-old to provide a greater offensive threat.
''She'll be able to focus on her strengths, which are being a defensive stopper and we need her taking shots,'' Graf said.
''We need her at times to step up and take the big shot, and by playing in her natural position on the perimeter that's going to allow her to do that.''
The Capitals will fancy their chances against Sydney tonight, who have lost star Opals guard Belinda Snell to the Polish league.
''With Snell gone, [it's] a big void. She was [WNBL's] All-Star Five last year, she's a triple Olympian and is one of the best shooters this country's ever produced,'' Graf said.
''They're small on the perimeter but you can never disregard Sydney; they've been a perennial playoff team for years.''
■ TONIGHT
WNBL Round 1: Sydney Flames v Canberra Capitals at Sydney University Sports and Aquatic Centre, 7pm.