Few fans but Bibby milestone still sweet
It was played in front of a sparse crowd, with little riding on the result.
Jess Bibby's 300th match deserved a grander stage, but the Canberra skipper went home content after her team marked the feat with a 90-77 win over the AIS last night.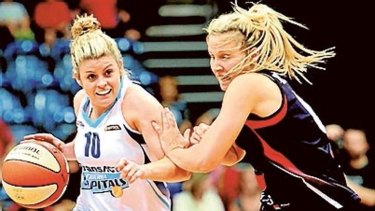 The Capitals raced to a 29-point half-time lead on the back of 58per cent shooting at AIS Arena, and victory appeared in the bag.
But the AIS, renowned as one of the more athletic groups the institute has seen, increased their defensive intensity and pressure to get back into the game.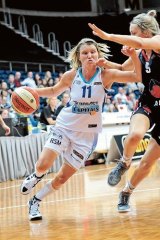 The students outscored the seven-time champions 24-8 in the third quarter, and a three-pointer from guard Casey Samuels got them within just 10 points early in the final term.
However, the more experienced Canberra steadied down the stretch to close out the win.
Bibby, just the 10th WNBL player to reach the triple ton, marked the occasion with a solid 13-point performance.
Guard Nicole Hunt (15 points) top-scored for the victors, while Carly Wilson and Mikaela Dombkins (14) were also influential.
Beanpole AIS centre Carley Mijovic (17 points, seven rebounds) showed her versatility throughout the match, scoring from the perimeter and inside.
The 17-year-old is rated one of Australia's best young talents and is on the comeback trail after missing all of last season due to a second knee operation.
''She's very talented offensively, an inside-outside type who has a lot of different weapons,'' AIS coach Phil Brown said.
''The challenge for her is to continue to work on getting her body stronger.''
Brown said he was most pleased with the pride his side displayed after half-time.
''Sometimes when youth get behind by that much their shoulders drop, but the expectation is they respond the way they did in the second half, and that's the highlight for me,'' he said.
Canberra centre Marianna Tolo (14 points) guarded Mijovic for most of the match and rates her a quality prospect.
''She's got really good shooting touch, you can't give her a sniff and she's got great length,'' Tolo said.
''She uses it really well, took it to the post a couple of times and can nail the perimeter shots. She moves likes she's never had knee surgery before, she's pretty agile.''
AIS forward Sara Blicavs, named the joint WNBL player of the week, continued her strong season with 12 points and nine rebounds.
The Capitals finish their season away to Townsville next weekend.
AT A GLANCE

CANBERRA CAPITALS 90 (Nicole Hunt 15, Carly Wilson 14, Marianna Tolo 14, Mikaela Dombkins 14) bt AIS 77 (Carley Mijovic 17, Sara Blicavs 12, Casey Samuels 11) at AIS Arena last night.

This reporter is on Twitter: @tuxy81