Lauren Jackson, Kristen Veal could reunite at Canberra Capitals
The duo who spearheaded the Canberra Capitals glory days could be reunited after the club sounded out Kristen Veal on whether she would consider joining Lauren Jackson in their line-up for next season.
Veal is now based in Canberra after accepting a role at Basketball Australia's Centre of Excellence as assistant coach of the women's program and South East Australian Basketball League (SEABL) team.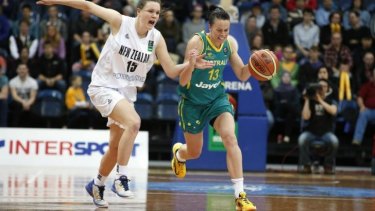 The Capitals are desperate to secure a proven point guard and Veal isn't ready for ''forced retirement'' after her former team Logan Thunder folded last month due to financial trouble.
Canberra coach Carrie Graf has made initial contact with the 32-year-old to gauge her thoughts on a comeback. Australian Opals point guard Natalie Hurst is set to return to Europe.
Back-up point guard Nicole Hunt recently married and has relocated to Dandenong, accentuating Canberra's need for a seasoned playmaker.
It is believed the Capitals are also interested in last season's WNBL All-Star Five point guard Leilani Mitchell, who won't be returning to Dandenong next season.
Mitchell recently told her WNBA club New York Liberty she would sit out their 2014 campaign to prepare for the Opals' world championship campaign.
Veal and Jackson guided Canberra to the first three of its record seven WNBL titles in 2000, 2002 and 2003, before Veal left to play for rival WNBL clubs.
They were also part of the Australian Institute of Sport's championship in 1999.
"I'd consider it, there's a part of me which would like some closure and a retirement year,'' Veal said.
"Last year was disappointing and it doesn't feel like I'm done. We'll have to sit back and wait and see.
"We'll have to see how it pans out in the next couple of weeks. It's got to work for them and it's got to work for me.
"There may be opportunities at different clubs across the country, but I'm not in any real rush [to sign anywhere].
"I've been there already and there's a point guard opening, out of all the clubs playing another year at Canberra would make the most sense.''
Jackson urged Graf to open talks with Veal, and has her fingers crossed a deal can be done.
"I called Graffy three weeks ago and said you need to talk to Kristen, I'd love to play with her again,'' Jackson said.
Canberra's player signings are in limbo with because of the uncertainty still surrounding the club's mooted partnership with University of Canberra.
It is understood Basketball ACT and the university are close to finalising an agreement to take over the Capitals' licence for next season.
Jon Tuxworth is a sports reporter at The Canberra Times.