Pregnancy sidelines Cosier
She's the WNBL supermum awaiting the birth of her second child and Michelle Cosier has already set her sights on a comeback championship next season.
The Canberra Capitals star will sit out the 2013-14 season after revealing she will have her second child on February 14.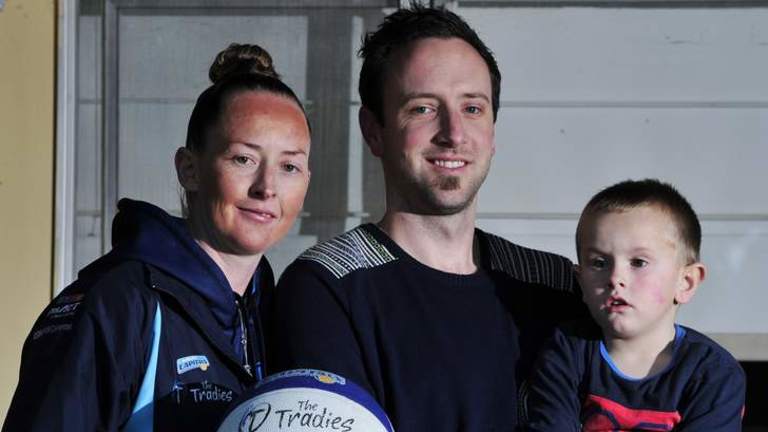 But instead of walking away from the court, Cosier, 31, is determined to juggle motherhood and her basketball to win another title.
''[Capitals coach Carrie Graf] was pretty excited and happy for me, she basically said, 'pop it out and get back into training','' Cosier said.
''When [first son Brody] was four days old he was out at a basketball court, when he was 12 days he was at a WNBL grand final.
''I'll give a comeback a go after and if I think my body's up to it great, if not we'll see how it goes. I still feel I've got time up my sleeve.''
It will mean sleep deprivation, expressing milk before training, court-side babysitting and a two-person cheer squad few female athletes get to have.
In fact, Cosier admits she doesn't know any other semi-professional female athletes who have given birth twice and still continued their sporting careers. Most walk away after one to start a family.
But Cosier still has a burning desire to compete at the highest level, despite already having 12 seasons and 226 games under her belt.
The tenacious defender and gifted point-scorer moved to Canberra in 2008 and won a championship in her second season with the club.
She missed out on back-to-back grand final triumphs when she gave birth Brody just 12 days before the Capitals beat Bulleen in the 2009-10 decider.
Cosier made a comeback the following year and Brody grew up at Capitals training.
The veteran hopes to return to training next year and play in the 2014-15 season.
Cosier's second pregnancy could be a blessing in disguise. She has battled osteitis pubis for the past couple of seasons.
''But my mind still says I want to play basketball and I definitely want to come back. When I was pregnant with Brody, I craved greasy foods. I basically had greasy foods for breakfast, lunch and dinner. I put on 27 kilograms.
''I've already put on almost 10 kilograms since I found out I was pregnant.
''This time I'll be smarter with what I eat … still have the greasy foods but maybe not for every meal.
''I was breast feeding until 15 months so I'd have to express before training and juggle that [with Brody], but it's been pretty cruisey. Sometimes Brody is the boss and rules me though.''
Cosier said her comeback from her first pregnancy was ''one of my best seasons''.
She has worked out a system with husband Simon to give her the best chances of making a successful return.
''Simon and I spoke about it and we wanted Brody to have a little playmate, it's one of those things you can't time,'' Cosier said.
Chris Dutton is the sports editor at The Canberra Times.