Wilson 'knows when to shoot'
The Canberra Capitals have backed Carly Wilson to break her scoring drought, insisting her on-court smarts will tell her when it's time to take over a game.
Wilson began the season in fine shooting touch, scoring 16 points in Canberra's season-opening win at Sydney.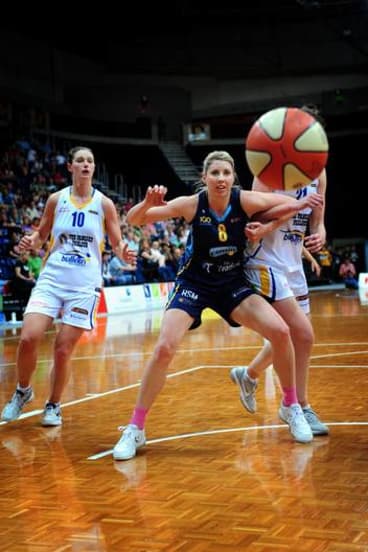 But the well has dried up considerably, the 30-year-old scoring just nine points in four games since.
On pre-season eve, Capitals coach Carrie Graf spoke of her desire for Wilson, a renowned team player, to be more selfish with the ball.
However with teammates led by Nicole Hunt and Jess Bibby lighting up the scoreboard early, Graf doesn't view it as a big concern.
Wilson plays several vital roles, in particular the responsibility of locking down the opposition's most dangerous offensive weapon.
''People say Willo's not hitting shots … it's about what's required of her in a game,'' Graf said.
''She's not a player that's going to go searching for scoring, it's not who she is.
''We've got to play to people's strengths, and her strengths are an unbelievable understanding of the game, leadership on court and her ability to defend.
''So long as she's taking open shots that are her shots, I don't have a problem. When she's not taking shots that are wide open, that's when we'll have a problem.''
Skipper Jess Bibby says it's only a matter of time before Wilson begins to hurt teams on the scoreboard.
But the Capitals are also wary of overburdening her, given the vital defensive role she plays.
''She's so important defensively, we don't want to have to put that pressure on her to have to score,'' Bibby said.
''We want Willo to take shots, absolutely, but what we've shown the last few weeks is we've got other people who can score.
''I think once the pressure's off Willo with people constantly ramming home 'score, score, score', we will notice she'll chip in with those 10 to 15 [points] as well as locking her man up.
''She's one of the team's best shooters and we'll continue to give her the ball, but she makes good decisions and if she's open she'll shoot it.''
The Capitals will be looking for a third straight win at home when they host Sydney at AIS Arena on Friday night.
While they aren't stressing over Wilson's scoring statistics, the Flames' 0-5 record is ironically causing alarm bells.
Canberra lost seven of its first eight games last year, and its players know from personal experience the desperation Sydney will bring.
''We know the situation they're in, that was us last season,'' Bibby said. ''They've put themselves in a hole like we did last year, but we've got ourselves in a good position [3-2] and we don't want to blow an opportunity to consolidate ourselves inside the top four.
''The road's probably a good place to be when you're struggling for wins, because you spend all day every day together. ''Next week we've got the two top teams in Adelaide and Bendigo, so this is a big one to get.''
Since its round one loss to Canberra, Sydney has added WNBA star April Sykes and former Opals forward Rohanee Cox to its roster.
In her first game back since ending her short-lived retirement, Cox racked up 15 points, five rebounds and two assists in less 16 minutes against Logan last week.
Flames coach Karen Dalton has hinted she will receive more court time tonight, despite her lack of match fitness.
LA Sparks small forward Sykes also hasn't taken long to find her feet with 31 points in her first two games with Sydney. Point guard Alicia Poto is also tipped to make a surprise return just two weeks after damaging a medial ligament in her knee.
''They're bigger than when we last played them and they've gone with a different focus,'' Graf said.
''We've got a lot of respect for Sydney and know it's going to be a totally different game to game one.''
Morning & Afternoon Newsletter
Delivered Mon–Fri.