WNBL: Canberra Capitals begin rebuild by signing Lauren Mansfield, Mikaela Ruef
The Canberra Capitals have begun their rebuild by snaring two key signings for next WNBL season in Mikaela Ruef and Lauren Mansfield.
Having won just two games last season, American forward Ruef and highly-rated young point guard Mansfield will be unveiled by the Capitals on Friday.
Coach Paul Goriss has targeted youth as he looks to restore the seven-time champions to their former glory after taking over from long-time coach Carrie Graf.
Mansfield was exceptional in her first full WNBL campaign for the now defunct South-East Queensland Stars, averaging 15.5 points at 42 per cent from the field, 5.4 assists and 4.7 rebounds per game.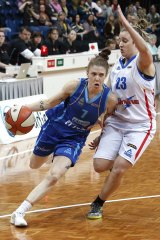 Ruef, 25, averaged 13 points, 12 rebounds and two assists in her second WNBL season for Adelaide Lightning last year.
The pair's signing is a major boost for the Capitals, who are also in the midst of negotiations with Australian Opals stars Stephanie Talbot and Marianna Tolo.
Ruef and Mansfield will arrive in Canberra with a well-established combination given they are teammates at South-East Australian Basketball League side Launceston Tornadoes.
After a stint in US college basketball, 26-year-old Mansfield seized her opportunity to run the Stars when Opals playmaker Erin Phillips was unable to play through injury.
Former Basketball Australia Centre of Excellence head Goriss watched her firsthand when he helped the Stars for a brief period last season when they were going through liquidation.
"I got to be around that team for a couple of games and what struck me was her passion for playing the game," Goriss said.
"She's a future Opal the way she plays the game and we're going to help her develop.
"Her ability to play off the pick and roll and get to the basket fits the style of play we want from our group.
"I want to develop more local Australian talent, not just have a veteran group and buy one [good] year."
Tolo is a two-time Capitals Most Valuable Player winner and should she return, her front court combination with Ruef promises to be one of the best in the league.
"Mikaela has been a consistent performer the last two seasons in scoring and rebounding," Goriss said.
"I also like her toughness and ability to get things done. She had a great debut season in Sydney [in 2014-15] and was a great contributor for Adelaide last season."
Jon Tuxworth is a sports reporter at The Canberra Times.