Beckenham backs plan for Olympics
Matt Beckenham has backed the new Winning Edge 10-year plan to lift Australia into the top five at the Olympic Games and he wants to stay in Canberra to nurture future international stars.
Athletics coach Beckenham received a lifeline from the Australian Institute of Sport last week when it extended his contract until the end of April to bring him in line with scholarship athletes.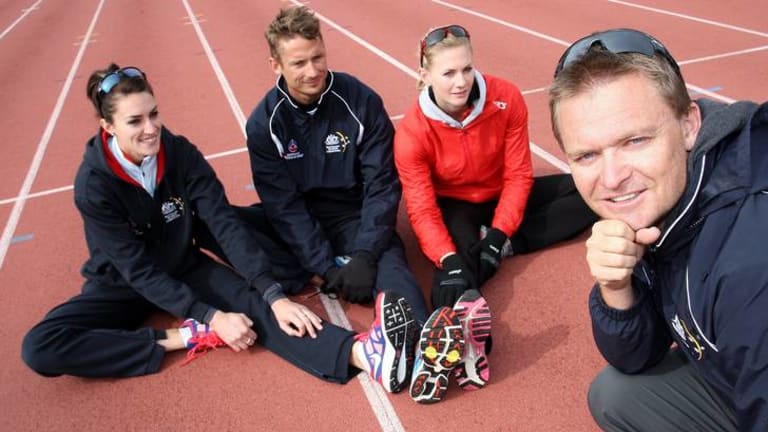 Despite guiding Melissa Breen, Lauren Boden and Brendan Cole to their Olympic debuts in London, Athletics Australia tried to force Beckenham to leave the capital if he wanted to continue as a contracted coach.
But Beckenham wanted to stay. He feared he would become a private coach only, but the AIS has saved him a significant headache and the former Olympic runner is optimistic he will be able to secure a long-term deal.
The AIS delivered its plans for a major shake-up of the way elite sports programs will be run in the coming years, with the goal to return to the top five on the Olympic medal count. Uncertainty surrounds the future of a number of sports at the Canberra base.
Beckenham admits his future is unclear beyond April, but is holding hope of a more permanent role with the institute.
''I just want to be able to provide the coaching level required for my athletes,'' he said.
''The decision has given me some optimism for the future that I'll still be involved in some way.
''I was worried. At one point I was resigned to the fact I would be privately coaching as my only source of income. I want to work with more athletes and develop them, get them involved in the community.''
The Australian Sports Commission delivered its 10-year Winning Edge strategic plan on Friday.
It is still not clear how it will affect the AIS base and whether sports will overhaul the way they use the peak organisation.
The AIS will act as a conduit between the federal government and national sporting organisations, with sports to take more accountability for their governance, finances and performances.
Most of Australia's high-profile track and field athletes are spread around Australia.
Beckenham's success with Breen, Boden and Cole impressed Athletics Australia officials, but they asked him to move to Sydney.
While he didn't know if he would have a job if he remained in Canberra, Beckenham was determined not to place extra stress on his athletes.
''One of the strengths of our squad is that we're so close and we're like a family, so that if one's hurting, we're all hurting,'' Beckenham said.
''I didn't want the stress on them … but I couldn't say to them everything is fine because they're smarter than that.
''I genuinely want to coach them and they want me to coach, so they did all they could to assist me. I'm focused on getting them running fast.''
Breen became Australia's first athlete in the women's 100 metres sprint at an Olympics since 2000 when she ran in London.
Boden impressed and made it to the semi-finals of the 400 metres, hurdles and Cole did the same in the men's 400 hurdles.
Beckenham is confident the new strategic plan will boost medal prospects in the future.
''It's a change of direction with this plan, it will be a litmus test for all sport because the accountability is far greater,'' he said.
''I guess you could call it a resurrection, there will be some teething issues in terms of getting the right plans.
''But I think the AIS will be heavily involved in guiding sports through. No one wants it to fail and I think it can work.''

Chris Dutton is a sports reporter at The Canberra Times.
Morning & Afternoon Newsletter
Delivered Mon–Fri.