Ben Treffers will be carrying on a family tradition when he goes for gold in the Commonwealth Games in Glasgow.
After a number of near-misses, Treffers finally made his Australian swim team debut in the 100 metres backstroke this week, finishing third in his semi-final to qualify in lane eight for the final, early Saturday morning (AEST).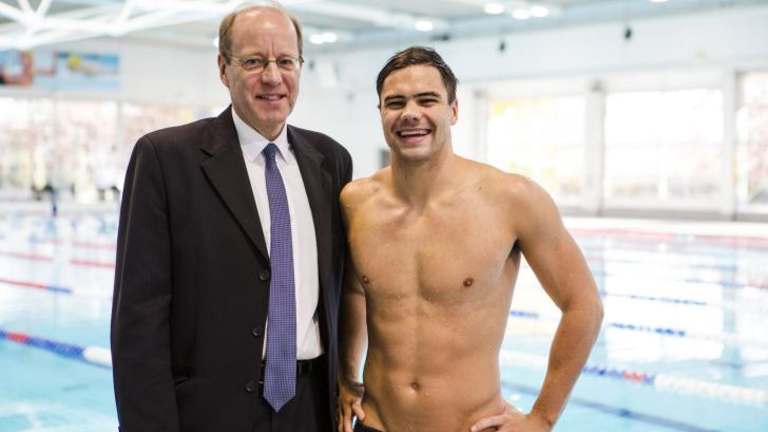 Swimming is in Treffers' blood; dad Mark swam for New Zealand at the 1970 and 1974 Commonwealth Games, winning gold in the 400m individual medley at the latter, as well as the 1972 and 1976 Olympic Games.
His aunt Lynne Dalzell also swam at the 1976 Olympics, and his uncle, Paul Rowe, swam for Australia at the 1982 Commonwealth Games.
The genes augured well for Treffers' swimming career, but he's had to wait longer than he hoped to make the first-string Australian side.
The Canberra-born backstroke specialist missed a spot on the Australian team for both the 2009 world championships and the 2010 Commonwealth Games by the smallest of margins – one hundredth of a second.
He then missed the team for the London Olympics by 0.11 seconds, a blow dad Mark said was Ben's "biggest disappointment".
"He really had his mind set on that and it just didn't come together, that probably had an impact for another year or so, but he came back last year again," he said.
Ben has marked the disappointment as a learning experience.
"Missing those teams has really been part of my journey and has helped me get to where I am today," Treffers said.
"I can approach swimming with a new perspective and not be so intensely focused on it, because with that focus comes pressure, and that can be, and has in the past been detrimental to my performance.
"People say you've missed a whole bunch of teams, but it's only because I've been around for a while and they think [I] must be getting on, but I missed my first team at 17.''
Along with shedding his fear of failure, the 22-year old ANU student has worked with long-term coach John Fowlie to make strides in his physiological capabilities over the past 12 months. Most notably, a marked increase in his blood lactate concentrations show his improved ability to produce more energy, something which led him to break the Australian record for the 50 metres backstroke in April.
It's left Treffers confident he's done the preparation to potentially match his dad's achievement of Commonwealth Games gold.
"It's something I can aspire to, but at the end of the day I can't control what the other athletes are going swim, I can only swim as fast as I can and whether that's a gold, silver, whatever it is, I'll be happy if I put in a really good performance."
In Glasgow, Mark has been among the poolside spectators cheering on his son.
"There's a lot of anticipation and excitement about it, but I feel probably a bit more pressure than when I was swimming myself; it's harder being a parent than a swimmer," he said.
The heats for the 50 metres backstroke start at 8.10pm (AEST) on Saturday, with the semi-finals on Sunday morning and the final scheduled for 4am Monday.
Fleta Page is a journalist at the Sydney Morning Herald. She was previously a sports and general news reporter at The Canberra Times.