"I'm a real fighter," says Canberra boxer Ben Edwards, "and that's something Sonny Bill can't say".
Edwards enters the ring in Canberra on Friday night for his second shot at the Australian heavyweight title, but there's far more than a championship belt on the line.
The 31-year-old fights for his father Ray, who spent six months in hospital last year and now spends every waking hour attached to an oxygen machine, and must sleep propped upright on a sofa.
Edwards fights for his mother June, who spent her entire working life as a secretary and now cares full-time for her ailing husband, who turns 70 this year.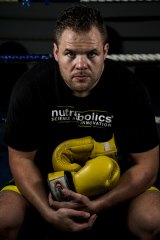 Edwards fights for both parents, who almost lost their Dunlop home to medical bills last year before the three of them sold up and downsized to a two-bedroom townhouse in Charnwood.
"My main motivation is to give my parents a better life," Edwards, a former kickboxing world champion, says of his return to professional boxing.
"I love to fight, I'd do it for free, but I've seen the stress not having money can bring to a family. My dream is to give them a better life ... I want to provide for them the same way they provided for me ... There's a hell of a lot riding on this for me."
Edwards can create history if he wins the vacant Australian Boxing Federation title against Brisbane's Hunter Sam at Canberra's Hellenic Club on Friday night, becoming the first kickboxing world champion to do so.
But in May last year, in Denver, Colorado, Edwards hit the canvas and, in his words, "rock bottom". He was dropped twice in the opening round of a kickboxing bout against the world No.2.
"Losing that fight changed everything. I'd never been at a lower point in my life in the months after that fight," Edwards says. "I thought, what do I do now? I can't crack these top two or three guys and they're the guys that make the money.
"A culmination of everything I'd been working for ended. I wasn't making a living, I was out of shape ... my dad's in hospital, my mum's thinking the house is going to be repossessed, it was an awful time. But instead of just sitting there and being sad, you've got to help yourself."
Edwards took charge of his life, hoping to change life for his parents. Originally training out of "a mate's garage", he's now based at Dickson's Stockade Gym. Having fought anywhere from 100 to 130 kilograms, he now weighs in at the happy medium of 113kg.
Edwards wants to represent "real fighters" in the ring, to create headlines for the pugilists, not footy players in gloves.
Edwards was a promising rugby league player as a kid, too, representing the Canberra Raiders in under-16s and under-18s and playing first grade with the Queanbeyan Blues at 17. He chose fighting instead.
In his professional boxing debut in 2007, Edwards knocked out former rugby league star John Hopoate in 89 seconds.
"I like John, we've become friends since, we spend a bit of time together," Edwards says. "With all due respect, he was never a boxer, just a super tough guy who did boxing.
"The same as Sonny Bill [Williams] and [NRL star] Paul Gallen, they're just tough guys who do boxing. Sonny Bill's an awesome athlete, but he's an athlete first and a fighter second.
"They're in mismatched fights, they're not fighting fighters. With a guy like Sonny Bill, he wants to call himself New Zealand champion, but the last two guys he fought, one was 100kg overweight and the guy before that had been retired for five years.
"His management are not going to put him in with anyone half dangerous. If you want to call yourself a fighter, take fights and be a fighter ... I'm a real fighter. I don't win all the time, but I don't pretend I'm something I'm not. This is who I am. I may not be the No.1 guy in the world, but I am a real fighter and that's something Sonny Bill can't say."
Edwards describes himself as "a basic meat and potatoes" boxer, the kind to "walk forward and throw punches".
Talking about others in the sport, he doesn't miss either.
Edwards says former world champion Anthony Mundine "is one of the best athletes Australia's produced" but his fight cards are "just laughable". He calls them "the Mundine Circus".
Edwards even baits the world's longest-reigning heavyweight champion, Ukrainian Wladimir Klitschko, who knocked out Australia's Alex Leapai in a world title fight last year.
"Guys like Klitschko win 90 per cent of their fights, but they're boring as hell," Edwards says. "I'm a boxing fan and they're boring. They're safety first: jab, jab, hold. But that works, so why would you take a chance? You're getting $20 million, but it's not entertaining and that's half of what the sport should be ... win, lose or draw, I always go for it. I'd rather lose an exciting fight than win a boring one."
Known as Bangin' Ben, Edwards has won four of his five fights by knockout in the first round, for a total five minutes and 15 seconds in the ring. The other, against Michael Kirby in 2011, went the full 10 rounds. It was a draw.
His father left hospital to watch his last fight, in November last year, when he finished Tafa Misipati in 102 seconds. Ray Edwards, far bigger than his son, returned to hospital again soon after. He's now back at home, using a walking frame with an attached oxygen tank, but will be ringside again on Friday night.
"He's got a plethora of problems," Edwards says of his dad. "Originally he had kidney failure, he had to have his big toe removed because he was having blood flow problems, he was having dialysis every other day, and on top of that he's got advanced heart disease.
"This fight is the culmination of 11 years work.
"I'm not going in half-cocked, I'm going in 200 per cent. I couldn't have done any more.
"This is my second go at [the Australian heavyweight title], there's probably not going to be a third, so there's a lot resting on this for me."
Chris Wilson is the sports editor at The Canberra Times.