As Anthony Mundine entered a makeshift boxing ring at Circular Quay for a promotional training session before a large and loud crowd, MC Ben Damon suggested that the attendance was a sign of the huge interest in Wednesday night's bout with Daniel Geale.
''Of course,'' Mundine said. ''Because I am involved.
''If Daniel Geale was fighting Sam Soliman they wouldn't be here. It is because I am fighting that they are here.''
Love him or hate him, no one can question Mundine's drawing power and there are likely to be as many people at the packed Sydney Entertainment Centre and watching on Main Event in the hope of seeing him lose as there will be true Geale supporters.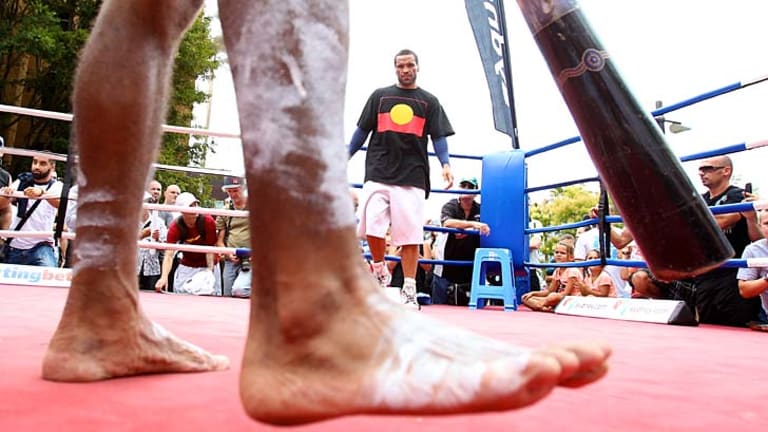 Mundine and Geale are indigenous boxers, each with three world titles, but they are contrasting personalities fighting for different reasons in the International Boxing Federation middleweight title bout.
For Geale, who has defeated German world champions Sebastian Sylvester and Felix Sturm on their home soil, the rematch with the only opponent to have beaten him in his 29-fight career is a chance to earn some overdue recognition in Australia and internationally.
Despite the public claiming they want boxers to fight overseas against the world's best, many Australians have returned home with title belts but little acknowledgement for what they have achieved.
''Daniel is what I call a blue-collar fighter,'' said US promoter Gary Shaw, who felt it necessary to intervene and talk up Geale when the quietly spoken 31-year-old was being interviewed by reporters. ''He comes to work, does his job and he doesn't have a big entourage so I have a lot of respect for Daniel.
''I call him a choirboy because he is the last guy who looks like a fighter but he is just underrated and every time he walks away with a world title.''
But to make a noise in a sport where trash-talking opponents is the norm, boxers need talent and must be prepared to be outspoken and not shy away from controversy.
In all three categories, Mundine is one of the best to have ever donned boxing gloves but he doesn't court controversy just to promote his fights as some may think.
While Geale hopes his achievements in the ring will gain the publicity he deserves, Mundine sees each fight as an opportunity to promote causes he believes in and as he nears the end of his career those who hope he will go quietly will be disappointed.
With a loss against Geale likely to spell the end of the 37-year-old former rugby league star's aspirations of a big fight in the US, Mundine may not have the same platform for much longer and he has already raised issues about Aboriginal welfare, the Australian flag and the national anthem.
While he apologised for questioning Tasmanian-born Geale's indigenous heritage at a press conference to announce the fight, Mundine views the Union Jack on the Australian flag as a symbol of invasion by Britain and considers the national anthem to have links to the White Australia Policy.
Revelations that Mundine is planning to turn his back when Advance Australia Fair is played in the ring on Wednesday night has further painted Mundine as the villain in the bout but he is unfazed. ''You know that they can't wait until I am gone, but I am still pressing the boundaries,'' he said.
''This fight is part of my legacy, and that is why it is so important.
''I think it is going to be a sellout and so it should be because I gave boxing mouth-to-mouth 13 years ago and I am still keeping it breathing.''
Morning & Afternoon Newsletter
Delivered Mon–Fri.