It's not often couples can realistically share the Olympic dream. It's even rarer in the boxing world.
Queensland pugilist Jesse Ross is in Canberra chasing that dream at the Oceania Olympic qualifiers being held at the AIS this week.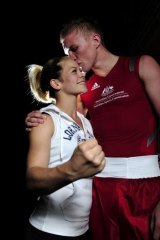 Both he and girlfriend Jessica Rettalick are Australian champions in their weight divisions and both want to fight at London in July.
They met while competing at the Arafura Games in Darwin last year and have been travelling down the same path ever since.
Ross made it through to tomorrow's final of the 75-kilogram middleweight division and if he wins that he's off to the Olympics.
Rettalick has been in his corner through the whole campaign - an experience she finds more nerve-wracking than stepping in the ring herself.
''Being in the ring, once you get in there, all nerves go and you get in the zone so you don't have that feeling. But when he gets in there you have it the whole time,'' she said of watching her boyfriend fight.
''I want it for him just as much as I want it for myself. I'm chasing the same thing, so I know exactly to a tee what he's going through.''
It's been a dream Ross has been chasing since he was a kid but it was only seven years ago he first found boxing.
The 22-year-old went to the Nerang PCYC with his older brother to get fit.
From there the science of boxing dug its claws into his veins until it became more than just a sport. It became a way of life.
''You just get pushed and push yourself to the limits and I'm such a competitive person … [that you] push yourself to that limit, that hurt sensation, you just live for it,'' Ross said.
His dream stumbled in the lead-up to the Delhi Commonwealth Games when he lost the qualifying fight in the 69kg welterweight division to NSW's Corey Hammond.
To avoid a similar fate, Ross decided to bulk up and step up to middleweight. It's ended his constant battle with the scales.
''It was a no-brainer, really, just because I'm so tall. I really had to kill myself to make the weight of 69, I'd really drain myself and it got to the point where it wasn't becoming fun anymore,'' he said.
''It was becoming more of a battle to make the weight than the fight itself.''
For Rettalick her moment of truth will come at the world championships in China in May.
If the 21-year-old finishes as the highest-ranked 60kg lightweight from Oceania she'll be London-bound.
Like Ross, she pulled on the gloves for fitness.
''Once you've done a couple of rounds of sparring you want to take that even further again. I suppose I'm one of those people that strives to get as far as she can in what you like doing,'' said Rettalick, who had her first fight when she was 14.
''Sparring then fighting, then fighting in massive tournaments, and then fighting for titles, and then fighting for the Olympics, and then fighting for your country.''
The London Games will be the first time women's boxing has been part of the Olympics.