SONNY BILL WILLIAMS has hit back at criticism that his fight against Francois Botha was cut short and accused the South African of dirty tactics.
Williams won a unanimous points decision over the former world heavyweight champion but the fight ended in controversy as Botha claimed the match had been scheduled for 12 rounds and he had the Sydney Roosters' star recruit in serious trouble when it ended after 10 rounds.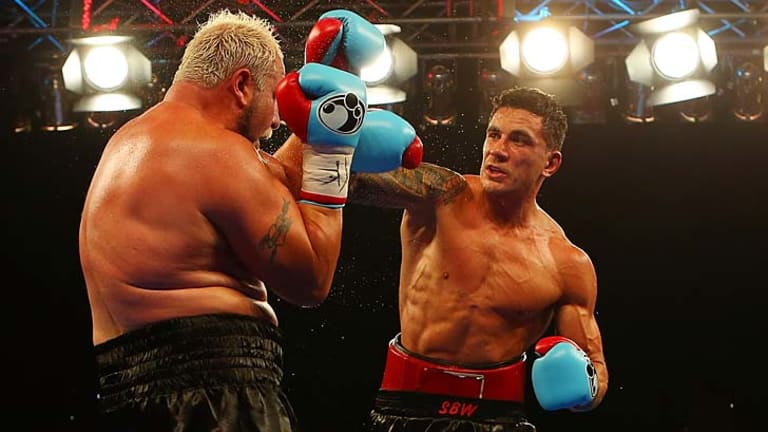 With sport reeling from a report by the Australian Crime Commission alleging widespread doping and corruption, Botha, who tested positive to drugs in 1995, said: ''Isn't this match fixing?''
Williams said he had only prepared for 10 rounds - the same as his last bout 12 months ago for the New Zealand heavyweight title - and claimed the blow that rocked him had come after referee Tony Kettlewell had stopped the fight to separate the pair.
''He rocked me in the last round but that was from a dirty shot,'' Williams told Fairfax Media. ''The fight was broken up and he just hooked me.''
Williams's trainer Mick Akkaway, who had worked with him in Japan while he was recovering from surgery for a pectoral muscle tear, was fuming that Kettlewell had allowed Botha to repeatedly land late shots at times when the fight was stopped.
''He hit him on the break, the referee said stop and then he hit him on the side - that was not cool," Akkaway said. ''The referee said stop and he hit him once, the referee said stop again and he hit him another two times and the referee said stop.''
Sportsbet has offered to refund bets on Botha and at least two of the ringside judges said they had thought the fight was scheduled for 12 rounds but Williams insisted he had always believed it would be shorter.
''I thought it was going for 10, I thought it was just like the New Zealand title that I fought for - that was 10 rounds - and my whole preparation was based on 10 rounds,'' Williams said.
Botha said he would protest the decision but Fairfax Media was told on Saturday that he is extremely unlikely to go through with the threat.
Williams's manager and promoter, Khoder Nasser, said he had spoken with the WBA and boxing's oldest sanctioning body had no issue with the bout being 10 rounds as it was not an official world title fight.
Botha's promoter, Thinus Strydom, admitted he had discovered shortly before the fight, which was for the vacant WBA international heavyweight belt, that the bout would be 10 rounds but he did not tell his charge.
''I found out when they were walking in,'' Strydom said. ''They called me aside and said, 'Listen it's been cut down to 10 rounds'. I said to my guy, 'Don't tell him'. Before the bell, you don't do things like that. The last round was cut short and Sonny Bill was out.''
Despite boos from sections of a crowd that included a large contingent of his new Roosters teammates, fellow ex-Bulldogs Reni Maitua,Willie Tonga and Nate Myles and Broncos star Justin Hodges, Williams said he was proud of what he had achieved in just his sixth fight.
''I beat a guy that has fought eight different world champions, he might have lost most of them but he is a guy who had fought 60 times and only lost eight times. Now he has lost another one,'' Williams said.
''He got me with a couple of shots at the end but I have never gone past six rounds before so I am just proud of myself after six fights to have taken on someone with the experience he has and coming out on top.
''Being the old crafty bugger … he was punching me in the back of the head, standing on my feet to try to stop me moving and things like that.
''I have had no amateur background, so it is probably only really my second professional fight.
''Everyone will write it how they want to but my family and close friends are all proud of me so that is what makes me happy.''

Brad Walter is Sports Reporter for The Sydney Morning Herald
Morning & Afternoon Newsletter
Delivered Mon–Fri.