He's the Canadian import leading the way for the CBR Brave, and forward Stephen Blunden is enjoying every moment in the Australian Ice Hockey League.
The 25-year-old has been a revelation in his first season with the Brave and is a key reason why it is sitting third on the table before Saturday night's match with the Sydney Bears at the Phillip Swimming and Ice Skating Centre.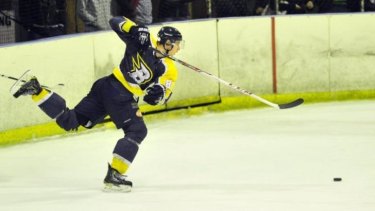 Blunden spent four years with the University of Ottawa and decided to play in Australia after having it recommended to him by a couple of friends.
He has made the most of his opportunity with 11 goals and 11 assists for a total of 22 points – equal third best in the league – from just eight games this season.
Blunden's combination with fellow Canuck Mathieu Ouellette, who has 19 points, and Finnish teammate Anton Kokkonen, has given the Brave plenty of offensive firepower.
"I had a few buddies in the past play here and they said they had a great experience, so I emailed Canberra and started talking with [coach Matti Luoma] and he convinced me to come,'' Blunden said.
"It's surpassed my expectations, the games get pretty physical, pretty quick.
"At first our line struggled, our first two shifts we got scored against both times, but after that we really gelled.''
Blunden said Finnish goalkeeper Petri Pitkanen and defenders Mark Rummukainen and Aaron Clayworth deserved plenty of the credit for keeping the team in games.
The Brave is riding high after winning five of its past six games, including beating the top-of-the-table Melbourne Ice 4-2 on Sunday at home.
It was the first time a Canberra team had defeated the Ice in eight years. The now-defunct Canberra Knights last achieved the feat in 2006.
AUSTRALIAN ICE HOCKEY LEAGUE
Saturday: CBR Brave v Sydney Bears at Phillip Swimming and Ice Skating Centre, 5.30pm.
Lee Gaskin is a sports reporter at The Canberra Times.