Victory ticks the first box for the Canberra Capitals. Now the waiting game begins as they cross their collective fingers and pray for a Townsville win.
After a stand-out performance of 28 points and 12 rebounds, Caps swingwoman Stephanie Talbot was confident of getting a good night's sleep, but she said it would still be a "nerve-wracking" wait to see whether she plays in the WNBL finals.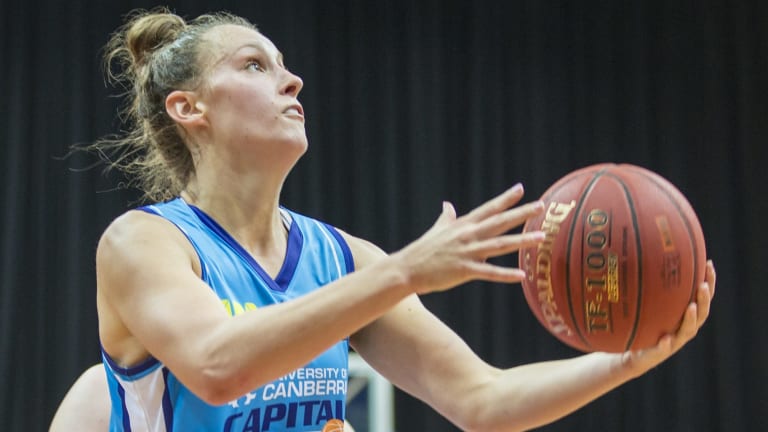 The Capitals beat the Bendigo Spirit 85-75 at AIS Arena on Friday night, but they still need Townsville to beat the Sydney Flames in Sydney Flames on Saturday night to finish in the top four.
Talbot led the way for Canberra and she chose a good time to do it, with the coach of WNBA side Seattle Storm, Jenny Boucek, in the crowd.
"I think after that I'll be pretty tired and I'll be able to sleep well," she said.
"It's a bit nerve-wracking leaving the end of our season in someone else's hands, that's for sure."
The first quarter was a tight affair, with nothing separating the two sides at the first break at 18-all.
Bendigo were showing their hand of going inside to captain Gabrielle Richards, who opened with eight points in the first stanza, while Talbot pointed to what was to come with five of her own.
But from there the Caps took control of the game, with the 1112-strong crowd bolstered by some ACT Brumbies fans, who produced the chant "Bendi go home".
They got out to a 10-point lead, with veteran guard Jess Bibby kick-starting the roll with a three-pointer, and kept it to be up 46-36 at the long break.
The Capitals dominated the boards courtesy of both Talbot and Abby Bishop, but the Spirit looked to combination of Richards, import Kelsey Griffin, Sara Blicavs and Belinda Snell to try to get them back into the game.
And gradually they did, cutting the margin to just two points with about three minutes left in the third quarter.
But then some big three-points bombs from Bibby, who has a fractured neck, settled things for the home side as Bishop sat on the bench with four fouls.
The Caps were back to an eight-point lead with a quarter to play.
Again Bendigo came, whittling that back to just three points, but then Bibby hit an important two and Carly Wilson nailed back-to-back jumpers to keep Canberra in control.
With no live coverage of Saturday's Townsville-Sydney game, Capitals coach Carrie Graf said she wouldn't be watching the live scoreboard online – although she was expecting plenty of updates from her mum.
But she did have a subtle dig at the fact the ABC is pulling its coverage of the WNBL next season.
"I'm not one for watching the live stats tick over. It'd be nice if it was on TV, if it was on the ABC, if it was on another broadcaster," Graf said.
"It'll be one hell of a game of basketball to watch. Every fan that was in here tonight would be tuned in.
"We'll just enjoy the performance and hope it's enough to get us in."
CANBERRA CAPITALS 85 (Stephanie Talbot 28, Abby Bishop 18, Jess Bibby 11) bt BENDIGO SPIRIT 75 (Gabrielle Richards 21, Kelsey Griffin 16, Tessa Lavey 12) at AIS Arena on Friday night.

David Polkinghorne covers the Canberra Raiders, local rugby league, Canberra Cavalry, racing and cycling, along with every other sport, for The Canberra Times.
Morning & Afternoon Newsletter
Delivered Mon–Fri.