Representing Australia at next week's All Star game is another step towards Robbie Perkins' long-term goal of reaching the 2020 Olympic Games.
After completing his second season in the US on a minor-league contract with the Colorado Rockies, the 20-year-old Canberra product is having another solid season for the Cavalry in the Australian Baseball League.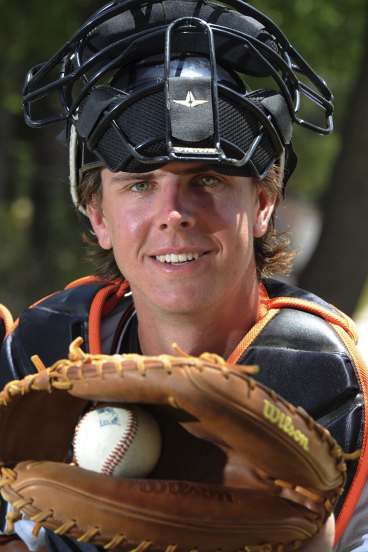 The talented catcher has an impressive .298 batting average and will play a key role in this weekend's four-game home series against the Melbourne Aces at the Narrabundah Ballpark starting on Thursday night.
Popular American Jack Murphy will bring up his 100th game for the Cavalry this weekend before his record third-straight All Star selection.
Meanwhile, Perkins will be making his All Star debut, having represented Australia at junior level and also having been in a pre-season series with the Sydney Blue Sox a couple of years ago.
Perkins sees his selection as an opportunity to show he can be the long-term replacement to Perth Heat duo Matt Kennelly and Allan de San Miguel for the 2020 Olympic Games.
"It kind of means they are grooming me to be the next catcher after [Perth duo] Matt Kennelly and Allan de San Miguel move on and are out of the game," Perkins said.
"They've been the Australian catchers for the past few years and the next thing they're looking at is the 2020 Olympics and hopefully I'll have a chance to step up into that game.
"By then I'll be 25 and those guys will be 30 or so, depending on where their careers are it's possible they might be out of the game or not catching any more.
"It gives me a chance to step into that role."
After skipping the first year of his Rockies contract to complete high school, Perkins has spent the past two seasons in the US honing his skills in the minor leagues.
He has been a regular in the Cavalry in the past few seasons to gain valuable at-bats in the off-season.
Perkins has worked closely with American import Murphy, who was a key to the Cavalry's ABL championship and Asian Series success.
"It's huge, he's played double-A and triple-A and has been around the game a long time," Perkins said.
"Ideally, I'm going to progress to be a catcher like him, a very good defensive catcher who can swing the bat a bit.
"Just the wealth of experience he's had means you can talk to him about anything and you learn a lot about how he handles things behind the plate and it helps my play, too."
The Cavalry (9-11) are fourth on the table and will be looking to bounce back from last weekend's 3-1 series loss to Adelaide against the last-placed Aces (7-12).
"You never like to lose a series, but if we can come back this weekend and get the win or a sweep, it will really put us back in a good mood," Perkins said.
"It'll be great to give us some momentum into the Brisbane series up there next weekend."
AUSTRALIAN BASEBALL LEAGUE: Canberra Cavalry v Melbourne Aces at Narrabundah Ballpark. Thursday, 7pm. Friday, 7pm. Saturday, 7pm. Sunday, 12pm.
Lee Gaskin is a sports reporter at The Canberra Times.