Canberra cyclist Rebecca Wiasak lost her funding, was the last rider left out of a world championship and then the Commonwealth Games, and even when she was picked for this year's worlds, she knew she might not ride.
Now the 30-year-old is a world champion, climbing to the pinnacle in the women's individual pursuit in Paris on Saturday after refusing to take no for an answer.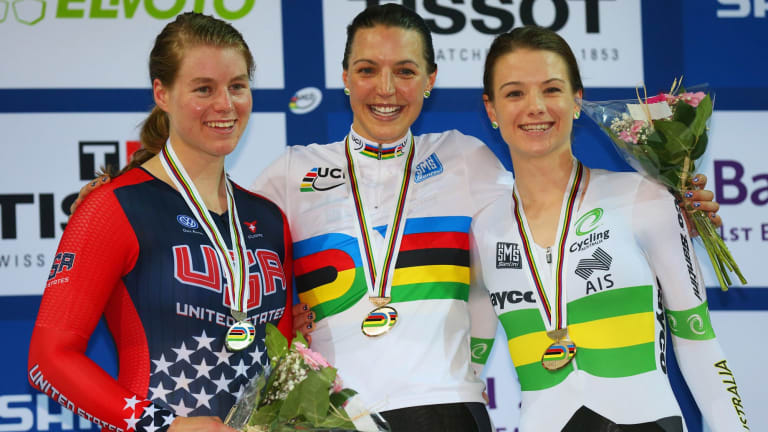 But even now she is not sure if she will get her funding back or be part of the plans for the 2016 Olympic Games in Rio de Janeiro.
Wiasak's journey has been a long and complicated one – she started out as a runner born in Geelong, evolving into a triathlete, before settling on the bike as her preferred vehicle to the top.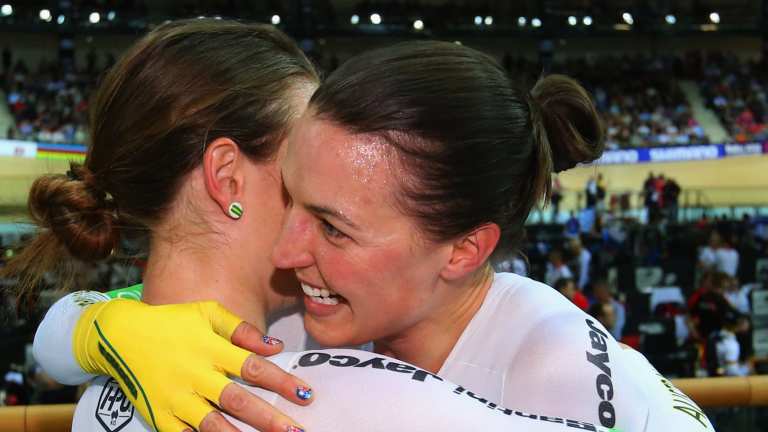 Even then she switched between road and track cycling, where she finally seems to have found her home.
Wiasak was the last rider dropped from both the worlds and Commonwealth Games teams last year and she stared the same fate in the face this year, scraping in as the last picked to go to France.
She hoped to be part of the women's team pursuit but was forced to sit and watch as her teammates rode their way to a world title on Friday.
It was only then that she knew she would get her chance in the individual pursuit – a chance she grabbed with both hands.
The oldest Australian female world champs debutante celebrated with a few strawberries and some chocolate in the hotel with fellow Canberra cyclist Nathan Hart, still wearing her gold medal and her rainbow jersey as the world champion.
Not wanting to disturb roommate Stephanie Morton's sleep, who is racing on Sunday, Wiasak sat up through the night responding to as many well-wishers as she could before her phone battery died.
"I started smiling before I crossed the line, it was really overwhelming," Wiasak said of the win.
"I was more emotional watching the girls win their world championship yesterday.
"While I didn't ride on the track, they made me feel a part of it and I was very emotional.
"It was a feeling of disbelief, just a fantastic feeling."
As Wiasak walked into the velodrome when she first arrived in Paris, she looked across at the media centre and thought about what could have been.
Her dream is to make it to an Olympics but she did not know whether that would be as a journalist or an athlete.
Having started out at The Canberra Times, Wiasak could easily have been sitting in the middle of the Paris track covering the worlds rather than competing in them.
Even now she is unsure whether her Olympic dream will come true, despite being a world champion.
The individual pursuit is not an Olympic event so she has to force her way into the team pursuit to get to Rio.
She is also unsure whether she will get back the high-performance scholarship she had for three years before she lost it last year.
"I lost my scholarship in October because they didn't know if there was a place for me in the squad. [Coach] Gary Sutton thought there was one for me," Wiasak said.
"I hope [I can get another scholarship], there's so many girls vying for spots and such depth for women's endurance on the track ... I'm lucky I've had the support of some personal sponsors."
Wiasak will return to Canberra on Wednesday, where she hopes to train until September.
David Polkinghorne covers the Canberra Raiders, local rugby league, Canberra Cavalry, racing and cycling, along with every other sport, for The Canberra Times.