Canberra hurdler Lauren Wells' emotions went from despair to pure joy after booking a world championships berth when her time was adjusted at the Melbourne World Challenge on Saturday.
After a series of near-misses, Wells thought she'd fallen just short of the required 56.20-second run over 400 metres again when 56.27 flashed up on the scoreboard.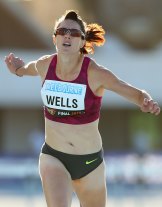 It was later changed to 56.19 seconds by the judges, which booked her place in Australia's team to compete at Beijing in August.
Canberra javelin thrower Kelsey-Lee Roberts also qualified for the world championships with a career-best 64.59 metres.
Having fallen just short with a 56.21-second run in perfect conditions at last month's Canberra Classic, Wells achieved the mark in blustery, difficult conditions.
"It's amazing what can go through your mind in a small space of time," Wells said.
"I thought 'I missed the qualifier, but the conditions weren't perfect', then the commentators were saying I got it," Wells said.
"I didn't really believe them because I've never seen a time rounded down that much before.
"I almost thought someone would tap me on the shoulder and say they've made a mistake, but I guess something was a bit off and it worked in my favour."
Wells holds seven national titles, equal with the legendary Debbie Flintoff-King, and will be raging favourite to take the record outright at next weekend's Australian championships in Brisbane.
Having made the semi-finals and finishing 14th at the last world titles in 2013, Wells believes she has enough improvement left in her to make the final.
The presence of American Cassandra Tate (56.97 seconds) in Melbourne was the spur Wells needed, having struggled to find quality opposition domestically.
"Having her just behind me really kept me on my toes and made me not take my foot off the pedal at all," she said.
"Obviously that was a good thing given I only got under the time by 0.01.
"I still feel in my races I've got a lot more to give, it's a weight off the shoulders to qualify and I can go into the national championships next week with a clear mind and try some things.
"I don't feel like I'm at 100 per cent right now, it's good to qualify in a heavy training block.
"I knew all along I was quite capable of doing it; the wind was really tricky for the circular events, but particularly for hurdles.
"I was happy I could adjust accordingly and think on my feet a bit."