Canberra United's W-League championship hopes are in freefall after suffering its first home loss to competition cellar dwellers Adelaide United.
The 3-2 loss at McKellar Park on Sunday was Canberra's third defeat from its past four games as it dropped out of the top four for the first time this season.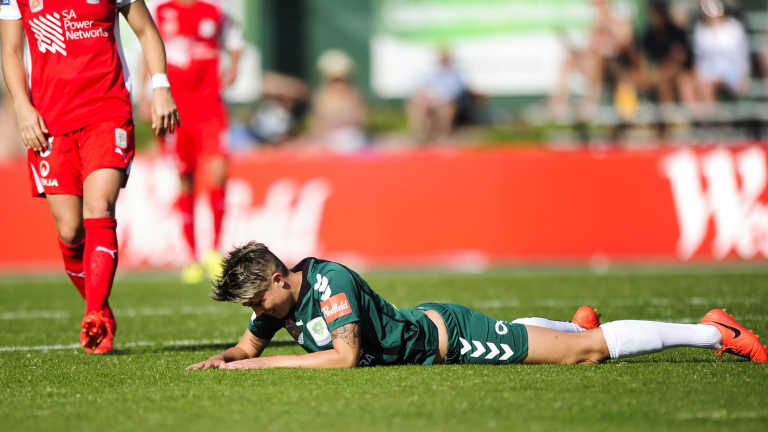 Canberra twice came from a goal down to get back on level terms, but couldn't prevent Adelaide's Tiarn Powell from scoring the match-winner in the 76th minute.
Canberra coach Liesbeth Migchelsen was critical of her team's poor finishing in front of goal along with several defensive lapses, which proved costly.
"If you get so much opportunities and you don't finish, what can you do?" Migchelsen said.
"It's not only the finishing. If you concede three goals against you, that's why probably everyone should face the mirror.
"If you make so many errors as we did and you score goals, maybe you win the game.
"But if we play this way, it's going to be a hard time for Canberra United."
It's the latest in a line of unwanted records for Canberra this season.
A 4-2 loss to Melbourne Victory earlier in the season was its biggest at home, while a 10-game unbeaten run against Perth Glory since the start of the W-League in 2008 came to an end last weekend.
Canberra captain Nicole Begg put her team's form slump down to a lack of confidence.
"We've just got to back our own ability, on the ball and in front of goal and defending as well," Begg said.
"There's too much hesitation in the way that we're playing.
"Everyone's capable of putting passes together and we're not doing that at the moment. If we back ourselves and ability we'll get results."
Canberra goalkeeper Melissa Maizels made her W-League debut deputising for an injured Chantel Jones.
After Canberra had a glut of chances in the first half, Maizels was caught flat footed when Adelaide captain Kristy Moore found an opening to give the visitors the lead against the run of play.
A change of formation to a 4-3-3 had immediate effect as Canberra levelled barely a minute into the second half when Michelle Heyman reacted the quickest to a loose ball in the box.
Just as Canberra was on the verge of regaining the momentum, Moore fired in her second on the hour mark to put Adelaide back in front.
Canberra continued to press and got its reward when a header from Caitlin Munoz from a corner was successful.
But Canberra's joy was short lived, Powell scoring from close range barely a minute later to shift the balance back in the visitors' favour.
W-LEAGUE: ADELAIDE UNITED 3 (Kristy Moore 43' 60', Tiarn Powell 76') bt CANBERRA UNITED 2 (Michelle Heyman 47', Caitlin Munoz 75') at McKellar Park on Sunday. Crowd: 794