He's the Canberra kid taking on the world's best player who has won more than $70 million in prize money, but Nick Kyrgios is oozing confidence ahead of the biggest moment of his career and a showdown with Rafael Nadal at Wimbledon.
But his parents are sticking with tradition and superstition - dad George wearing an Akubra and the same shirt to every game while in the crowd and mum Nill still too nervous to even watch from her Watson lounge room.
World No.144 Kyrgios continued his outstanding form by beating Czech Jiri Vesely 3-6, 6-3, 7-5, 6-2 in the early hours of Sunday morning to book his place in a potential centre court match against world No.1 Nadal on Tuesday night (Australian time).
Nill and brother Christos had planned to make a dash to London if Kyrgios beat Vesely, but have decided to stay in Canberra to avoid any distraction.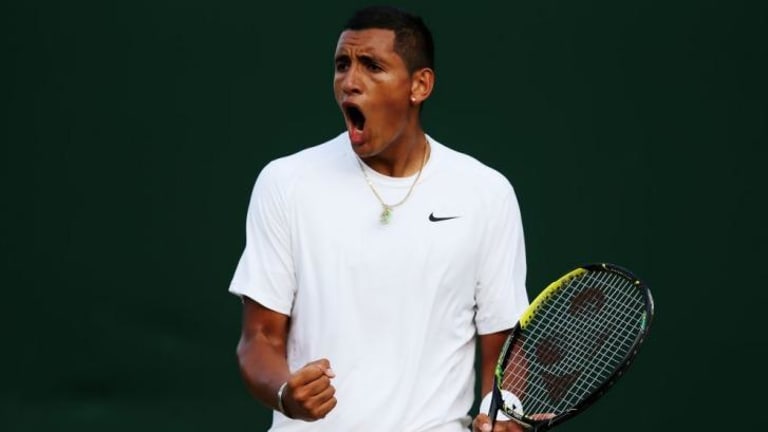 Too nervous to watch, Nill went to bed and turned her mobile phone off on Saturday night before being woken at 4am by Christos with her 19-year-old son on the verge of another amazing triumph.
Kyrgios is set to pocket $A211,000 if he loses to 14-time Grand Slam winner Nadal, almost doubling his career prize money of $A235,000.
It's pocket change compared to Nadal's $5 million haul this year and career earnings of $70 million. But if former Daramalan College kid Kyrgios is fazed, he's not showing it.
Of the latest match, Mrs Kyrgios said: "I went to bed, turned my phone off, put headphones on and then woke up to the last two points because Christos came bursting in saying I had to come and watch.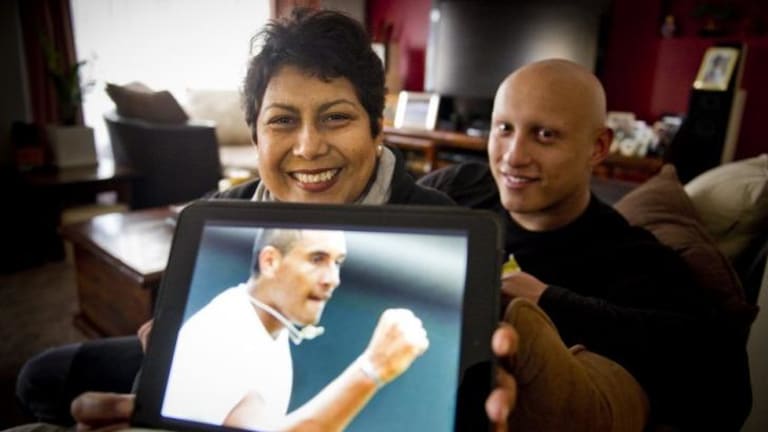 "The dynamics of having two of us over in London and then Christos and myself here in Canberra is working. We're supporting from here, giving good vibes.
"He's there, it's amazing. George and I spoke and we were shouting at each other, we couldn't believe it."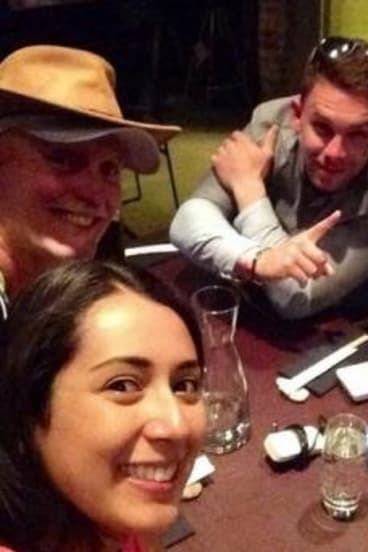 The tight-knit Kyrgios family are riding high on Nick's success. There is a calendar in the family kitchen with a schedule for who will be travelling with Kyrgios when he tours the world to play in tournaments.
A small group gathered at the family home to watch and couldn't contain their excitement when Kyrgios won.
Dad George and sister Halimah are in London. George has worn the same hat and shirt for all three of Kyrgios' wins.
"When I spoke to George I said that his Akubra hat has done it again," Mrs Kyrgios said.
"He said he was still wearing the same shirt. He goes home, washes it and if it's still wet he wears it again. He's mad.
"But him being there means Nick can get family love ... plus making sure he gets all his washing done and his clothes are clean. If we're not there, you can't even find a pair of socks in his bag. Every little bit helps."
Kyrgios is yet to play on centre court at Wimbledon, but is excited at the chance to take on Nadal.
Kyrgios is set to rise into the world's top 100 which guarantees him entry to tennis' four big tournaments - Wimbledon, the French Open, the US Open and the Australian Open.
Making it even more impressive is the fact he was ranked outside the world's top 800 just 18 months ago.
"[There's] obviously 14 Grand Slams between us, so it's going to be a good match," Kyrgios joked of his match up with Nadal.
"I'm overwhelmed with happiness. Making the fourth round at a grand slam at the opportunity to play Rafa, hopefully on Centre Court ... I'm just going to embrace it.
"To think that it's going to happen in about a day is daunting, but exciting as well."
The big serving and confident teenager is refusing to take a backward step despite being in the fourth round of a Grand Slam tournament for the first time in his career.
But with an on-court swagger and love of attention on the big stage, Kyrgios is thriving in his first Wimbledon appearance.
He fell to the ground after beating Vesely and is now aiming to cause the biggest upset of the tournament against Nadal.
Chris Dutton is a sports reporter at The Canberra Times.
Morning & Afternoon Newsletter
Delivered Mon–Fri.