Canberra's Susan Powell wins first Aussie gold
Canberran Susan Powell has opened Australia's gold medal account at the London Paralympic Games in front of the enthusiastic British crowd with a thumping win in the C4 individual pursuit final.
Powell set the ball rolling as the nation's first athlete at the Games to make the top step of the podium.
Five years ago she suffered a seemingly innocuous spinal injury playing hockey that left her with nerve damage and with weakened strength in her leg.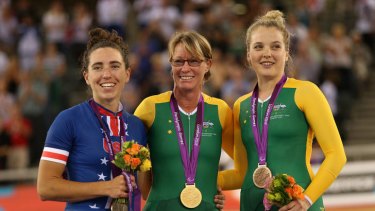 She said she could not help but be emotional about her triumph after welling up during the playing of the national anthem.
"I still can't believe it," she said.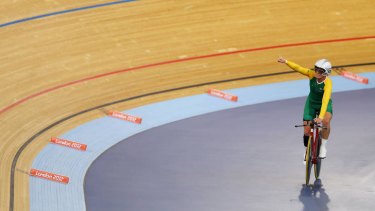 "It is a dream. You think 'oh maybe' you do not dare to believe you really can."
Powell took to Twitter to thank her supporters shortly after her win.
Meantime, Jacqueline Freney, who has cerebral palsy diplegia, comfortably won the S7 100m backstroke and could be in for a swag of medals at the pool this week.
However the star of the day was Kieran Modra for completing a trifecta of 4000m pursuit titles at the Paralympics.
Competing at his seventh Games, the visually-impaired cyclist credited pilot Scott McPhee for sticking by him in the dark days that followed his accident on the way to work last December.
The crash left the athlete, who has competed in athletics and swimming at previous Games, with gruesome injuries.
"It is quite awe inspiring actually (to win three in a row)," he said.
"I never thought I would have been able to do it."But you take one at a time and reinvent yourself."Scott has been an inspiration for me."
Australia collected five medals in the velodrome on Thursday with Bryce Lindores and pilot Sean Finning collecting silver behind Kieran Modra and McPhee.
Simone Kennedy picked up silver in the C1-3 pursuit and Alexandra Green earned bronze in the C4 pursuit.
Australia's medal haul included an impressive performance from eight-time swimming champion Matthew Cowdrey in taking out silver in one of his weaker events, the S9 100m butterfly.
Cowdrey had another reason to be in a good mood post race with the reclassification of American Paralympic champion Justin Zook out of his 100m backstroke race.Also in the pool, Rick Pendleton picked up bronze in the SM10 200m medley.
Away from Olympic Park, Natalie Smith collected Australia's first medal of the Games in the 10m air rifle standing.
The 37-year-old Victorian shooter only took up the sport two years ago after a hiking accident left her with paraplegia.
with AAP