The CBR Brave has broken through for the first win in the club's history, smashing the defending Australian Ice Hockey League champions the Sydney Ice Dogs 6-2 on Saturday night.
In front of a sold-out crowd at the Phillip Swimming and Ice Skating Centre, the Brave pulled away in the third period to stun the Ice Dogs and even their season record at 1-1.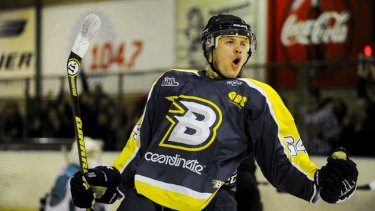 The Brave was only formed in March after the demise this year of the Canberra Knights, which folded in dramatic circumstances to end its 33-year existence.
Brave forward Jordan Gavin said playoffs were not out of the question after beating the Ice Dogs and going close in a 2-0 loss to last year's grand finallists Newcastle in their season opener two weeks ago.
"We had our full squad and we knew we could cause a big upset, and we did it so we're pretty happy,'' Gavin said.
"We're definitely looking at finals.
"We put the defending champions to the sword pretty easily, so we've just got to keep building momemtum and we should be there in September.''
The Brave twice hit the lead in both the first and second periods only for the Ice Dogs to get back on level terms going into the final 20 minutes.
But on the back of a superb performance from Finnish goalkeeper Petri Pitkanen, who saved a penalty among plenty of great stops, the Brave fired in four straight goals to send the home supporters into raptures.
The Brave are back in action on May 10 when they host the Adelaide Adrenaline.
Lee Gaskin is a sports reporter at The Canberra Times.