Central Coast Mariners chief executive Shaun Mielekamp says the A-League club is committed to establishing a genuine presence in Canberra and tapping into the region's rich football history.
Canberra is set for an overload of top-level football, with three games involving A-League teams to be held in as many days next week.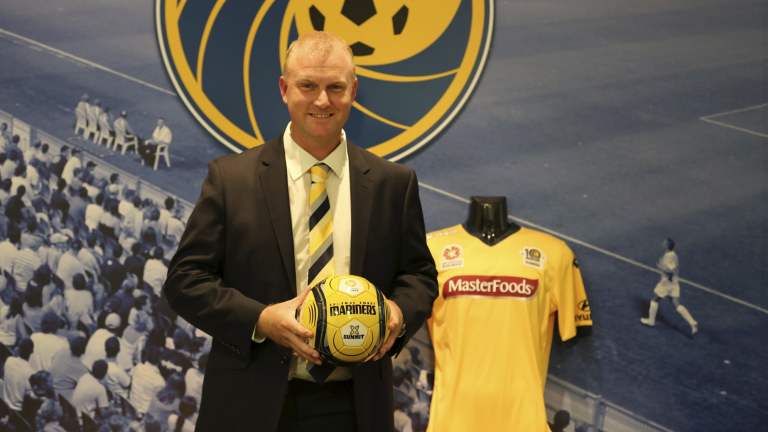 The Mariners start their five-day pre-season tour against ACT National Premier League club Canberra Olympic at Gungahlin Enclosed on Tuesday night.
They will then take on the ACT's FFA Cup representative Gungahlin United at the same venue on Thursday night.
In between, A-League glamour club Sydney FC will face Belconnen United at McKellar Park on Wednesday night in what has been dubbed the "sky blue" match-up.
Bringing A-League clubs to Canberra as part of their pre-season is another step towards establishing a National Youth League team in the national capital.
Fairfax Media understands Canberra will have a team in a revamped NYL competition in the 2016-17 season when it becomes a smaller regional format.
Along with their two games, the Mariners will also be holding two coaching clinics with players from Canberra Olympic, Majura FC and Gungahlin United juniors.
Mielekamp said the Mariners understood the importance of interacting with the community.
"The Mariners have a strong focus on community and this is a mantra that we take with us, wherever we go," Mielekamp said.
"While we're in Canberra, the full playing squad will run two coaching clinics with the local clubs' junior players, signing sessions as well as two coach the coaches sessions where our coaching staff will take time to train the local coaches in Canberra.
"We have found a strong connection and support for the Mariners right across regional NSW and Canberra."
The Mariners held two regular season A-League games in Canberra in 2009, beating Perth Glory 2-1 and drawing 0-0 with Adelaide United.
They enquired about playing another game at Canberra Stadium this season, but the ACT Government preferred to focus its spending on bringing the Socceroos to Canberra.
Canberra is likely to host the Socceroos' World Cup qualifier against Kyrgyzstan in November.
"The synergy of being a club based in a regional city means that we understand that we cannot just simply fly in and out of town, we are passionate about delivering to the community and intend to form partnerships that will see us return," Mielekamp said.
"For the football fans in Canberra our trip presents several opportunities to not only see an A-League team in action on the field, but also meet and interact with them off the field, which is something that can be difficult for other franchises to bring to town.
"This community engagement is very important to us."
The Mariners will bring their entire playing squad to Canberra next week, including new signing and former Sunderland striker Roy O'Donovan, All Whites international Storm Roux and former Sheffield United midfielder Nick Montgomery.
A-LEAGUE TRIPLE HEADER
* Tuesday, August 18: Central Coast Mariners v Canberra Olympic at Gungahlin Enclosed, 6pm.
* Wednesday, August 19: Sydney FC v Belconnen United at McKellar Park, 7pm.
* Thursday, August 20: Central Coast Mariners v Gungahlin United at Gungahlin Enclosed, 6.30pm.
Lee Gaskin is a sports reporter at The Canberra Times.