Checks prevail in game of two halves
Quality finishing has sent Old Canberrans clear at the top of the Hockey ACT women's Capital League ladder with a 4-2 victory over St Patrick's in a classic ''game of two halves'' at Lyneham yesterday.
Old Canberrans have opened up a three-point gap on second-placed Central and gave St Pats their first loss of the season in the process.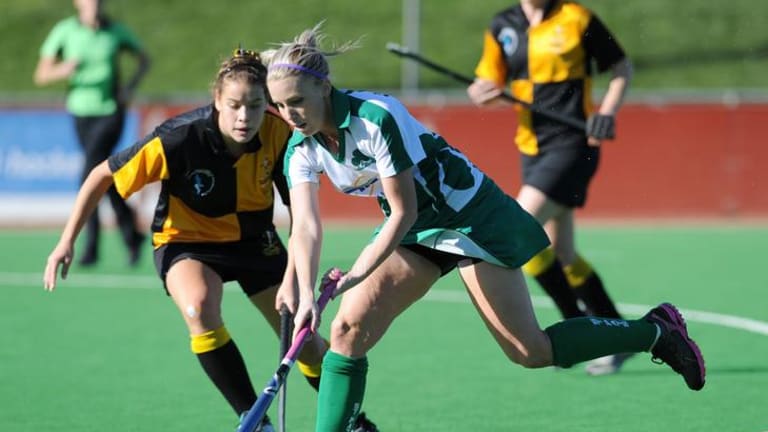 St Pats coach Lynne Fitzpatrick was left lamenting missed opportunities in the first half when her side threatened to run away with the game.
The Checks opened the scoring through a nicely worked move that left Sophie Cambridge one-on-one with only the St Pats keeper Tara McLachlan, but two quick goals from penalty corners for the Saints looked to have them 2-1 up at the break.
But a cracking strike by Kate Gilmore from an Old Canberrans penalty corner after the siren squared the ledger at half-time.
Until then the run of St Pats' Naomi Evans, Clare Hanrahan and Kelsey Davis had given the green and white the upper hand.
Fitzpatrick felt several lapses in defence had proved costly.
''If we put our opportunities away we probably could've won the game but we left ourselves exposed at the back a bit and credit to OC they put it away,'' she said.
Checks coach Ray Dorsett agreed his team had capitalised on its chances and he was especially happy with the way they responded after the break.
He called for more pressure on St Pats midfielders and it paid dividends with Kyralee Bunt converting a penalty corner and then Juanita McDonald smashing the ball home from the edge of the circle.
A couple of good saves by McLachlan helped minimise the damage for St Pats.
''The second half we wanted to tighten up our midfield, stop them from running through that midfield area and then counter-attack. The two goals that we got were a direct result,'' Dorsett said.
.
AT A GLANCE
Women's Capital League
UNIVERSITY OF CANBERRA 4 (Edwina Bone, Angela Freeman, Toni Stewart, Sarah Crombie) bt NORTH CANBERRA 0;
OLD CANBERRANS 4 (Kate Gilmore, Juanita McDonald, Sophie Cambridge, Kyralee Bunt) bt ST PATRICK'S 2 (Emma Taylor, Karina Lucas); UNITED 6 (Jamie Kingham 2, Annie Ferguson, Emily Hedditch, Margaret Courtney-Tennant, Catherine McInerney) bt WESTS VALLEYS 1 (Jennie Mulgrue); CENTRAL 4 (Danielle Lyons 2, Sarah Dobbie, Kiara Creaser) bt TUGGERANONG 0.
Men's Capital League
Old Canberrans 4 bt Wests 2; Central 6 bt ANU 3; United 5 bt St Pats 3.
Morning & Afternoon Newsletter
Delivered Mon–Fri.