JACK Baker shakes hands and apologises, taking another rueful look at the orange-brown muck covering his palms, arms and legs. ''We all put on fake tan and nighties after we'd won the other day, went out for a walk around Hobart,'' he says. ''We got a few looks, a few toots.''
Last Thursday, Baker bowled Victoria to victory in the national under-17 championships, taking 4-22 in the title-deciding game against Western Australia. He's just turned 16, so could play in his third nationals next year.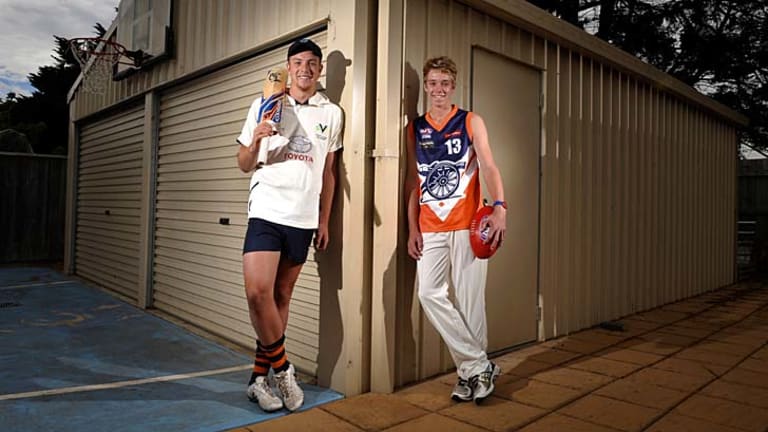 Already 186 centimetres, there's enough meat on his growing bones to suggest he's building a frame tailor-made for fast bowling. Or for holding down centre half-forward, should his football fill out too, and a spot with the Calder Cannons becomes a mere stepping stone on the elite pathway, and not a short-lived teenage distraction.
Sometime in the next year or two, he'll have a bigger decision to make than what shoes to wear with a woman's night dress. ''I don't reckon you can be half-hearted, you've gotta give it your all, have a real crack at one of them,'' he says.
Does he have an inkling which it will be? ''Nah, no idea really.''
Baker's mother, Sue, says her son is happily still at the stage where a multi-talented teen can have it all, leaning towards cricket in summer and footy in winter. ''I don't mind either way, as long as he's happy,'' she says, admitting to fearing he'd have been tugged in one direction by now. She praises the Cannons and Cricket Victoria for being mindful of not overloading Jack, either of body or mind.
Not that he hasn't already had a window on the fragile world that awaits, should he choose fast bowling over high flying. This time last year, Baker made two trips to Hobart - first with the state under-17 team, turning 15 while he was there, and soon after as captain of the under-15s. On the second-last day of the latter carnival, he got ''stressies'', teen-speak for the pace bowlers' curse of stress fractures. ''I could run in and bowl but it would be really, really sore,'' he recalls. ''If I walked back to my mark slowly, it'd turn into a dull pain, so I just kept doing that same cycle.''
For six overs he grimaced and ground on, and admits that coming back for a second, three-over spell wasn't very smart. ''I was cooked, I couldn't sit down, my back was so sore, I was hunched over all the time.''
Scans confirmed the worst, and four months' rest was ordered. There was a complication: Baker started a school-based plumbing apprenticeship the very next day. Cricket Victoria's physios weren't too keen on him being ''on the shovel'', but he reckons the lifting helped build muscle around his hot spot. Besides, ''the boss sorta said, 'Do you wanna work or not'?''
When he got the green light to hit the gym, an interminable program of squats and lunges awaited to strengthen his core. ''You have to go by the bible,'' he says, once bitten. ''You don't want 'em again.''
Fit again, he's back straddling the two worlds of gifted cricketing youth - playing against men for Kew's sub-district first XI on Saturdays, and alongside the best of his peers in under-age representative squads. He's played among adults since he was nine, climbing the grades and leaving behind ''the old, fat men''.
All of his teammates in Hobart do likewise, whether in the city or the bush; half a dozen are on TAC Cup lists, so the footy was out regularly too. Baker's brother, Ryan, is 14 and playing Kew firsts too. But even in this hothouse of promise, no one wonders aloud what tomorrow might bring. ''You'd probably get called a bit of a snuff if you started talking about that,'' he says.
Baker lives in Gisborne, where the family moved from Bendigo when he was seven. He was soon mucking around with Pat McKenna, playing cricket at lunchtimes and after school; they live a five-minute bike ride apart, and have been best mates ever since.
Baker says they're ''a bit the same'' - McKenna captained the under-17 cricket team, and is in the Cannons squad too.
Mates often remind Baker of his first game of footy, in the Gisborne under-9s, when he kicked one goal nine. ''They bring it up whenever I spray a couple now.''
A growth spurt has left him ''stuck at that funny height'', big enough to play key position locally, but as a third tall or even off half-back for Vic Country under-15s last season.
His cricket suit is more settled, has been since he played in an under-11s premiership for Kangaroo Flat aged seven, the same summer his dad, Rod, did likewise in the firsts.
Cricket memories are of watching his father every Saturday afternoon; footy has always been about the big game, the trips to watch Carlton, with Anthony Koutoufides and Lance Whitnall, who he was drawn to for their resemblance.
With ball in hand, he looks up to Peter Siddle and James Pattinson, likes banging it in, taking it up to the batsmen. ''I'm pretty fiery, I try not to back down,'' he says. ''Being a bowler, I have to be in the contest, otherwise you just run in and you're nowhere really.'' It's an attitude to make a coach smile.
He tries to work to a plan, to think the opposition out. He sees footy as more instinctive. ''It's more anger really … it just happens, it comes together. I wouldn't compare them.''
Managing his time is becoming trickier. Mum might drive him to Kew twice a week for training, or he'll catch the train and then the 48 tram, meet dad at Kew's Victoria Park, collect his cricket bag and get stuck in. The end of state squad training has freed up a night, but he and McKenna still won't make Calder's pre-season training until the cusp of the footy season.
The Cannons train at Craigieburn, 40 minutes from Gisborne. ''It's tough, but it's not going to be a barrier,'' he insists. Having left school to take on plumbing full-time, he has his workmates to answer to when his sporting life clashes. ''Why can't the rest of us have days off too?'' they rib him.
For now, the competing forces are advising him only to enjoy his sport, that the serious business of choosing one over the other can wait.
Baker says Ian Kyte, the Cannons' regional manager, has been terrific. ''He always tells me he likes cricket better, he just does footy for a job. He's always like, 'Just come when you can, your body will tell you what you can do'.''
Sue Baker is a first cousin of Brad Hodge, but for now he's told Jack only to have a back-up plan. He laughs at the idea that Hodge's has been to simply keep playing cricket.
Last year's stress fractures kept him out of football until well into the 2012 season, but he's feeling strong now. Being sidelined was part of the learning curve - his weight went up to 90 kilos (''food,'' he says when asked of his weakness, ''pizza, pasta, just anything''), but he's a fit 83 kilograms now. ''I knew once I started again it would come off.''
The Hobart championships were proof's pudding. Baker reckons he was ''almost bowling backwards'' on the last day - ''I was cooked, flat track, old ball'' - but he kept running in, got the job done.
He knows Alex Keath is a rarity - the kid who could have made it in either, and chose cricket over football's more assured fame and fortune. Whichever way he goes, he's sure of one thing, and it surely messes with the summer game's administrative minds as the arm-wrestle tilts further in football's favour.
''I much prefer to watch footy than cricket,'' Baker says. ''Cricket's boring to watch, I hate watching cricket.''

Peter Hanlon has worked at The Age since 1995, initially as deputy sports editor, subsequently as editor of the Saturday and Sunday Age sports sections, and since 2007 as a senior sports writer. He writes extensively on the AFL, and has also covered the Beijing Olympics and Delhi Commonwealth Games.
Morning & Afternoon Newsletter
Delivered Mon–Fri.