Cole shocks herself with one last victory
ELLIE COLE isn't completely sure how she won her third gold medal of the London Paralympics.
The Canberra swimmer was almost in tears walking onto the pool deck after her childhood hero and mentor Natalie du Toit reminded her that it would be the last race of her illustrious career.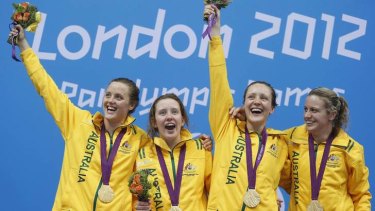 ''I nearly started crying,'' Cole said. ''I thought I can't walk out crying. What is Australia going to think?''
The Victorian pulled herself together and concentrated on producing a silver-medal winning performance in the S9 100m freestyle behind 13-time Paralympic champion du Toit.
Then a funny thing happened, she beat the Beijing Olympian in the two-lap race.
''I was not breathing on Natalie's side, so I had no idea where she was,'' Cole said.
''I was just trying to beat the Chinese girl and I thought 'OK, I think I am coming second'.
''I had no idea I was in front of Natalie, so I am really stoked.''
However Cole, who lost a leg to cancer at the age of three, admitted to feeling a bit guilty for beating the South African in her final swim.
''I am really going to miss her,'' she said.
''It is strange to know you are the fastest in the world at something,'' Cole said.
''It is quite overwhelming actually.''