They're the bunch of misfits thrown together for a shot at women's cricket glory and ACT Meteors skipper Kris Britt is adamant her ragtag team can clinch a shock premiership.
The Meteors have captured the attention of Canberra's top politicians, including Chief Minister Katy Gallagher and Sport Minister Andrew Barr, on a giant-killing run to the women's Twenty20 final on Friday.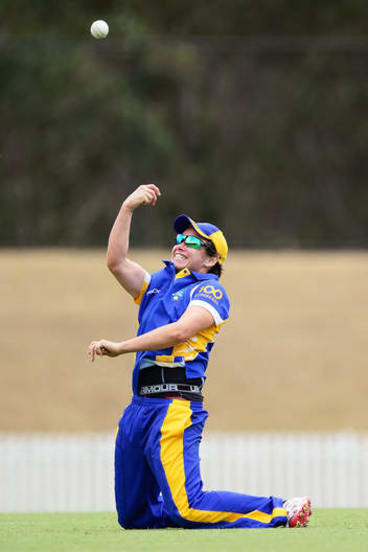 Their run to the final started five months ago on a farm 50 kilometres out of Canberra with players dodging cowpats and huddled under a tarpaulin to avoid the chilly conditions.
But when the Meteors beat powerhouse NSW and Rhiannon Dick claimed 6-14 - the best figures in the competition's history - the Gallagher and Barr offices were scrambling for details.
The Meteors group of school teachers, university students, lifeguards, doctors and landscapers will play Queensland in the Twenty20 final at the WACA Ground in Perth.
''The first thing most of the girls did when we [won the semi-final] was call their bosses to tell them we weren't coming into work for the rest of the week,'' Britt said.
''Now we've gone to the next step and hopefully we can go one step further in the grand final … if we back ourselves we can do anything and win any game. We don't need superstars, we can get there and we believe it.''
The majority of the Meteors squad arrived in Canberra after getting limited chances or no chance to play for their home states.
In the past Canberra's women's team has been a place for outcasts from other states to try to launch their bid for national selection.
Most Meteors are based in Sydney and travel to Canberra every week for training and games.
Britt has been playing in the Women's National Cricket League for 14 seasons.
She credits a pre-season boot camp challenge and a new focus on fitness for their resurgence in the women's game.
''Some people used to think you could just turn up in Canberra and play for the ACT. A Meteors spot was taken for granted,'' Britt said.
''But last year was a turning point. We changed our culture and now if you get a Meteors cap you've absolutely worked your bum off.''
The Meteors boast just three players with international experience - Britt, Rene Farrell and Nicola Browne.
Semi-final star and masters of physiotherapy student Rhiannon Dick got a clearance from her university to join her teammates in Perth and flew out on Thursday night. Sara Hungerford is studying to be a heart specialist, but has put the books away to chase a premiership.
''This is my second final in 14 years of national league competitions and in my first one the game was washed out before we even started,'' Britt said.
''I stressed that to the girls. These opportunities don't come around often, but we've got the confidence we can beat anyone.''
WOMEN'S TWENTY20 FINAL
Friday: ACT Meteors v Queensland Fire at the WACA Ground, Perth at 2.05pm (AEDST). TV: Live on ONE HD.
Meteors: Kris Britt (c), Laura Wright, Kate Owen, Sara Hungerford, Rhiannon Dick, Sally Moylan, Sam Bates, Kate Pulford, Rene Farrell, Kira Churchland, Jenny Taffs, Katie Mack, Nicola Browne.
Chris Dutton is the sports editor at The Canberra Times.