An England team in desperate need of a hug was crushed by a batsman nicknamed Bear at the MCG on Friday night, as Cameron White combined with his captaincy successor George Bailey to seize yet another series victory.
White, the resurgent Victorian batsman nicknamed Bear, put the result beyond doubt with 58 not out in 45 balls at the top of the innings - his second half-century in a row - after England lurched to 130 in 20 overs.
Though he was outscored by Bailey, who rattled up a 24-ball half-century, White set the tone for the chase and together the former and current captains carried Australia to an eight-wicket win with five overs and one ball to spare.
With one game to play the home side has now clinched decisive series victories over hapless England in all three formats this summer. Bailey finished unbeaten on 60 from just 28 balls with three sixes, which was three more than England managed in its entire innings.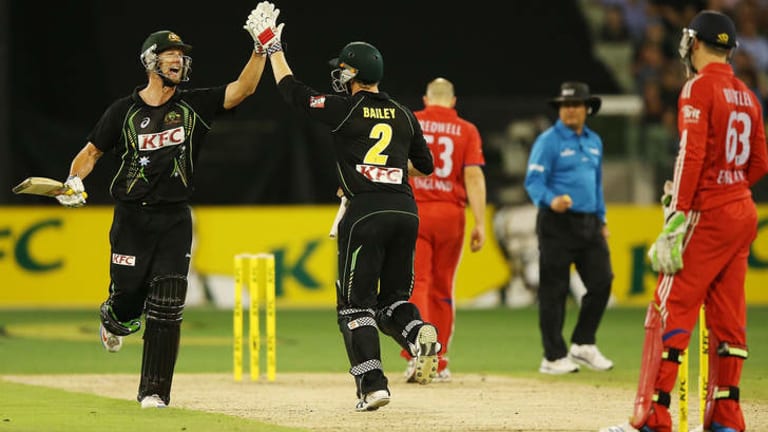 White made his intentions clear by sending six of the first nine balls he faced to the boundary and took a special liking to the offerings of Jade Dernbach, who went for 14 runs an over.
The 30-year-old wasn't prepared to declare himself a certain starter for the World Twenty20 in Bangladesh after his previous innings of 75 in Hobart but he must be feeling more confident now.
Brad Hodge was not required to bat in his first international match in six years, but he still featured prominently in an inspired Australian fielding effort, his reflexes and aim apparently not dulled by his advanced age.
The 39-year-old opened the bowling, took a sharp, low catch to dismiss Melbourne Stars teammate Luke Wright at short cover, and then with an off-balance throw ran out England's best Twenty20 batsman Eoin Morgan with a direct hit. The Victorian crowd of 64,385 loved every moment of Hodge's comeback match even if it didn't get to see him do what he does best.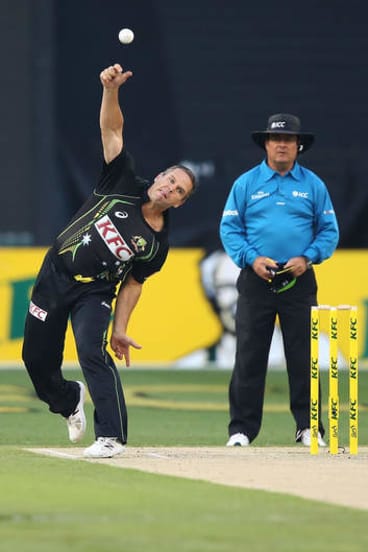 The Australian attack featured Mitchell Starc for the first time since the third Test in Manchester in August but he was upstaged by Josh Hazlewood, who finished off the innings by bowling two Englishmen in as many balls and collected 4-30.
Young spinner James Muirhead continued to show promise, fooling Ravi Bopara into hitting a catch to deep mid-wicket a couple of balls after beating him in flight for a stumping chance. After taking 1-17 from four impressive, controlled overs, Muirhead displayed ambition beyond his 20 years but in keeping with the national selectors' hopes for him. ''It would be good to continue the domination of leg-spin against England, with what Warnie brought to the table,'' he told Channel Nine.

Chloe Saltau is the chief cricket writer at The Age, regularly covering international cricket and providing news, comment and analysis on international cricket. She joined The Age as a trainee in 1998 and spent several years writing for general news (chiefly as a social policy reporter covering welfare and family issues) before moving to sport.
Morning & Afternoon Newsletter
Delivered Mon–Fri.