JACKSON BIRD'S shock Test debut forced his father Ian to change his Christmas and New Year plans. Ian had been planning to fly from Romania to watch Bird wear the green of the Melbourne Stars in early January but instead brought forward his travels so he could see his son don the baggy green. Ian, who lives in Romania, is heavily involved in the movie industry and has worked as a key grip for the production of films such as The Expendables, The Matrix trilogy and Little Fish, which starred Cate Blanchett.
A load of Bill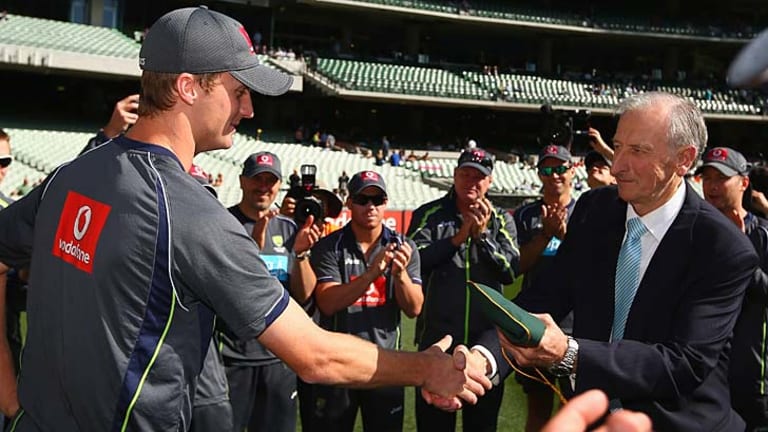 Bill Lawry had the Australian squad in stitches as he presented Jackson Bird with his baggy green cap. The former captain and Channel Nine commentator reminisced about a match where he was involved in a run out with chairman of selectors John Inverarity, who forged a reputation as a resolute and dour batsman in the 1960s and '70s. ''He's never forgotten [it] - but if you ever batted with John Inverarity you'd run him out too,'' said Lawry, dubbed the Corpse with Pads, to howls of laughter among the squad. Lawry advised Bird to enjoy the day and passed on a piece of advice he heard from the great Don Bradman. ''I think Don Bradman got it exactly right when he said to the young players - play the game for the game's sake and keep your eye on the ball.''
Henry on the outer
Geoff Lawson, one of the biggest critics of Cricket Australia's fast-bowling rotation policy, has been rotated out of Test duties. Despite being fully fit, the former Test paceman has been left out of the ABC's commentary team for the Boxing Day Test in favour of Victorian duo Bryce McGain and Andrew McDonald. Unlike Mitchell Starc, who has not been released from the Test squad to play in the Big Bash, Lawson will be on Twenty20 duties for the national broadcaster. He called the Sydney Sixers' clash with Hobart at the SCG on Wednesday night and will also be behind the microphone for matches on Friday and Sunday.
Test of skill
Andrew McDonald had his helmet knocked off on his first day of Test cricket but his maiden Test appearance in the ABC commentary box was far less dramatic. The all-rounder said he was more nervous for his commentary debut ''because it's not a skill I'm accustomed to'' but The Tonk has been told his deep voice and tactical nous was well received by ABC listeners. ''This has probably gone a little bit smoother,'' McDonald said. ''Any time you've got to fetch your helmet from 30 metres back past the keeper it's probably not a good start to your Test career. It was a bit daunting. If I can compare it to batting it was a shaky start, got through it OK, left a few balls but played and missed a few times as well. It was a good experience, it got me out of my comfort zone.'' McDonald, who resumed running on Christmas Eve, is eyeing a return for the Adelaide Strikers next Wednesday against Melbourne Renegades or on Saturday against Hobart but is still ''a long way'' from bowling.
Khawaja released
Usman Khawaja's loss is the Sydney Thunder's gain. The left-hander has been released from the Test squad after Michael Clarke proved his fitness in Melbourne and is free to line up for the winless Thunder's clash with Brisbane Heat on Friday night and the Sydney derby on Sunday. But in a move sure to rile Sixers boss Stuart Clark, the rested Mitchell Starc must stay in Melbourne to prepare for next week's Test and will not be available to wear the magenta as they struggle to defend their Big Bash title.
Harvey recognised
Former Test great Neil Harvey is the latest to be immortalised at the MCG. The Melbourne Cricket Club has announced a bronze statue of Harvey, a member of Don Bradman's Invincibles, will be placed on the MCG's Avenue of Legends. Harvey scored 6149 runs, including 21 centuries, at 48.41 in 79 Tests. ''Neil Harvey was a household name in Australian sport during the post-World War II period,'' said MCC president Paul Sheahan. ''He was a gifted batsman and a remarkably athletic fieldsman for his time.''
Morning & Afternoon Newsletter
Delivered Mon–Fri.