It would have seemed unthinkable seven months ago when he lost his way before the Ashes series in England, but David Warner is the most intimidating and influential batsman in world cricket by a long way.
Not only that, he is arguably the most intimidating of the last 40 years. It is almost sacrilegious to even contemplate that someone could rival Viv Richards in that regard, or to believe that Warner could be compared to the likes of Gordon Greenidge, Virender Sehwag or Chris Gayle. But the truth is he might have them all covered.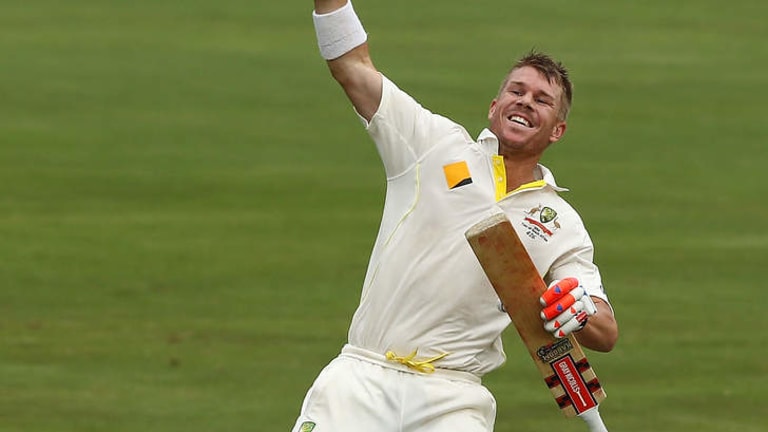 This pocket dynamo from Sydney is a freak. Never before have we seen a cricketer mouth off and then back it with his performances like he has. He makes us cringe at times with his comments and manner, he gets up the noses of the opposition and he terrifies bowlers.
From the moment he took Dale Steyn apart with his incredible display of hitting in that T20 match at the MCG four years ago, we knew we had someone special on our hands. Some traditionalists didn't like what they saw that evening, and for some time after - that wasn't supposed to happen to Steyn, and there was a pecking order in the game for which Warner seemed to have no regard. Besides, he wasn't even playing first-class cricket.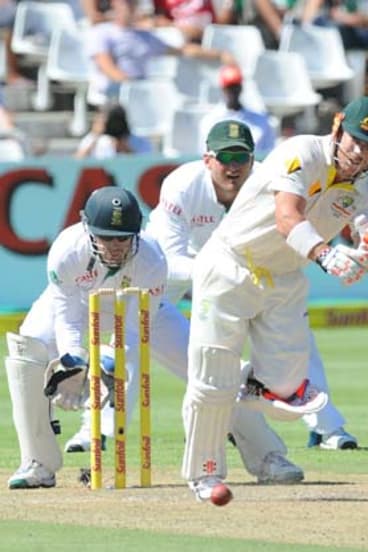 But Warner kept telling us he was good - batting either left or right handed - and he continued to produce remarkable innings in the game's short forms, for NSW and for IPL franchises. Then he began to make the cynics take notice with runs in Sheffield Shield cricket.
The most remarkable thing about Warner's beginning in Test cricket was that it featured a relatively slow and responsible century in Hobart when Australia lost to the Kiwis. But it didn't take him long to return to type, and a sensational century in Perth against India convinced all and sundry that not only did we have an opening batsman who was worthy of his position, but cricket had its most valuable marketing tool since Adam Gilchrist at his peak.
The Warner trail of destruction has continued ever since, despite the controversies he has embroiled himself in. He was confrontational and aggressive against England throughout our summer, he murdered the Proteas in Adelaide last season and he has driven them insane right now.
Cricket Australia's decision to keep him home in October rather than tour India might just have been the masterstroke that was needed to lift his mind and game to its current level.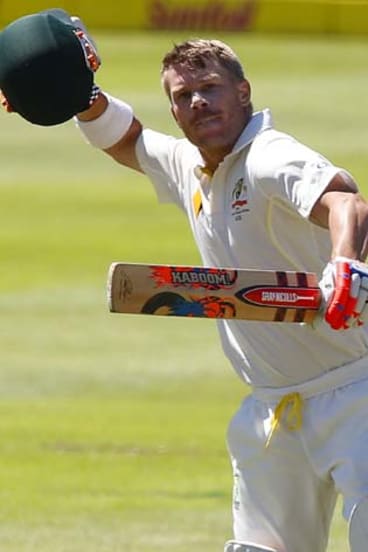 Playing for NSW did him no harm as he pulverised Victoria's attack with a succession of Ryobi Cup centuries. North Sydney oval might be tiny, but those innings launched Warner's season in one direction while condemning the Bushrangers to oblivion.
Warner went out to bat for six overs before stumps in the second innings at Cape Town on Sunday. Batsmen are supposed to fight for survival in such circumstances, but Morne Morkel, Michael Clarke's tormentor 48 hours earlier, returned to the pavilion humiliated.
On day one, on the back of Warner's aggression, South Africa's plans were in total disarray within an hour. This fellow scares the living daylights out of bowlers like no one before him. Along with Mitchell Johnson he has rejuvenated Australian cricket, and it's been great viewing. For Cricket Australia and his team, he is pure gold.
Morning & Afternoon Newsletter
Delivered Mon–Fri.