When a boxer makes an unsuccessful challenge for a world title, one of the first things their managers and promoters try to do is plot and scheme a potential path back to the top.
It's often a matter of politics but it's always a matter of opponents. There have been some exceptions over the decades but generally, if you go down swinging to one of the kingpins, your next appearance in the ring isn't against someone in the same ball park when it comes to ability.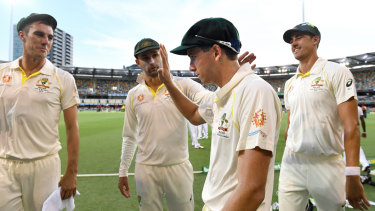 More than a few losses on the trot can be disastrous to the career of a fighter, which is why there's such a thing as a rebound fight, where they climb back in against a pug of limited ability and try to work their way back up the ladder.
Take Jeff Horn's bout against Anthony Mundine, a classic example of the genre. After a one-sided whipping at the hands of a brilliant Terence Crawford, the ageing Mundine was an easy (and lucrative) kill. And Horn could look good doing it.
That's about how it went down at the Gabba as Australia demolished Sri Lanka over three brutal days of cricket. Suggestions that the undermanned Sri Lankans were out of their depth on this tour, even against an Australian side that has more than its own share of issues, were sadly accurate.
It's in that context that Australia's victory has been digested. Yes, they were so dominant that they found themselves celebrating with two days up their sleeve. Golf courses and airlines were all taking added bookings on Sunday.
It probably says something about the state of the five-day game in Australia that one good Test gets you a walk-up start to an Ashes opener
But they could only play what was put in front of them. And after being largely outclassed over four Tests against India, perhaps dunking on the short kid wasn't such a bad idea at all as Australia's Test team tries to regain some form and fire.
There was a different sort of pressure on Tim Paine's team in Brisbane, not because they were on the verge of an historic series defeat but because they were expected to win handsomely. That they achieved that should come as a welcome confidence boost with just one Test to go before they stride out against England at Edgbaston in August.
Slowly but sure, the Australians are emerging from the post-sandpaper mist. New faces are always useful to help reinvigorate the energy of a transitional team and Jhye Richardson and Kurtis Patterson did precisely that at the Gabba.
It probably says something about the state of the five-day game in Australia that one good Test gets you a walk-up start to an Ashes opener but there looked to be a rare quality and versatility about Richardson as he went about his work.
At 178cm, he has modelled his game on Dale Steyn and found the Brisbane conditions and the pink ball to his liking. As impressive as he was in the first innings, his ability to be the rock for the rampant Pat Cummins in the second was equally as pleasing.
Patterson only saw limited time at the crease, with Australia already in command. Even so, he looked a ready-made Test player, with his elegant technique likely to serve him well should he find himself on the plane to England.
Selectors took some heat for the decision to bring in Will Pucovski, only to have him leapfrogged by Patterson, or kept out by the incumbent Marnus Labuschagne, another who stood tall when there were serious questions about his place in the side.
Hindsight will show they pulled the right string, on this occasion, with the elevation of Richardson perhaps the most pivotal selection call of the summer should he be an effective tourist in English conditions.
For the obvious form issues around Mitchell Starc and Usman Khawaja, there were other good stories to emerge, none better than the rise and rise of Cummins, who has become one of the poster boys of an era that has mercifully reminded us all that that clean-cut nice guys can be brutes with the ball.
There is another Test yet to play, one that should be closer given the less-hostile conditions in Canberra, before an Ashes tour between two nations that haven't had the best of fortune of late. England must be tempted to get a pedalo and try and float all the way home from the Caribbean.
Should Australia improve enough to take it to the wire, it may be a pair of wins against Sri Lanka, not a painful series defeat to India, that proves the most instructive form guide. Everyone needs a rebound bout from time to time.