The writing was on the wall for Usman Khawaja with the submission of a single team sheet.
With his place in the Australian top order already under significant scrutiny only three matches into his trial in the troublesome No. 3 slot, his replacement there for a tour game by Phil Hughes was an ominous sign for the 26-year-old.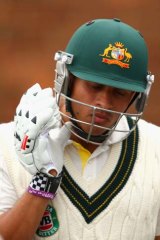 Coach Darren Lehmann said that careers would be on the line in the fifth Test at the Oval this week and he was not mucking about. Khawaja, as it turns out, may not even get there, if events at Northampton at the weekend are anything to go by.
Australia's stand-in captain there, Shane Watson, wanted nothing to do with questions about the batting order and its implications.
But the indications were not great for the struggling Khawaja, particularly when he lasted only eight balls at No. 6 against England Lions before being caught behind on four.
''I'm a ring-in captain so I have no idea, absolutely none,'' Watson said of the batting order.
''I'm the wrong person to ask that question. I have absolutely no idea. I'm told where we're all to bat and we moved on. I know not to interpret things. It might get me into trouble.''
In fairness Khawaja wasn't the only one not among the runs in a drawn practice match abbreviated by rain and bad light.
No batsmen passed 50, and Hughes wasn't overly convincing in a two-hour occupation in the middle that netted him 30.
But Australia is desperate to solve the puzzle that is its top six before the return Ashes in the home summer, and that may mean yet another change of personnel for a match that cannot affect the outcome of the series even if it can, with another defeat, confirm it as the worst-performing side to tour England.
''Khawaja had waited 18 months for his chance here, repeatedly on the fringe as a 12th man or standby batsman and just when he was set to play in India, he was stood down for failing to complete a team assignment in Mohali.''
When he was finally thrown in there was a neat and promising half-century that stood out amid the malaise at Lord's.
But the diabolical umpiring decision at Old Trafford that prompted Cricket Australia's chief executive, James Sutherland, to pen an immediate note to the International Cricket Council shoved his return to the side off the rails.
Australia is searching for a No. 3 to be the bedrock of its innings and right now Khawaja, with 46 runs in his past two Tests and an average of 19 for the series, is not it.
No one has been since Shaun Marsh reached three figures on debut against Sri Lanka in Pallekele in 2011 before going backwards fast.
Nine have been tried there in that time, Hughes, Watson, Ed Cowan even Michael Clarke among them. Hughes, with an average of 37.2 over seven matches, has been the best.
The fifth Test starts at the Oval on Wednesday.
Chris Barrett is Sports Editor of The Sydney Morning Herald.