FAST-BOWLING legend Dennis Lillee has lamented the lack of a spearhead to stop South Africa's marauding batsmen in Perth, and said he would have been furious if he had been rested from a Test as Peter Siddle was from this one.
The closest thing Australia have had to a spearhead at the WACA Ground is Mitchell Johnson, who is playing his first Test in 13 months and muscled his fourth wicket as the Proteas' lead stretched beyond 600.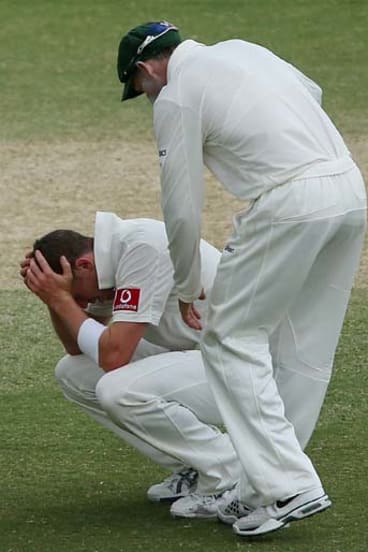 He has been supported by a debutant (John Hastings), an emerging paceman who recovered from a horrible start to claim the other six second-innings wickets (Mitchell Starc), and an injury-prone all-rounder capable of just nine overs in each innings (Shane Watson).
Siddle was rested because Cricket Australia feared he would break down during the Test after bowling 142 overs in the past month. Physiotherapist Alex Kountouris said Siddle also had minor hamstring soreness after his heroics in Adelaide.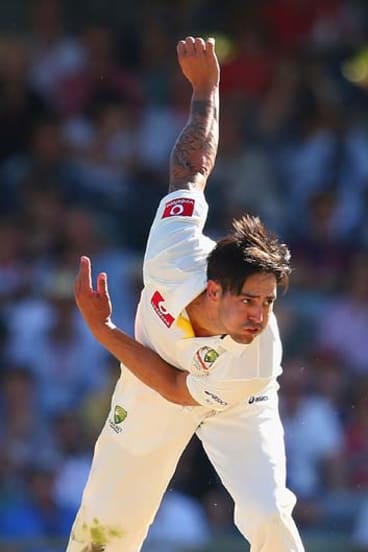 Siddle is expected to be available for the first Test against Sri Lanka in Hobart but that is little consolation after the contemptuous treatment Australia's second-string attack received from the best team in the world. Ben Hilfenhaus wasn't bowling well enough to be picked and James Pattinson broke down in Adelaide.
Australian coach Micky Arthur said Siddle would begin rehab on Tuesday. ''Sids is in OK condition. He had the hammy checked out, there is nothing massive there. He just needs some downtime. He starts rehab work again on Tuesday. Sids is a definite. Hilf will be available as well. He was very fatigued, just like Sids. He had a little bit of pain in his knee which prohibited him getting through his action just a little bit.''
Lillee refused to be drawn into the wisdom of resting Siddle, the leader of the attack, with the No.1 ranking on the line, but said that without him and the injured Pattinson, Michael Clarke didn't have an enforcer to turn to as first Hashim Amla and then AB de Villiers piled on the runs at will.
The most disheartening moment for Hastings, who bowled 19 wicketless overs for 102, was when Amla walked all the way across his stumps and clipped the ball through mid-wicket. For the second time in the series Clarke had to use eight bowlers in the innings including Ricky Ponting, who last took a Test wicket at Trent Bridge in 2005.
''Great bowling attacks, let's look at [Dale] Steyn, there's a go-to man and that's the man who can break it open,'' Lillee said. ''When it gets a bit tight and when you can't get a breakthrough, you go to that guy and he often comes through. I guess this [Australian] attack at the moment you probably can't say that there's a go-to man.
''They're all around that 135-140 [km/h] mark and there's not a guy like Steyn who can [go] up a gear and down a gear.''
Lillee said his captain, Ian Chappell, would have had to duck for cover if he'd told him to rest from a Test. ''If I'd been asked to take a rest … you couldn't have convinced me. Ian [Chappell] said to me, 'I can just imagine me trying to say to you, ''You're not playing next Test.''' He'd have to duck real quick.''
Former Test workhorse and selector Merv Hughes said he doubted Siddle would have been the answer in Perth. ''I bowled a hell of a lot of overs in the Perth Test when Geoff Lawson got hit [in the jaw] in '88-'89, I got a heap of wickets, and on reflection [captain] Allan Border said I didn't come good for about six to eight weeks after that.
''I reckon I took one more wicket for the rest of the series and AB said they shouldn't have played me because I was just spent. If Peter Siddle was out there now bowling in the South African second innings, as courageous as he is, he would be absolutely spent and he would be a liability.''

Chloe Saltau is the chief cricket writer at The Age, regularly covering international cricket and providing news, comment and analysis on international cricket. She joined The Age as a trainee in 1998 and spent several years writing for general news (chiefly as a social policy reporter covering welfare and family issues) before moving to sport.
Morning & Afternoon Newsletter
Delivered Mon–Fri.