STUMPS: Aus 7-212 (Wade 22, Starc 24) Advantage West Indies! Shane Shillingford was the star, taking 4-77 from 34 overs. He bowled tirelessly throughout the afternoon, sending down a 24-over spell broken only by tea. Australia were 7-169 but Wade and Starc have risen to the occasion, adding 43 for the eighth wicket. David Warner made 50 off 136 balls while Watson made 41. Ponting and Clarke also made starts but failed to go on with it though it's not as unforgiveable on this pitch. It's only day one but it's already offering plenty of assistance for the spinners. The day's report will be up shortly. Join me from midnight for day two. Have a great day!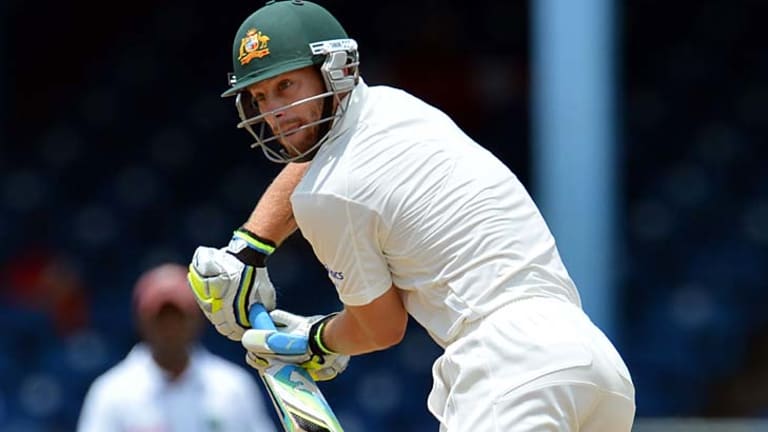 88th over: Shillingford's epic spell continues. He'll bowl from the other end with the new ball. It will be his 23rd consecutive over. Aus 7-200 (Wade 18, Starc 16)
87th over: The Windies take the new ball and give it to Rampaul. They want some late strikes.
85th over: Wade and Starc are showing the batsmen how to do it. Starc, in particular, is playing with some freedom. Will the Windies let the Aussies off the hook again? Aus 7-194 (Wade 14, Starc 14)
82nd over: The Windies don't want to take the new ball, and why would they with Shillingford in this form. He's got two left-handers to take the ball away from now. Wade's hanging in there. He must be looking forward to the day when he gets in with Australia five for plenty rather than five for not many. Aus 7-187 (Wade 12, Starc 9)
72nd over: WICKET! Shillingford's done it again. Another one finds the glove and another one bites the dust! It's a huge wicket as well. Michael Hussey is out. It's climbed sharply off the pitch, found Hussey's glove and Sammy takes a one-handed catch off balance diving to his left at first slip. This has been a dramatic hour since tea. Ponting, Clarke, Hussey all gone! Aus 6-164
70th over: Shillingford beats Wade all ends up. That one turned very sharply but Sammy couldn't hold on at first slip. It wasn't a chance, though. The only glove that touched belonged to the keeper. Aus 5-161 (Hussey 8, Wade 3)
68th over: WICKET! Clarke's out and Shillingford finally gets his man. He had the captain in a lot of trouble all innings and deserves his third victim. Clarke came down the pitch but the ball bounced sharply, claimed his glove and Barath took a neat catch low at short leg. Again Wade arrives at the crease with his team under the cosh.. Aus 5-157 (Hussey 7)
66th over: Shillingford's success today raises the question of whether both teams should have gone in with two frontline spinners. The quicks are not getting all that much help once the ball loses its shine. Aus 4-156 (Clarke 23, Hussey 7)
64th over: Hussey's got two slips, a short leg and a silly point surrounding him. Shillingford's right on the money as well. Hussey's solid in defence so far but Windies are zeroing in on a bat pad dismissal. Aus 4-152 (Clarke 22, Hussey 4)
60th over: WICKET! Ponting gets to No.2 then goes for 23. Shillingford strikes. He's found the gloves again, the ball loops up and Sammy takes the simplest of catches at leg gully. It's another modest score for Ponting but it's mighty tough going out there so it's probably worth double. Mr Cricket to the wicket. 4-142 (Clarke 15)
59th over: Sammy opens up fom the other end. Aus 3-141 (Ponting 23, Clarke 15)
58th over: Congratulations to Ricky Ponting. That's run No.13,289 for the champ. By reaching 23 he has now passed Rahul Dravid to move to No.2 on the all-time Test run-scorer's list. Now for Tendulkar's 15,470.
58th over: What will the final session hold for us? The next 20 overs will be a grind against the old ball and, at times, spin from both ends. I wonder if Roach can find some reverse swing. Maybe not as the outfield is quite lush. It's Shillingford to take up the atack after the interval.
TEA: Aus 3-136 (Ponting 18, Clarke 15) That's been another tough grind for the Australians. Scoring is very difficult here. Shillingford's found a lot of turn and bounce and has ben the most dangerous of the Windies bowlers. Sammy lifted in that session as well, picking up the wicket of Watson with a bit of extra bounce. It's very evenly poised but I'd rather be the Windies at this point. A couple of quick wickets and the Australians will be under a lot of pressure.
52nd over: Theres a whole heap of Windies fielders jumping up and down. Shillingford finds Clarke's gloves again and it deflects to the right of short leg. Maybe Australia will rue playing one spinner instead of two. Aus 3-121 (Ponting 12, Clarke 6)
51st over: Rampaul shouts for lbw but Ponting's nicked that onto his pads.
50th over: Shillingford is giving Clarke troubles as well. He's managed to find Clarke's glove but Bravo at leg gully can't reach the ball.
48th over: Shillingford thoroughly deserved Warner's wicket. He's bowled without luck and has constantly troubled the batsmen. He's finding some turn, drop and bounce on this pitch. Ponting's not entirely comfortable against him. He had a bat and pad down the leg side, then was completely bamboozled by a doosra. It forced a slog sweep which landed him two runs but it was quite a risk. Aus 3-114 (Ponting 11, Clarke 0)
46th over: WICKET! Did that really happen? Warner's just played a very soft shot against Shillingford and he's gone for 50 off 136 balls. For punishment they should make him watch his innings again. Let's see what happened on the replay. Ah yes, that's bounced a bit more than Warner expected, he leaned back to cut but pretty much bunted it to Kieran Powell at cover point. Michael Clarke the new man in, Aus 3-105 (Ponting 2, Clarke 0)
The electronic scoreboard has a grim future. Australia are scoring at about two and a bit an over and it still can't keep up.
45th over: Warner's hit two boundaries this over. And that's a half-century by the opener, coming off 133 balls. Very low-key celebrations as well. He's obviously reading the manually operated scoreboard rather than the electronic one which still has him on 40. 2-105 (Warner 50, Ponting 2)
44th over: Australia have put on 26 in 16 overs since lunch.
43rd over: Ponting plays out a maiden to Roach. Accurate over without being a majo threat either.
42nd over: That was a little bit quicker from Sammy and it's sconed Warner above left ear. He was trying to pull but missed. The trainer's having a look at him. Curtly reckons Warner's a bit out of sorts here. I agree but he's showing a lot of ticket here. Warner's up to 40 from 122 balls. Stand by next over for Roach v Ponting Aus 2-94
41st over: Roach had just the one ball at Ponting that over - a bouncer. He had two men out in the deep, three slips and a point.
41st over: Roach back into the attack to welcome Ponting to the crease. An exciting 15-20 minutes ahead. Watching replays of Watson's dismissal, it appeared Sammy found a bit of extra bounce as well.
40th over: WICKET! Watson's senses take leave for long enough for him to pull Sammy straight to Deonarine at backward square. The ball was a touch wide to pull and didn't quite find the middle of Watson's bat, which he changed only a few minutes ago. Here comes the great Ricky Ponting. Expect Roach to get a bowl soon. Aus 2-84 (Warner 32)
40th over: Warner's almost caught there on 31. He shaped to pull but got himself into all sorts, took his eye off the ball and it's bounced off his bat and looped just over Sammy in his return stride. 1-84 (Warner 32, Watson 41)
39th over: Shillingford's going well here. He's had Warner and Watson playing and missing sweeping. Aus 1-83 (Warner 31, Watson 41)
Curtly's talking on local radio about how he was close to joining the police force when he finished school in 1981. Quite a few international batsmen must wish he had.
38th over: Both Watson and Warner are keen to play their shots but the Windies aren't giving them much to hit. They've got a couple of men out for the short ball against Watson. Watson's getting a change of bat. Can Sammy find a top edge? Aus 1-80 (Warner 31, Watson 38)
I've just had lunch but watching the telecast is making me hungry again. Whenever I look up to the TV in the box they're flashing to deep fried chicken.
33rd over: DROPPED! The Windies put another one down. This time Watson, on 35, gets a let-off. Shillingford managed to get one to jump and find Watson's glove. Barath dived forward at silly point but couldn't take it. It wasn't travelling fast, he should have taken that one. The Windies will be very frustrated. They could have had Australia three down if they had taken their chances. And it's not as if they have been difficult ones either. Aus 1-75 (Warner 29, Watson 35)
LUNCH: Well played by Warner and Watson to survive the session after Cowan's wicket in the second over of the game. Roach bowled with some heat and Rampaul found some swing with the new ball. Sammy was disappointing and Shillingford will find it harder on this pitch compared to the one in Port of Spain. Warner should have been out on five but Sammy put down a sitter off Rampaul. Aus 1-69 (Warner 28, Watson, 30)
24th over: Carlton turned in a stinker on the weekend in the AFL, and Carlton Baugh's put in an effort to match. He didn't even bother bending his knees to stop those leg byes and it's gone for four. His glove was at about top of calf height and the ball rolled along the ground. Yes, time to take a long hard look yourself. Aus 1-61 (Warner 26, Watson 24)
23rd over: Almost a mix-up there. Warner wanted to take on the throw from deep square for two but Watson sticks out a glove in a firm refusal. Warner kept coming, made it about halfway then turned around and retreated. Aus 1-54
21st over: The crowd is up on its feet for local hero and spinner Shane Shillingford. He's into the attack about half an hour before lunch. Bowls a maiden first-up though there were a lot of short balls which Warner cut straight to the fielder. Aus 1-52 (Warner 23, Watson 22)
20th over: Warner living dangerously. He's sliced a pull shot but got enough on it to lob over mid-on. Then he's lobbed a pull above square for four. The second shot was intentional.
16th over: Roach is generating some decent heat here. Three bouncers from three and all around the 142-143 km/h mark. Mind you he has a nice breeze at his back. Aus 1-38 (Warner 14, Watson 21)
The camera crews like visiting the press box. Lucky I wasn't on the snooze before. The cameras lingered in my vicinity for a good 30 seconds. It's quite hard pretending they're no there.
14th over: Roach is back into the attack from the Billy Doctrove Pavilion End. After the first hour it's 1-38 (Warner 14, Watson 21)
13th over: Sammy isn't quite himself today. Could the dropped catch have taken the wind from his sails? He's at around the 125km/h mark. Watson and Warner starting to settle in.
8th over: DROPPED! Oh no! Darren Sammy's put down a pudding at third slip. Warner survives, dropped on 5. He nicked a well pitched up ball from Rampaul. It went about chest height to Sammy moving to his right across second slip but he couldn't even get his hands to it. It bounced off his chest and hit the turf. Now he brings himself into the attack. Aus 1-22 (Warner 5, Watson 14)
7th over: FOUR! It's taken until the last ball of the seventh over bu Australia have hit their first boundary - a lovely cover drive from Watson which, though well struck, took ages to get across this heavy outfield. The late David Shepherd would be hopping mad with Australia on Lord Nelson. Aus 1-11 (Warner 4, Watson 5)
6th over: It's slow going against the new ball for Warner and Watson. Roach and Rampaul are on the money.
3rd over: Both Rampaul and Roach are troubling Australia's top order. They're finding a bit of swing in these cloudy conditions. Aus 1-2 (Warner 1, Watson 0)
2nd over: WICKET! It's time for Cowan to make the sorry trek back to the pavilion. He's gone lbw to Rampaul, for one, not offering a stroke. It pitched on off, straightened, Cowan thrust his pad out and it was a very straightforward decision for Tony Hill. Cowan didn't even bother referring that, he knew he was gone. Replays showed it would have hit the top of off. Aus 1-1
1st over: It's Cowan to take first ball to Kemar Roach.
TEAMS
AUSTRALIA: Ed Cowan, David Warner, Shane Watson, Ricky Ponting, Michael Clarke (c), Michael Hussey, Matthew Wade, Ryan Harris, Ben Hilfenhaus, Mitchell Starc, Nathan Lyon
WEST INDIES: Adrian Barath, Kraigg Brathwaite, Kieran Powell, Darren Bravo, Shivnarine Chanderpaul, Narsingh Deonarine, Carlton Baugh, Darren Sammy (c), Shane Shillingford, Kemar Roach, Ravi Rampaul
Australia have won the toss and will bat first. There were no surprises at the selection table. Ryan Harris and Mitchell Starc come in, James Pattinson and Michael Beer are out. The Windies have lost Fidel Edwards due to injury. He has been replaced by Ravi Rampaul. Play to start at midnight.
Welcome to Windsor Park in Roseau, Dominica. Nature's Island has given us a mixed bag this morning. It's cloudy one minute, sunny the next then sprinkling the odd drop of rain. Both teams are out on the field doing their warm-ups. There's still no word on the XIs. They've uncovered the pitch and it's no oil painting. There's decent grass but it's patchy in parts. Join me at 1130pm for the toss and the teams.
Join Andrew Wu for live coverage of the first day of the third Test between Australia and West Indies in Dominica.
Morning & Afternoon Newsletter
Delivered Mon–Fri.