STUMPS: WI 8-165 chasing 328. What a day for the Australians. Their only downside was they couldn't get rid of Chanderpaul or Rampaul in the final hour. But they'll be more than happy to be in such a strong position after having their backs to the wall last night. Wade was the star of the day with his game-changing century, while Nathan Lyon's three wickets should not be undervalued. Play will start at midnight. Have a great Anzac Day!!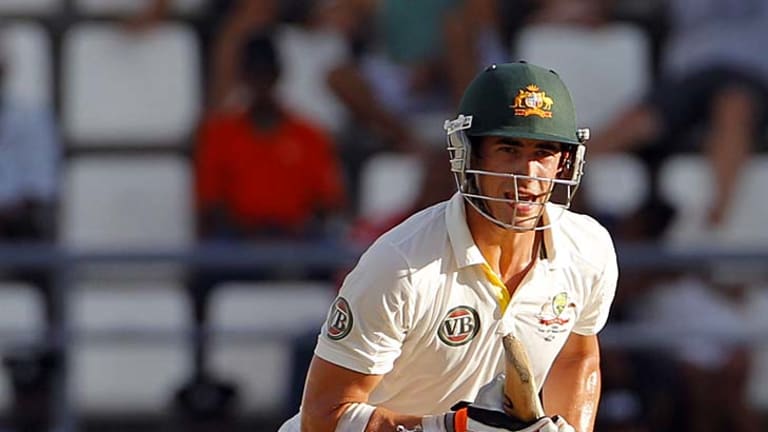 It was only a couple of hours ago that the Windies were 1-62. They've lost 7-58 in just under 25 overs. This is the West Indies of a few years ago, not the spirited team we've seen in the past few weeks.
52nd over: WICKET! Get Bill Lawry in here. It's all happening. I'm having trouble keeping up. Mitchell Starc's grabbed a wicket. He's bowled Shane Shillingford, who played his first ball on to his stumps. It's only day two but there might be no coming back for the Windies. WI 8-120
52nd over: WICKET! This is the last thing the Windies need. Sammy has been run out. Cowan's shattered the stumps from cover and Sammy's two or three inches out of his ground despite a despairing dive. WI 7-120
47th over: Lyon v Sammy now. Sammy will want to put him into the stands but it'll be very risky.
46th over: Top over there by Harris. He had them guessing with his swing. Is there any reverse swing out there?
45th over: WICKET! Lyon wins. Baugh is the latest batsman to be caught in close against an off-spinner in this game. He pushed forward but was no match for the sharp turn and offers Cowan a simple bat-pad opportunity at short leg. Darren Sammy is the new man in. Will he play his shots like he normally does or dig in? WI 6-104
43rd over: This will be a good battle. Lyon v Baugh. I'd fancy Baugh to have more chance of keeping Lyon at bay with a bat in his hand than with the keeper's gloves.
42nd over: WICKET! Now Clarke's stretched his arms to form a T. It's a very good referral. Harris has struck Deonarine on his front pad, it's then deflected to his back pad. Ball tracker has it hitting the inside half of leg stump just above the top of the advertising. The Windies are in huge trouble now. WI 5-96
42nd over: Yep, most likely a comfort break for Clarke. He's back in the cordon now. Stretching his arms as if he's about to bowl as well.
40th over: Looks like Clarke is off the field. Probably a comfort break. We'll keep an eye out to see if he comes back on. WI 4-96 (Chanderpaul 7, Deonarine 7)
37th over: Oh so close for Lyon. Chanderpaul edges and it's just wide of Clarke at first slip. It would have gone straight down second slip's throat.
37th over: There's also a Santa Claus in the crowd... in April... in the Caribbean. I wouldn't want to be wearing that suit after him. Meanwhile, there's no presents from the Australian bowlers to the Windies batsmen. They're going to have to work for every single run. WI 4-88 (Chanderpaul 4, Deonarine 3)
That's an outrageous shirt Michael Holding is wearing. Absolutely outrageous. But he gets away with it because he's Michael Holding.
36th over: Warner off, Harris on. And he gets two fresh batsmen to have a crack at.
More on that wicket. It looked to stay low, which forced the error from Powell. He was accounting for normal bounce which would have allowed him to cut easily, but it stayed low and found his inside edge instead.
35th over: WICKET! Powell leans back to cut and chops Lyon on to his stumps. That's an important wicket as it brings two new batsmen to the crease. The Windies could well throw this Test away in the next hour. Lyon's bowled beautifully. WI 4-85
34th over: Are you all wondering why Clarke's persevering with Warner and hasn't got one of his strike bowlers on to have a crack at Chanderpaul before he's set?
TEA: WI 3-75 (Powell 34, Chanderpaul 0) Well, hasn't the game changed complexion dramatically in the last 15 minutes. Two late wickets in that session to Australia and the Windies are under huge pressure. Lyon's bowled very well and deserves more than the one wicket. Clarke gets another tick for his decision to introduce Warner into the attack. It would not be far-fetched to suggest the Windies' hopes of getting back into this contest rest with Chanderpaul.
28th over: WICKET! The Windies are losing the plot here. Bravo goes to Warner of all people. He's pushed forward with hard hands, it claims the edge, loops off his pad and Cowan takes a very simple catch in close. Cowan copped a nasty blow from Bravo earlier in the over and now he won't be target practice anymore. He's very excited. So are Warner and the Australians. Bravo goes from 10 off seven balls. WI 3-73
27th over: WICKET! Lyon gets the breakthrough. He's deserved this. Barath goes for 29. He was trying to tuck that one through the on-side but probably wishes he presented a straighter bat and offers a simple bat-pad chance to Cowan. WI 2-62
25th over: DROPPED! Ponting puts down a difficult chance at short cover. Powell drove Lyon firmly to a diving Ponting, who gets his left hand on it but it doesn't stick. It was hard but Ponting will be spewing about that. He prides himself on taking those. Powell was on 30, WI 1-61
24th over: Hilfenhaus finds Powell's outside edge but it flies between slip and gully for four. Moral victory for the Australians. WI 1-60 (Barath 28, Powell 30)
22nd over: Barath and Powell's partnership has passed the 50-run mark. WI 1-55 (Barath 28, Powell 25)
21st over: Lyon's posing a threat with his turn but doesn't quite have the same bounce as Shillingford yet.
18th over: Wade takes the ball, then behind his back throws the stumps down from five metres - all in the one motion. Batsman was safe so you'll probably never see it replayed on the news.
DRINKS: Aus 1-39. Didn't those shots of the waterfalls look amazing? Get me out of the press box.
15th over: Well knock me over with a feather. Lyon into the attack. And operating from the end which Shillingford was so dangerous yesterday.
14th over: Barath and Powell are starting to play some shots and looking quite good here. Will we see Nathan Lyon soon? WI 1-37 (Barath 20, Powell 15)
12th over: Watson into the attack.
9th over: Harris into the attack from the Pavilion End, replacing Hilfenhaus.
8th over: Starc giving the Windies a bit of width. Barath makes him pay with a slashing drive through gully. WI 1-16 (Barath 12, Powell 3)
Harris's reward for the catch? He's banished from the slips. Ponting is back on the field and moves to second slip, Clarke goes from second to first.
3rd over: WICKET! The Australians are having a good old laugh here. Harris has taken a catch at first slip at the second attempt. Brathwaite nicked one from Hilfenhaus, Harris couldn't take it at the first attempt but pouched it on the second. He's running around like he's scored a 90th-minute winner as well. Brathwaite goes for 0 - his third consecutive quacker. WI 1-1
Ricky Ponting chipped a tooth last night, he went to see a dentist this morning and the team are hopeful he can field later today.
2nd over: And it'll be Mitchell Starc from the other end. Where is Ricky Ponting? He's not on the field so Australia have rearranged their slip cordon. Clarke's moved to second and Harris at first slip.
1st over: Ben Hilfenhaus to take the new ball.
LUNCH: What a session for Australia! The Test has completely changed thanks to Matthew Wade and the tail. Here are some numbers which tell the tale for Wade. He made 106 off 146 balls. His 84 runs today came off 74 balls. He moved from 50 past the ton off only 33 balls. He shared in stands of 57 with Starc for the eighth wicket and 102 with Hilfenhaus for the ninth. The tail did their bit as well. Starc made a career-best 35 and Hilfenhaus made 19 precious runs. Now to see how the Windies go against the new ball. Play will begin at 12.30pm or 2.30am AEST.
115th over: WICKET! Hilfenhaus tries to hit Shillingford into South America, misses and is bowled. Not a great shot but he's played a very important hand. Aus 328 (Wade 106, Warner 50, Shillingford 6-119)
115th over: WICKET! Wade's outstanding innings comes to an end. Caught in the deep by Darren Bravo for 106. Shillingford gets five. It should have been a comfortable catch on the mid-wicket rope but Bravo turns it into something for the highlights reel. He claimed the catch running along the rope then as he was headed over the other side he threw the ball up, jogged back onto the field to complete the catch.
114th: CENTURY! And he brings it up with a gorgeous cover drive for four. He doesn't bother stopping at the non-striker's end and heads towards the dressing room to acknowledge the kudos coming from his team-mates. And so they should hail him. That's a magnificent performance by the gloveman. It's come at a crucial time and changed the face of the game. Dare I say it, it's been Adam Gilchrist-like. He's scored 81 off 71 balls today, his second 50 came off only 33 balls - and all hits on a wicket which was so treacherous yesterday. Wade's century came off 143 balls from 187 minutes.
113th over: Hilfenhaus does the right thing by his fellow native Tasmanian.
113th over: Wade's gone from 98 to 99 but he loses the strike to Hilfenhaus with five balls to go in Shillingford's over. Hilfenhaus should survive the way he's gone today but it's out of Wade's control now.
111th over: SIX! SIX! Wade's skipped the decade fashion forget and moved straight from the 70s into the 90s with back-to-back maximums. Australia pass 300, and the ninth-wicket partnership's up to 85. Remember, Starc and Wade put on 57 for the eighth-wicket. Aus 8-311 (Wade 91, Hilfenhaus 17)
110th over: Australia are closing in on 300 now. Wade's getting close enough to see a ton on the horizon. In fact he's doing a Skyhooks. He's "Living in the 70s". Shillingford and Roach are on. They should have been on at the start of the day. Aus 8-297 (Wade 78, Hilfenhaus 16)
107th over: Way to get a job half done Windies. I reckon they wish they could have this session again. If Starc wasn't daydreaming about the picturesque mountains the Windies might not have a wicket at all today. Wade's going gangbusters and Hilfenhaus is not afraid to play his shots either. Here's the latest piece of bad play by the Windie. They have Wade on strike for the last ball of Sammy's over but they leave the field out and Wade gets an easy single to keep the strike for the next over. Where is the attention to detail? Aus 8-285 (Wade 66, Hilfenhaus 16)
104th over: This is going to get away from the Windies if they don't get this back under control. Wade's playing a very good innings and throroughly deserves his maiden Test 50. The Windies seem to lack a bit of urgency. Too many easy singles. Aus 8-260 (Wade 51, Hilfenhaus 7)
97th over: Wade's playing a very vital hand for Australia. He's finding the gaps and the twos which keep him on strike. Gets a bonus boundary as well from a fielder who makes a mess of the rope fielding in the deep. Aus 8-237 (Wade 35, Hilfenhaus 0)
95th over: WICKET! Oh dear! That's very messy. Starc has been run out in bizarre fashion. Let's rewind the tape. Wade plays a lovely straight drive. Kraigg Brathwaite slides into the rope at long-off and saves the boundary, piffs a 90m throw back to the keeper, who casually whips off the bails. Remarkably, Starc was even more casual and jogging through but didn't ground his bat. The umpires go the the third umpire to see if Brathwaite made contact with the rope while he was in contact with the ball. He hasn't. And after numerous replays, they've concluded Starc didn't have his foot down so he must go. Further replays show Starc and Wade almost collided, a la Matthew Elliott and Mark Waugh at the SCG one year, going for the first run. After all that, Starc goes for 35. He'll probably get a stern talking to in the sheds as well. Aus 8-226 (Wade 24)
95th over: DROPPED! Wade mistimes a pull shot but Roach puts it down. I reckon he thought that was coming at him a lot faster than it was. It looked like he was more taking evasive action than trying to catch it. Wade gets a life on 22.
93rd over: Baugh drops another regulation ball from Roach. The Windies press say he is a good keeper. From the evidence I've seen, I have to disagree. Starc's made a bright start. He has a new high score, passing his previous best of 32. Well done young man! Aus 7-221 (Wade 22, Starc 33)
92nd over: Starc swings like a rusty gate and gets four above gully against Rampaul.
The four local police guarding the pitch have marched off the field. Not quite with the same precision as North Korea, but quite formal nevertheless. The players are out on the field. The sun is beating down and two of Australia's newest Test cricketers have a job to do for their country. It'll be Starc to take strike to Kemar Roach. Bring it on!
Welcome to Roseau, Dominica. Nature's Island has turned on a lovely morning which is great news for those back home looking to make the most of a public holiday by having a late night watching Test cricket. Peter Nevill and Peter Forrest have just run themselves into the ground. A few others were doing some bowling and fielding drills. The two we have our eyes on, Matthew Wade and Mitchell Starc, are padding up for some hard. Australia to resume on 7-212. Play will start at midnight so fix yourself a cuppa or something which packs a bit more punch and join me then.
Join Andrew Wu for live coverage of the second day of the third Test between Australia and West Indies in Dominica.
Morning & Afternoon Newsletter
Delivered Mon–Fri.