SUMMARY: The West Indies showed a lot of cheek but it was not enough to prevent Australia from recording a 75-run victory. Darren Sammy smashed a career-best 61 off 51 balls but it was not until the Windies were nine down that he found a partner capable of holding up an end for him. He and Shane Shillingford added 49 for the last wicket but the Windies were never in contention, dismissed for 294. Shillingford capped off a fine game with an unbeaten 31, his highest first-class score. The Windies were never a chance of winning after losing the wicket of Narsingh Deonarine in the seventh over of the morning. Michael Clarke was the unlikely destroyer for Australia, completing his second five-wicket haul in Test cricket. He finished with 5-86, while Nathan Lyon kept his composure under fire and finished with 3-87 though he was far more convincing in the first innings. Matthew Wade was named man of the match for his 106 in the first innings. Without his century, Australia could well have lost the match. Australia take the Frank Worrell Trophy 2-0.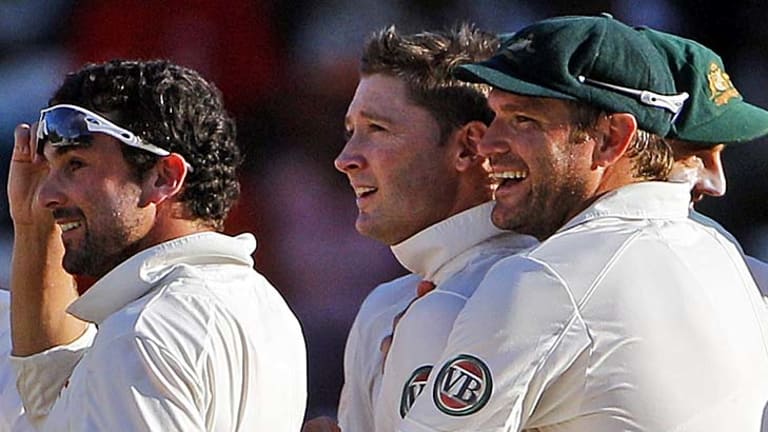 Aus 328 (Wade 106, Warner 50, Shillingford 6-119) & 259 (Ponting 57, Cowan 55, Shillingford 4-100) defeated WI 218 (Chanderpaul 68, Lyon 4-69) & 294 (Chanderpaul 69, Sammy 61, Clarke 5-86, Lyon 3-87)
97th over: WICKET! It's all over. Sammy sweeps Lyon and Hilfenhaus takes the catch at short fine leg. Sammy didn't quite middle that. He's more comfortable slog sweeping rather than the conventional sweep. Sammy made 61 off 51 balls and hit four fours and three sixes. Windies all out for 294. Australia win by 75 runs.
96th over: Lunch is scheduled for 2am AEST but they'll play an extra half hour if the Windies are still alive. WI 9-292 (Sammy 60, Shillingford 30)
95th over: Hilfenhaus finds Shillingford's outside edge but it doesn't carry to Clarke at slip. Could there still be a twist left in the game? Surely not. WI 9-285 (Sammy 60, Shillingford 23)
93rd over: Shillingford's looking quite good with the bat. I wonder whether Shillingford or Wade will get the man of the match award. Wade's century turned the game but Shillingford's 10 wickets was also vital for the Windies. Shillingford could still win the game, though that's highly unlikely, but he is the hometown hero. WI 9-283 (Sammy 59, Shillingford 22)
92nd over: Shillingford, a Dominican, has been handed a diplomatic passport in recognition of his 10 wickets in this game. That means he won't have to line up with the plebs at immigration at the airport. He celebrates with a boundary. WI 9-276 (Sammy 52, Shillingford 22)
90th over: The Australians take the new ball. Sammy brings up his 50. It won't save his team but it's given the home crowd something to cheer about in defeat.
90th over: Clarke's had enough and recalls Ryan Harris into the attack.
89th over: Local lad Shane Shillingford is sending his home crowd delirious. He's smashed Lyon for three consecutive boundaries. He's moved to 18 off 16 balls. WI 9-265 (Sammy 46, Shillingford 18)
86th over: WICKET! Clarke's taken a five-for. Rampaul had just hit a six but he tried to do it again and holes out to Warner at deep mid-wicket. The commentators over here are going off. They were pumping up the Windies' tyres before for taking the game on, then after Rampaul was out they were condemning the players for being senseless. WI 9-245
The ball to Roach did not turn as much as the batsman expected, which contributed to it hitting the edge. Clever variation by Lyon.
85th over: WICKET! Roach is out to a great slips catch by Clarke. He played forward to Lyon, it hit his outside edge and Clarke reacted very swiftly low to his left to snare that. Any catch taken by first slip on the keeper's side is good, but this one is exceptional. WI 8-234 (Roach, 84.2)
84th over: SIX! Clarke must really want this five-for. He's keeping himself on. Sammy goes again - a full toss over deep mid-wicket's head. Then he shows discipline for the last ball despite Clarke bringing the fielders in. Sammy's hit 45 off only 33 balls. WI 7-232 (Sammy 45, Roach 0)
83rd over: REFERRAL! The Australians have gone up for a bat pad catch at slip here to Roach. He won't be out caught because he didn't hit it but they'll check the lbw. It's him outside the line so Roach is safe. Windies breathe a sigh of relief. WI 7-226 (Sammy 39, Roach 0)
82nd over: Sammy's gone FOUR, SIX, FOUR off consecutive balls to Clarke, all through the mid-wicket, mid-on region. Then he's played a delightful cut shot. The crowd are getting into this. Just rams home the foolishness of Baugh. WI 7-223 (Sammy 36, Roach 0)
81st over: WICKET! That's a ripping catch by Ponting. He's threatened to take a few screamers this series. This catch wasn't a classic but still very, very good. Baugh's played a ridiculous slog but failed to clear Ponting at mid-wicket. Ponting was very quick to react to take that sharp overhead catch. Those reflexes still work a treat. I don't know what Baugh was trying to do. He had Sammy doing the swinging from the other end, why wouldn't he just hold up an end? I'm baffled. WI 7-206
80th over: Sammy's made a bright start. That boundary - a swipe through mid-wicket - takes him to 18. The new ball is available. Does Clarke take it or stick with Lyon? Looks like he will stick with his spinner for now. WI 6-204 (Baugh 11, Sammy 18)
77th over: SIX! He paid Clarke his due respect but not so Lyon. He's smashed him back over his head above the sightscreen for six. Sammy will go down swinging. WI 6-196 (Baugh 9, Sammy 12)
76th over: Sammy's the new man in. I wonder how long he'll wait before he tees off. He might also cop some lip from Ricky Ponting. They had a nice exchange the other day. Ponting told Sammy that Chris Gayle should be captain because he was hopeless, Sammy responded by saying this was Ponting's last Test. Great chirp!
74th over: WICKET! After some deliberation from the umpires, Clarke's picked himself up another wicket. They were trying to work out if Deonarine hit the ball onto the ground to Clarke or if he hit the ball on the half-volley to Clarke. It was the latter. The front on footage was inconclusive but side on was emphatically in Australia's favour. Deonarine's out for 13, Clarke's nearing a five-for. WI 6-180
71st over: So far so good for the Windies. They haven't lost a wicket in 20 balls. WI 5-175 (Deonarine 11, Baugh 2)
69th over: Spin from both ends to start the day. Nathan Lyon to operate from the other end. He wasn't at his best yesterday, even the coaching staff acknowledged that. He'll feel a lot better if he can grab a couple of wickets today.
68th over: Michael Clarke to finish off the over from yesterday.
Welcome for the last time this series to Dominica. We've just had a sun shower pass through Windsor Park. It was heavy enough for the covers to come on but it didn't stick around for long. We should have a start in around half an hour at midnight. So grab a cuppa or maybe something stronger seeing it's a Friday night and strap yourself in to see what should be an Australian victory.
Join Andrew Wu for live coverage of the final day of the third Test between Australia and West Indies in Dominica.
Morning & Afternoon Newsletter
Delivered Mon–Fri.