THE tale of two tails is an explanation of why Matthew Wade will leave Sydney with a maiden home Test century to his name and why Sri Lanka will, barring a Fanie de Villiers-type effort from one of its bowlers, finish its sixth tour of Australia still without a win.
Had Australia's lower order been as cavalier with the bat as Sri Lanka's lower order was on day one, Wade would not have had the opportunity to post a half-century, let alone a stunning unbeaten 102.
Had Sri Lanka's bowlers been as resolute with the bat as Australia's bowlers were, the tourists would have been defending a first-innings total well in excess of 300, rather than just below it. And they would have not had to overcome a deficit of 138 in its second chance at the crease.
Instead, it will start day four with a lead of 78, with Dinesh Chandimal needing support from Rangana Herath and Sri Lanka's last two batsmen, Suranga Lakmal and Nuwan Pradeep.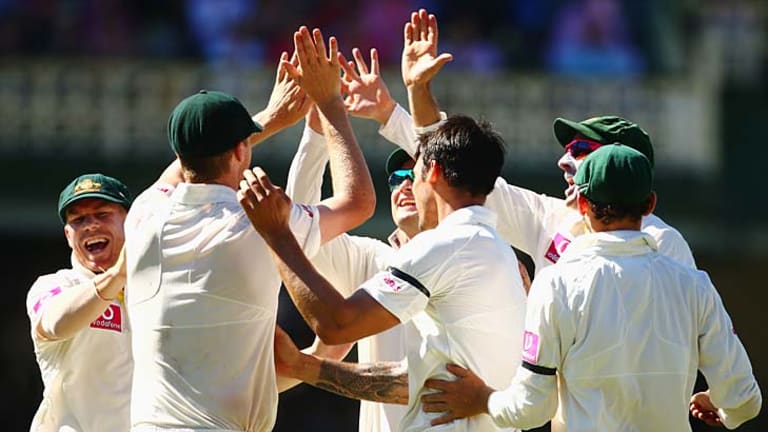 Should Sri Lanka fail to survive beyond lunch, its only encouragement may come from Australia having failed to chase 117 on the SCG in 19 years ago, when South African de Villiers famously claimed 6-43.
The efforts of Peter Siddle (38), Mitch Johnson (13) and Jackson Bird (six not out) highlighted the benefit of tailenders showing some grit.
After Sri Lanka's first bowler came to the crease to bat, its innings was over within 15 overs.
Despite Australia boasting an even longer tail, with five specialist bowlers, its innings lasted for an additional 41.4 overs once the first tailender, Johnson, arrived at the crease. Australia's tail was on the verge of wagging for three times longer than what Sri Lanka's did when captain Michael Clarke declared at 9-432 in order to get four overs at the Sri Lankan openers before lunch.
While Wade is still to be entirely convincing at international level with his glovework, a view reinforced when he missed a sharp chance off top-scorer Dimuth Karunaratne later in the day, his reputation as a batsman continues to grow.
Wade, who resumed on 47, thrived on the promotion to No.6. He shared a 77-run partnership with Siddle in the first session but even then seemed little realistic chance of a century. The seamer was followed back to the dressing-room by Mitch Starc (two) and Nathan Lyon (four). Despite being only 70 at the fall of the ninth wicket, Wade's change of tack to hit more lustily paid off spectacularly, although it was also thanks to the diligence of Bird.
Once the left-hander passed 90 Sri Lanka's resorted to loading the off-side with five outfielders. It proved futile as the Victorian left-hander picked gaps twice in the 107th over to, somehow, reach the rope. It was with the second of those boundaries that Wade reached his century.
While Bird was unable to survive long enough to shepherd Mitch Johnson to a century in Melbourne, and he contributed only six of the 39 runs that he and Wade scored, his ability to survive for 11 deliveries was certainly appreciated by Wade.
This SCG Test provided an opportunity for Sri Lanka to salvage some credibility. As individuals, some have been able to do just that. As a group, however, the Test has provided more evidence about why Sri Lanka is in the bottom half of the Test rankings.
It fought its way back into contention to win the match with a second-innings century partnership between opener Karunaratne and captain Mahela Jayawardene, which ended only two runs shy of pushing its score into positive territory.
While it was not ideal to have lost two wickets before starting to set Australia a fourth-innings total, Sri Lanka should have been buoyed for two reasons: that it boasted a deeper batting line-up than Australia and that it boasted a spinner, Rangana Herath, who would be clearly capable of exploiting an ageing pitch on the last two days of the match.
It was therefore unfathomable that the next two batsmen, Lahiru Thirimanne and Thilan Samaraweera, departed so recklessly.
Thirimanne was out hooking Mitch Johnson, but he could at least take solace in having been his team's cornerstone batsman in the first innings when he scored 91.
There were no such mitigating circumstances for Samaraweera. Under pressure for throwing away his wicket in Sri Lanka's capitulation in Melbourne, the veteran produced an even more horrendous shot this time around. After facing only two deliveries he attempted to lift Nathan Lyon over the long-on boundary but could only deliver a difficult catching opportunity that was typically taken by Mike Hussey.
Given Samaraweera's form and age - he is 35 - and the team's woes it would not be a surprise if he joins Hussey in retirement.
Sri Lanka (1st innings) 294

Australia (1st Innings - overnight 6-342)
D WARNER c Prasad b Dilshan 85
E COWAN run out (Pradeep) 4
P HUGHES c Chandimal b Herath 87
M CLARKE c Karunaratne b Herath 50
M HUSSEY run out (Karunaratne) 25
M WADE not out 102
M JOHNSON c Chandimal b Pradeep 13
P SIDDLE c Chandimal b Pradeep 38
M STARC lbw b Herath 2
N LYON b Herath 4
J BIRD not out 6
Sundries (6lb, 7w, 3nb) 16
Total (9 wkts - decl) 432
Fall of wickets: 36 (Cowan), 166 (Warner), 195 (Hughes), 251 (Hussey), 271 (Clarke), 307 (Johnson), 384 (Siddle), 387 (Starc), 393 (Lyon)
Bowling: S Lakmal 24-4-95-0, N Pradeep 20-1-114-2 (1w/5 3nb), D Prasad 11-0-53-0 (2w), A Mathews 2-0-11-0, T Dilshan 19-2-58-1, R Herath 31-3-95-4

Sri Lanka (2nd Innings)
D KARUNARATNE c Wade b Bird 85
T DILSHAN c Hughes b Johnson 5
M JAYAWARDENE c Clarke b Siddle 60
L THIRIMANNE c Bird b Johnson 7
T SAMARAWEERA c Hussey b Lyon 0
A MATHEWS run out (Warner) 16
D CHANDIMAL not out 22
D PRASAD c Wade b Starc 15
R HERATH not out 7
Sundries (1b, 4lb, 3nb) 8
Total (7 wkts - close) 225
Fall of wickets: 24 (Dilshan), 132 (Karunaratne), 155 (Thirimanne), 158 (Samaraweera), 178 (Mathews), 178 (Jayawardene), 202 (Prasad)
Bowling: M Starc 10-0-48-1, J Bird 15-2-51-1 (3nb), M Johnson 9-3-19-2, P Siddle 14-3-35-1, N Lyon 13-1-63-1, M Hussey 1-0-4-0

Jesse Hogan has been a reporter at The Age since 2004, and has been part of its sports department since 2008. He is primarily focused on cricket and has covered a number of the Australian team's overseas tours, including the 2011 World Cup. He also reports on AFL and soccer.
Morning & Afternoon Newsletter
Delivered Mon–Fri.