AUSTRALIA'S former batting coach Justin Langer does not believe there is any player ''smashing the door down'' to take Michael Hussey's position in the top six.
The former Test opener and current Western Australia coach wants to see more batsmen mount compelling cases for national selection though he was impressed by Steve Smith's form in the Sheffield Shield match at Blacktown, which fizzled into a draw after persistent rain.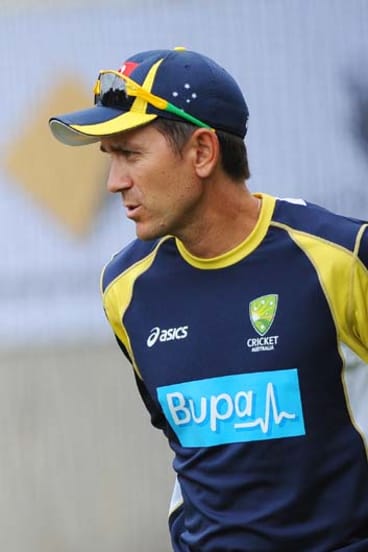 Usman Khawaja is the leading contender to come into the Test side but his Shield average of under 40 this summer is well below what had been required to wear the baggy green during Langer's decorated career.
Rob Quiney, Alex Doolan, Glenn Maxwell and Smith are among those who have been tried at Test level or been mentioned at the selection table this season. ''I would say there's no one smashing the door down,'' Langer said.
He did not know why there were so few clear candidates to break into the Test team but said now was a good time to be a youngster with a strong work ethic in Australian cricket.
''I'm not sure what the answer is but mental resilience and good technique are really important,'' Langer said. ''The lack of perceived depth means there's unbelievable opportunities for kids out there who want to work hard and improve their technique and be mentally resilient. Imagine being a youngster now if you're a spinner or a batsman, it'd be awesome.''
Langer said talented all-rounder Moises Henriques, who made 71 in the first innings, was an example of a player who needed to do more ''rather than being handed opportunities''. ''Had he got a hundred and really blitzed it like the start of the season he's probably really putting his hand up,'' Langer said.
Langer believed Henriques, a seam-bowling all-rounder, would be better suited for tours to England and South Africa than India.
Langer praised Smith, whose 72 was the highest score in the game, for how he had advanced since being dumped from the Test side following the final match of the 2010-11 Ashes series.
''I was impressed with how patient he was on a tough wicket. He seems to have tightened his game,'' Langer said. ''We probably bowled a bit straight to him which is right up his alley. He's so strong through the leg side. I thought he played really well and showed good discipline.''
Langer would have liked to see Smith bowl more than four overs to enhance his claims as a spin-bowling all-rounder for the tour of India.
Smith's strong form with the bat and the performance of NSW's bowlers, particularly captain Stephen O'Keefe, were the highlights for the Blues, whose bid for victory was thwarted by wet weather.
Only 10 overs of play was possible on Sunday before both captains agreed to an early finish with WA, on 8-219, leading by 117 runs with only 14 overs remaining.
■ South Australian captain Johan Botha has dared his players to dream of a Sheffield Shield final after a tense one-wicket triumph against pacesetters Victoria on Sunday.
Botha believes the Redbacks shed their tag as perennial easybeats with their nailbiting last-day victory.
Chasing 189, the Redbacks made 9-191 with a concussed batsman, Sam Raphael, hitting the winning runs.
''For the team, for character, this is probably one of the best wins we will ever have,'' Botha said.
The Bushrangers took first-innings points to move to the top of the table with 22, two ahead of Queensland.
Morning & Afternoon Newsletter
Delivered Mon–Fri.