AUSTRALIA'S once rich fast-bowling stocks are wafer thin after Ben Hilfenhaus became the latest paceman to break down, suffering a potentially series-ending injury which has left Michael Clarke one quick short for the second time in three Tests.
Hilfenhaus will learn how serious his left side injury is on Monday but is not expected to be able to bowl in the second innings. He was in ''considerable doubt'' to be fit for the remainder of the Test summer, team physiotherapist Alex Kountouris said.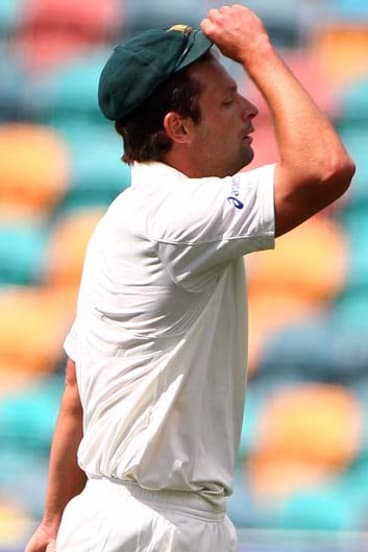 It is yet another blow to Australia's pace battalion and again raises scrutiny over Cricket Australia's management of their fast bowlers.
The Tasmanian's presence in an already crowded casualty ward will impede Australia's ability to capitalise on their strong position in Hobart after another heroic performance by Peter Siddle, who claimed a thoroughly deserved five-wicket haul.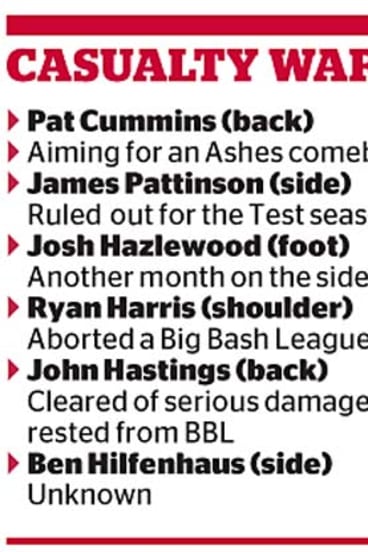 Century-maker Tillakaratne Dilshan, who led his team's bold resistance with Angelo Mathews, said Sri Lanka would look to exploit Australia being one bowler short.
''When they're setting a target they have to know they have only two genuine [pace] bowlers with Shane Watson, especially as there's still not help for their spinner,'' Dilshan said.
''If it [the target] is gettable, definitely we should go for that target and [attempt to] win the Test match.''
And there could also be ramifications for the rest of the series as Hilfenhaus's absence will place an extra burden on the lion-hearted Siddle, Mitchell Starc and Watson.
Siddle bowled himself to the point of exhaustion in the second Test against South Africa after James Pattinson suffered a nasty rib injury.
Although a hamstring twinge ultimately led to Siddle's withdrawal from the series-decider in Perth, his cause was not helped by fatigue after bowling nearly 64 overs in Adelaide and 53 overs less than a fortnight earlier in Brisbane.
Hilfenhaus is the fifth fast bowler in the national set-up to be hurt this season, joining Pattinson, Pat Cummins, Josh Hazlewood and John Hastings on the sidelines. CA have reviewed their injury management practices this year after being heavily criticised in last year's Argus report but Kountouris conceded they were still working to find an antidote to the injury malaise.
''It's not ideal. We've got more injuries than we like at the moment. It's not perfect, but we're working really hard to come up with solutions,'' Kountouris said. ''The landscape's changed with the way the schedule is, but we've got to get better at managing that.
''We're putting processes in place, doing things differently to last year, trying to make things happen. We're winning in some areas and not winning in other areas. We're going to keep evolving and working out the best solution for it.''
Kountouris said there would not be any request from the medical staff for Clarke to wrap Watson in cotton wool despite the all-rounder's rotten run with injury in the past 12 months.
''There's absolutely no limits on what Watto bowls in the game,'' he said. ''Once he plays it's up to the captain how much he bowls and when he bowls. We put players in the game to play the game … and if Shane Watson has to bowl 25 overs he'll do that.''
Hilfenhaus's almost certain absence for Melbourne will stretch Australia's threadbare pace resources, opening the door for the uncapped Jackson Bird or even forgotten quick Doug Bollinger to be sent SOS calls to join the squad for the Boxing Day Test.
Morning & Afternoon Newsletter
Delivered Mon–Fri.